Spruce up your Eid ensemble with TAAGA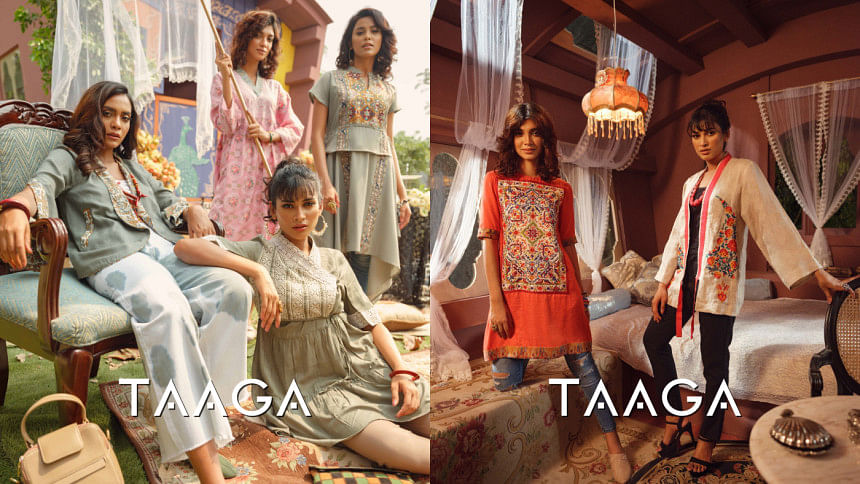 Eid festivities are right around the corner and it is that time of the year when everyone is busy shopping in full swing. As we thoughtfully put together our Eid outfit, how do we select the perfect one for ourselves to stand out? Answering this, TAAGA brings to you their line-up of Eid wear which is the perfect harmony between ethnic wear and comfort.
Detailed prints for the modern fashionista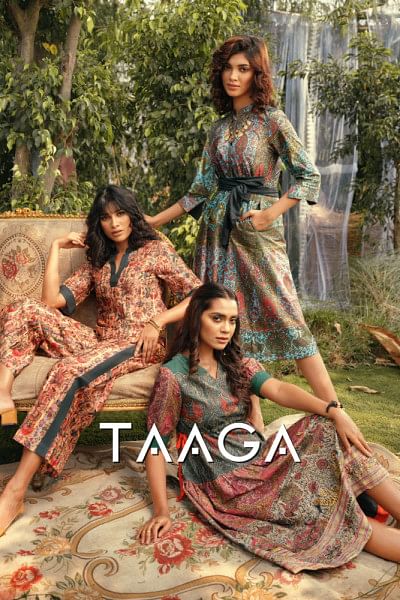 Detailed prints on dresses never fail to bring a touch of modernity. TAAGA offers a range of knee-length midi dresses and co-ord sets that will bring out the urban fashionista in you. The detailed prints accentuated by borders and belts in dark colours shall definitely make you stand out.
Midi-dresses in light colours like green and turquoise with heavily detailed prints shall show the summer flair, and the adjustable knot will keep your worries away about the fit being too tight or loose. Tailored with summer-friendly material — viscose cotton, this shall give you all the comfort. To highlight the detailed print, pair these with minimal accessories such as a bracelet, ring, or a simple neckpiece.
Go bold or go peachy
But if heavy prints are not to your liking, then you can opt for dresses that rather make a style statement with cuts and frills. Steal the show donned in a dress of subtle peaches specked with darker tones. With the neckline featuring heavy detailing with several strings of beads interrupted with white seashells, you do not even need a neckpiece to accessorise this dress.
For a bolder look in darker tones, you can always opt for a jacquard viscose top and pair it with pants of your preference. The V-shaped neckline and adjustable knot will give you the right fit according to your shape. For a longer outfit choice, you can select the dobby-textured viscose cotton jacket. The medley of contrasting colours adds a touch of ethnicity mixed with heritage to your Eid look.
Subtle and sublime tones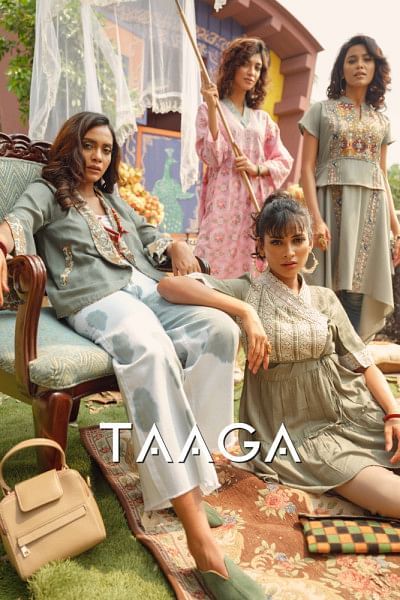 And if you are not a fan of bright, vivid colours and heavy prints altogether you can choose from the line-up of lighter hues and subtle tones. A sage green jacket accentuated with bright detailed motifs on the collar and sleeves would look best with a pair of white denim speckled with grey. To further accentuate the detailed bright print, choose brightly coloured accessories.
Alternatively, you can opt for the same colour combinations in a different style in the form of flairs and cuts. For a simpler and minimalistic look, don the sage green embroidered jacquard top with heavy white lace detailing. This line-up is the perfect wardrobe pick to look modish and up-to-the-minute chic this Eid.
The ultimate colour palette
When confused about what colour to pick, there is always black to the rescue! This ethnic line-up has a few pieces that feature a contrast of bright and vivid colours like orange, red, and yellow embroidered over black. You can choose from a range of styles including tops and jackets – all of which shall give you a bold look.  
Look fun and bright
And if you want something to mimic the bright, chirpy personality you have then TAAGA's bright orange top with details in print and embroidery shall be your style. For a milder look, slip on the beige ramie cotton jacket detailed with embroidered flower motifs.
TAAGA brings to you their exclusive Eid wear that is the perfect medley between fashion and heritage with dresses in various styles ranging from jackets to dresses so that you find your pick. This Eid, build the perfect look for yourself and bring out the fashionista in you with TAAGA.
TAAGA is widely available in all outlets of Aarong. You can also check out their Eid collection on their website: https://www.aarong.com/taaga.TAAGA.
Photo: TAAGA