Exploring the timeless beauty of saris for Eid 2023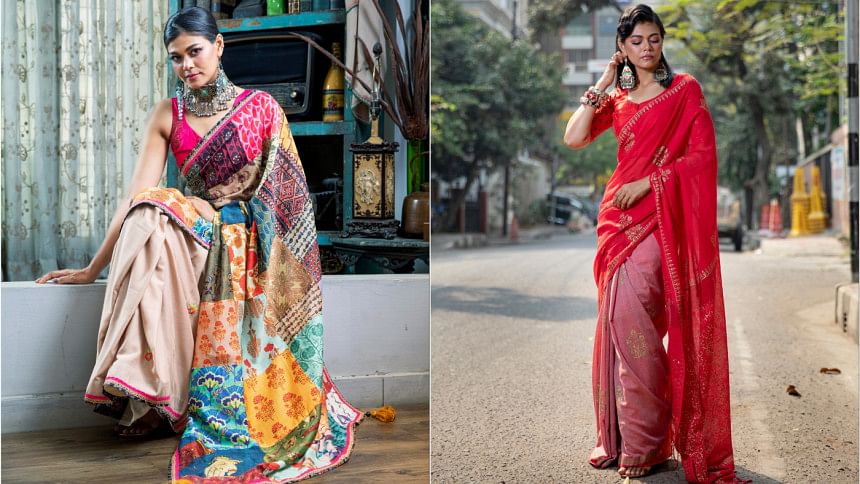 We are quickly nearing the end of this Ramadan, and the excitement surrounding the Eid ensemble is already palpable. Something simple for the morning, maybe a casual outfit for the daytime, or something a little more formal for the evening dawats — we have already busied ourselves in mapping out the days of Eid. Whether you prefer traditional or modern outfits, there is no denying that this is the perfect chance to showcase your style and sophistication.
If you are on the lookout for something exciting yet elegant, look no further than the sari collections this year. Be it the romance of the floral, the allure of tie n' dye, or the captivating geometrics — the plethora of prints this festive season is as mood-lifting and statement-making as they come.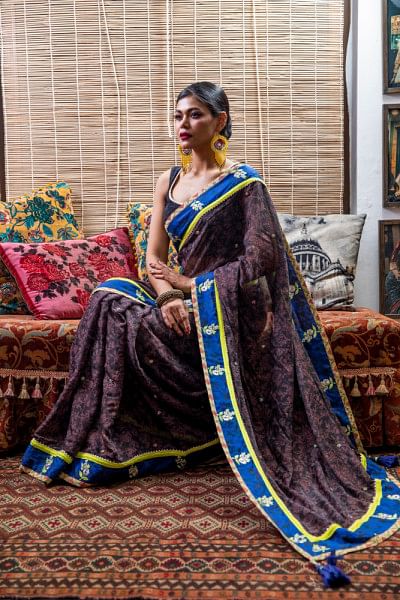 A monochrome sari with an embroidered blouse is your best option when looking for something that speaks celebration with a touch of minimalism. Whether you choose among variations of cotton or silk, pairing a deep-colour sari with a blouse consisting of scattered embellishments or embroidered zari work can elevate your whole look. However, if you are not one to downplay it, choose a sari with bold embroidery or a heavily embellished blouse.
As for someone with a special liking for bright colours and bold patterns, the patchwork printed saris is a must-purchase for you this Eid. The contrasting yet smooth transition of prints along the columns of the sari injects vibrancy to your outfit like none other, instantly making it the star of the evening.
A summer Eid is difficult but soft cotton saris are here to save the day. The sari boutiques have assembled the best of prints and patterns to make sure cotton saris are no longer just basic daytime wear but a chic evening outfit as well. With the right accessories, cotton saris are best for bringing out the true Bengali beauty in each one of us.
When it comes to accessorising your Eid sari, keep it simple. A pair of statement earrings or a delicate necklace can add just the right amount of sparkle to your outfit. A pair of metallic heels or strappy sandals will complete the look perfectly.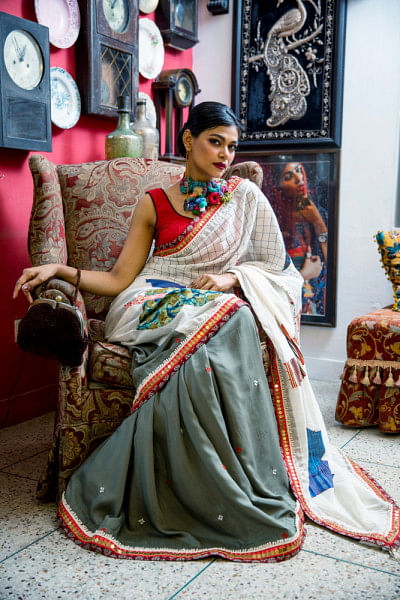 Saris have always been a woman's way of expressing herself. What makes them so special is the way they seem to enhance the beauty we already possess without the slightest exaggeration. Make sure you take time to browse and find the perfect sari that will mirror your personality.
So, there you have it! With so many beautiful colours, fabrics, patterns, and embellishments to choose from, you are sure to find the perfect sari for your celebration. Go ahead and explore the 'sari girl' in yourself this Eid, we promise, you will not regret it.