Fashionable blouse to pair with saris
A sari is the quintessential fashion statement for any Bengali woman. It's an emotion so raw and powerful that it is often handed down from one generation to another with love, respect and pride, and the hope that the newer members of the family will see the sari gracefully through her time.
Fashion is ever fluid and dynamic and no fad outlives its predecessor for long. In times when women prefer to make a statement with their outfits, it is only fitting that the sari should evolve with the generations and embrace the fresh interpretations of its time while keeping true to its essence of sheer elegance.
The demand of the time for the sari wearing girl of today is undoubtedly the contrasting blouse and we are all about that look. As Silmat Chisti, founder of Nobo Dhaka, a heritage fabric revival initiative, and a sari enthusiast says, "Contrast blouses are a reflection of the times. Its liberating not to always be proper and matchy-matchy and it's an ode to slow fashion where you can mix and match one blouse with several saris or vice versa."
Inside the Comfort Zone
A plain sari is your canvas for almost any style of blouse you wish to challenge it with. For those that seek comfort in conventional fashion, pairing a pink with a vibrant blue or a pastel with a basic black or white is the best option. If the cut of the blouse suits your body type well, any contrasting colour or print will elevate your look without having to add too much of the proverbial (or literal) frills and laces, so to speak. Simply play around with sleeve and neck options to change your look and add chicness to your sari game. Opt for a metallic coloured blouse for an instant pick me up.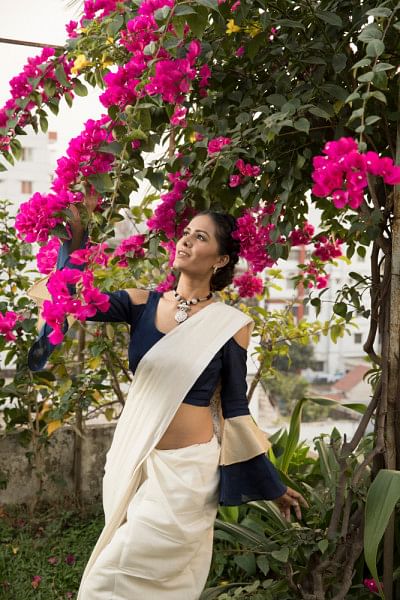 Unconventional conventions
Since we are talking of contrast, the very classy trend of wearing tops as blouses could be your best friend. Go for polka dots or puffed sleeved tops with pastel-coloured saris for that extra oomph factor. Collared shirts work well with dhoti-style of sari draping, that shows off the top in all its glory. Kaftan style tops can add a touch of feminine to the blouse game. A sequined sleeveless number can lend some instant glam to a plain sari while sheer sleeves look fresh and modern, safe, yet experimental.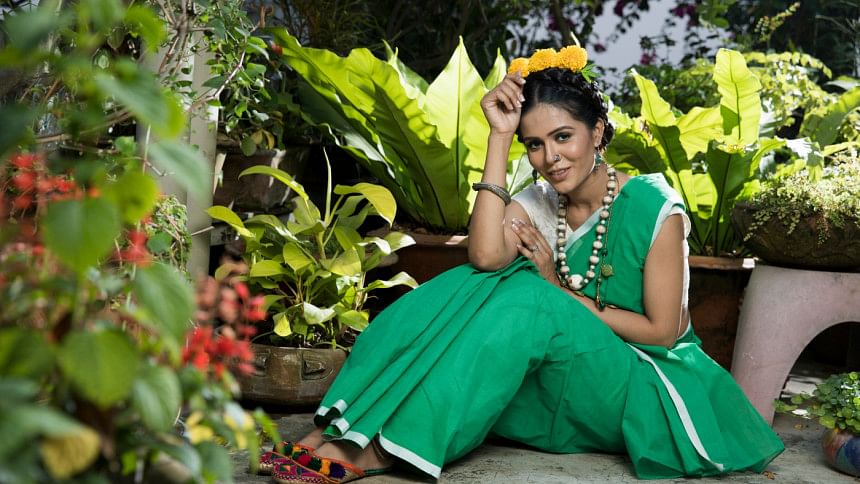 Statement blouses
Where you want to make a style statement, it is seldom the sari that does the talking, but the blouse. For the sake of subtle and chic fashion, we would hope the blouse sings to each admiring eye, rather than shout. Therefore, make sure that if the blouse is to be the show stopper, the sari must take a graceful step towards simplicity.
Pairing plain or lightly bordered saris with a bold blouse. The boldness of it could come from the cut and make of the blouse, such as puffed sleeves or a plunging back or a tie up back, to name a few timeless trends. It could also come from your choice of fabric or pattern, a sassy prima donna embroidered high neck blouse with a simple cotton sari or long, embellished sleeves on an otherwise plain silk body.
Rock a metallic blouse with a black sequined sari or flaunt a same-coloured sari and blouse ensemble with heavy embroidery and a completely unconventional body. Let your imagination run wild!
Whatever style of a contrast blouse you choose for your sari, the effect is bound to be trendy. The eclectic unconventionality and the economic feasibility of this trend sets it apart from other sari fads. The free hand it gives to the wearer to choose their comfort and style over traditional methods, without spending too many resources on it, makes one feel like this is one trend worth getting used to.