Dreams in the Daytime: Styling ideas for daytime parties
At long last, the arduous days of summer are slowly but surely creeping away. Albeit at a snail's pace, but we are happy nonetheless and the possibilities of winter days filled with celebrations are getting us excited and rightly so! Who can resist the charms of a languid winter day, the air crisp with a hint of chill that soothes one's soul, soft rays of the sun caressing beautiful faces ever so delicately, setting them alight with laughter and lightness of being.
A mellow breeze whispers sweet nothings in one's ears, teasing and titillating the strings of wispy diamond earrings on her ears, swaying and sparkling like stars at night. Days of winter are magically magnificent to inspire poetry even in the sternest of hearts!
And a party on a winter day is cherry on the cake! Think romance, elegance, sparkle and sophistication! Your winter daytime event wardrobe must combine all of the aforementioned elements and then some. Subtlety is the name of the game, and yet it should stand out as well.
Think of an ivory tulle sari embellished with pearls, beads, crystals paired with an appealing but sophisticated sleeveless blouse with an interesting detail such as an oversized rose fashioned from tissue or organza for your cousin's post-wedding luncheon.
Pair this ensemble with some stellar jewels, a chic fur stole and some oversized sunglasses and voíla! For an afternoon tea at your friend's garden choose a floral organza dress that's off shoulder and cinched at the waist to show off your fabulous curves. Or choose a feminine skirt with a beautifully embroidered blouse in shades like blush, Tiffany blue, primrose yellow, or sage green. Throw in a pair of elegant but comfortable wedges and a chic statement handbag.
For those countless afternoon soirées that cram the social calendar of a Dhaka socialite during winter there are endless options.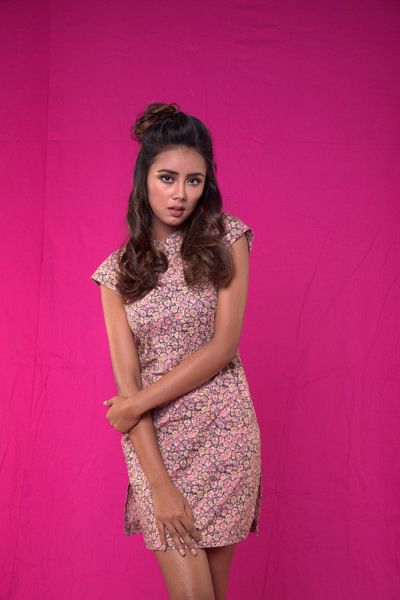 A breezy kaftan in soft and sumptuous brocade with sparkling embellishments will see you through your best friend's birthday lunch, while a lavender pussy bow blouse paired with cream wide-legged pants paired with kitten heels will make you stand out at a ladies' lunch.
Accessories make or break an outfit so choose pearls, subtle diamonds, and elegant costume pieces. Add winter essentials such as stoles, scarves and shawls to keep yourself stylishly warm. And lastly enjoy these fleeting days for you only live once!