Choose a Jamdani sari for this Eid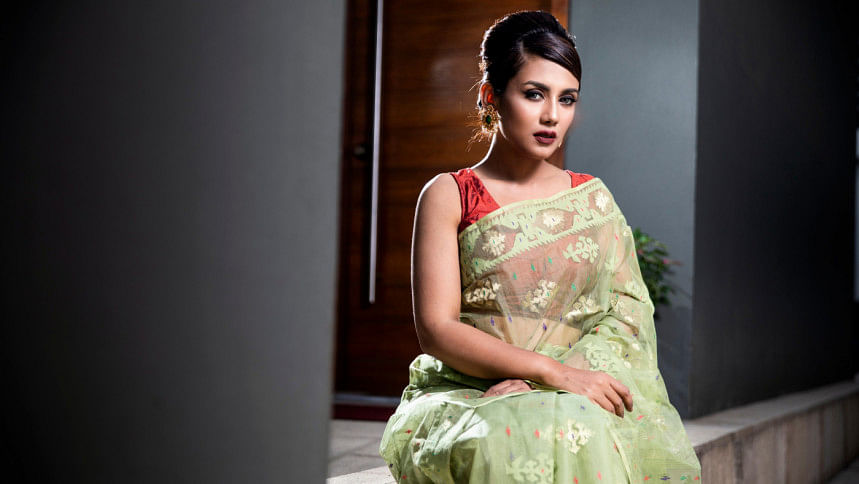 In its humble six yards, the sari is steeped with centuries of history, culture, and tradition. To that end, Jamdani saris are in a league of their own. When wrapped in its gracious folds a woman can explore diverse aspects of her personality — she can be elegant, demure, attractive, practical, and more.
Crafted with precision and passion those sublime six yards have the power to delight, bewitch, enchant, or intimidate even! Is it any wonder that the women of Bengal find themselves empowered when attired in a Jamdani sari? An outfit so versatile it makes its wearer feel her feminine energy and assert her strength and courage at the same time!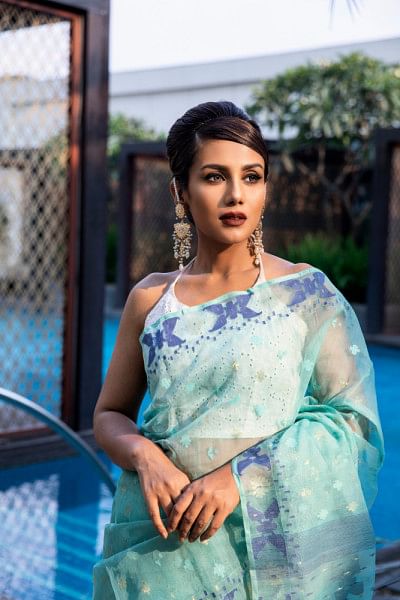 What makes Jamdani saris so unique is that they are quintessentially Bengali. When adorned in a Jamdani, we carry with us a harbinger of our rich heritage and incomparable culture. And just like the different aspects of our vibrant yet diverse culture, Jamdani saris have various avatars to suit every occasion, and taste.
The recent revival of deshi weaves and textiles has been a boon to say the least; modern women who used to shy away from traditional, handloom fabrics are embracing is with gusto! They are making it their own, with modern spins on the patterns, colour combinations and styles on it. There is a right Jamdani for every occasion, be it Eid mornings or a red-carpet event at the Cannes!
With Eid ahead of us, we are spoilt for choice when it comes to a Jamdani. A peach sari with intricate work is perfect for dawats on an Eid afternoon. Pair it with a ruffled blouse and some pearls.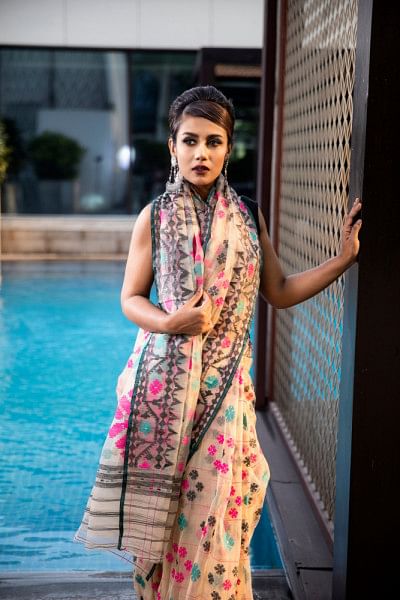 Meeting friends in the evening at a swanky hotel? Pick a mint Jamdani with navy and pink details and wear it with a spaghetti strap blouse and you will be oozing oomph!
Meeting in-laws? Pick an elegant white number with interesting contrasting colours like black and pink and wear it with pearls. What's more, you can customise a Jamdani however your heart desires and make it entirely your own!
Unique colours, combinations, and contrasts are what makes modern Jamdani so much fun and exciting to wear.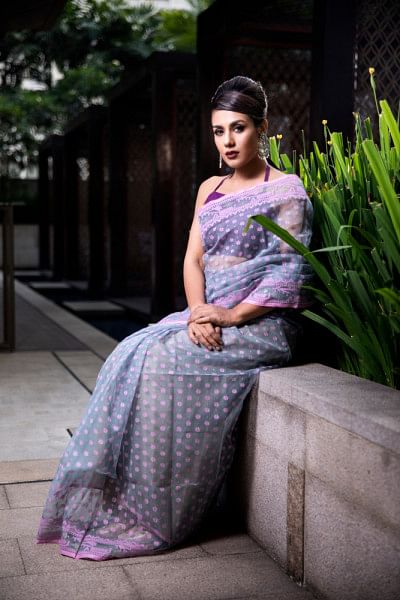 Model: Hridi
Styling: Sonia Yeasmin Isha
Makeup: Jewel
Wardrobe: Karutantra
Location: InterContinental Dhaka