From tradition to trend: The evolution of katan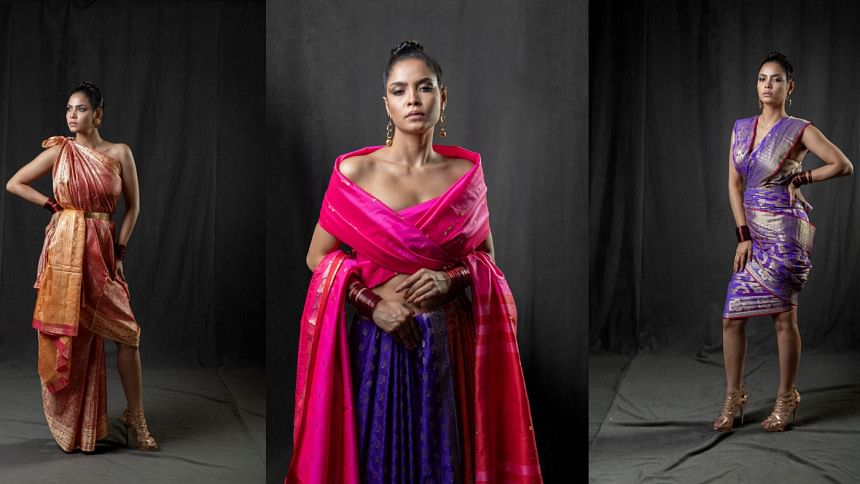 A piece of nostalgia, a part of cultural heritage, or an heirloom passed on through generations; the deep-seated love Bengali women have for katan sari is truly unparalleled. Be it the old-school romanticism that comes with being a red katan bride or the unapologetic boldness of the bright colour contrast that makes you stand out in a crowd, katan is always among our top choices for any occasion.
It was during the Mughal times that weavers first introduced this exceptional transformation of the finest pure silk threads into lustrous materials to present a fabric worthy of the nobles. The Mughals then brought in a variety of designs inspired by nature, mythology, and geometric patterns, which gave the fabric its unmatched beauty.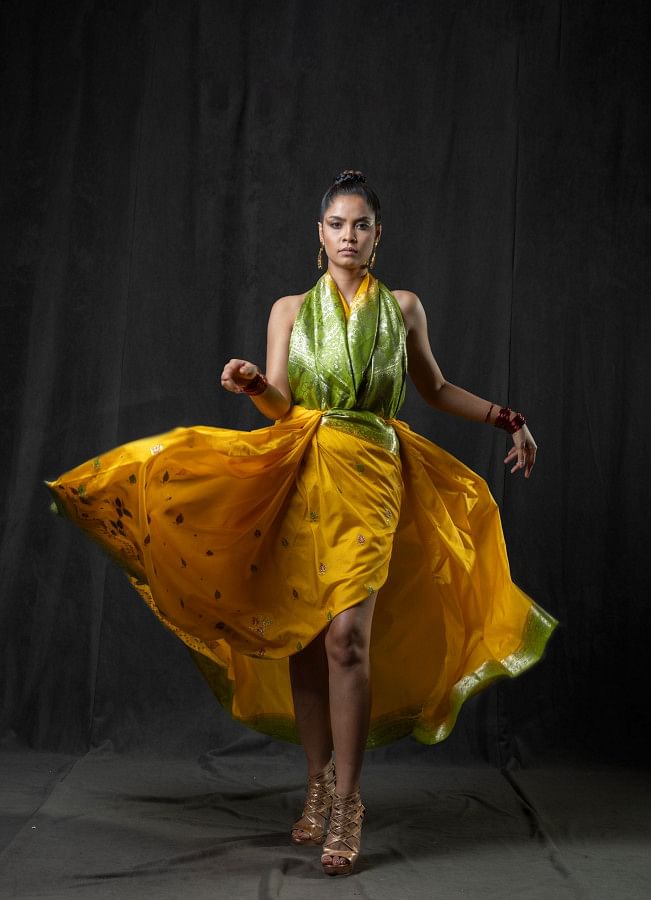 The striking colour contrasts of katan became its signature, setting it apart from any other fabric at the time. Vibrant shades of red, magenta, green, peacock, etc. along with gold, bronze and silver threads came together to create a visual symphony that spoke to everyone who saw it. From then until now, even with changing times and trends, katan stands as a beautiful amalgamation of tradition and contemporary design.
Fashion gurus will tell you that fabrics that boast a wide range of bright colours are often the ones with the most beautiful tonnes of white. The same is true for katan. Today, an off-white katan with broad golden borders is just as popular as a red katan for weddings. Grooms also no longer shy away from this flashy fabric, embracing the spirit of their big day wholeheartedly.
Intricate motifs remain the soul of katan saris. Rich, vibrant hues and a silky texture that softly drapes over a woman to give off a timeless elegance that transcends generations. In its majestic allure, she feels like a queen as if embodying a poet's muse or the history and artistry of her culture with each step.
Imagine yourself wrapped in this classic fabric's embrace as you witness its striking colour contrast and subtle designs. Imagine how it would elegantly embrace your figure, giving you a timeless sense of elegance. With each thread, you live the stories of the ones that wore it before you or create your own, thus carrying the katan legacy into the next generation. That's the feeling you want to get when donning one of these beautiful pieces.
Over the years, the katan fabric has gracefully evolved beyond its traditional roots as a sari material and transformed into something versatile and edgy in contemporary fashion. Although the vibrant colours and intricate motifs of katan sari continue to enchant fashion enthusiasts, the fabric is finding its way into modern-day wardrobes around the globe. Fashion designers, bloggers and artists have been captivated by the sheer versatility of katan, recognising its potential to complement a wide range of styles and silhouettes
Today, this exquisite material adorns not only the traditional elegance of a sari but also complements the youthful essence of kameez, the regal beauty of lehengas, and even the fusion touch on shirts. Whether it's a formal affair, a family event or a casual outing, katan seamlessly weaves its magic into every ensemble, making a bold statement that is distinctly its own.
Model: Anamika
Styling: Soniya Yeasmin Isha
MUA: Sumon