Azmeri Haque Badhan's love affair for saris continue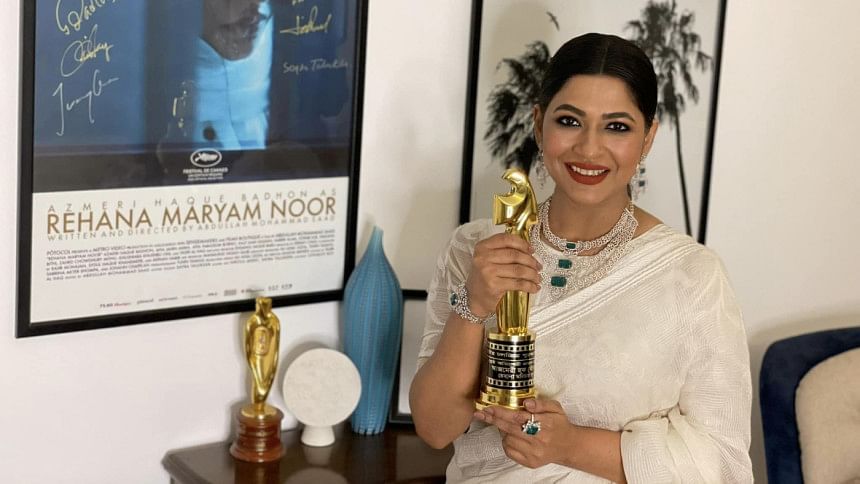 Fashion for the actor and social activist, Azmeri Haque Badhan means a blend of comfort and confidence. She has never been the one to follow trends, nor does she ever intend to do so in the future. The comfort and confidence in her fashion come from locally woven saris. She is dedicated to conserving traditional Bengali saris and promoting the local artists who create them. 
Badhan fell in love with the beauty and elegance of Bengali attire from a very young age. Her passion for saris grew stronger as she grew older, and she began collecting them from various locations in Bangladesh. Her love of the ensemble she wore, a white nakshi kantha sari by Aranya, while accepting the National Award is more than just a fashion statement. Wearing a sari for her is a way of maintaining her country's traditional history and promoting the craftsmen who produce them. 
 "By promoting our cultural heritage through fashion, we can uplift the lives of many small-scale entrepreneurs and showcase the beauty of our country to the world," shared Badhan.
She made a striking statement at the 2019 Cannes Film Festival by wearing a gorgeous Jamdani that was specially crafted by Aarong for the occasion. This was a turning point for Badhan's style. She made headlines with her jaw-dropping attire; she herself realised how proud she felt representing our culture on such a big stage. 
Her message was simple, she wanted to show the world the beauty of traditional Bengali saris while also promoting the local artists who create them. Her presence at the festival was more than just a fashion statement, it was also a symbol of cultural pride and societal transformation.
Her commitment to traditional Bengali saris and local artists is not only motivating but also commendable. She has demonstrated that fashion can be used to effect social change and that supporting local products may help many small-scale designers. Her efforts have not only served to conserve Bangladesh's cultural legacy, but also motivated people to be proud of their culture and promote it through fashion.
When asked if she expects the rest of the entertainment business to follow in her footsteps in terms of fashion, Badhan said that she believes in originality and encourages everyone to express themselves through fashion. 
She does not want people to mindlessly follow trends because she herself has never done so. Fashion, in her opinion, is a personal choice that should represent one's personality and cultural background.
Azmeri Haque Badhan is a true fashion icon who represents cultural pride, social change, and uniqueness. Her passion for Bengali sari is more than simply a fashion statement, it is a means of maintaining her country's cultural history and encouraging the artists who manufacture them. In the future, she looks forward to working with more young local designers and helping them make a bigger impact in the fashion industry.