White staples for summer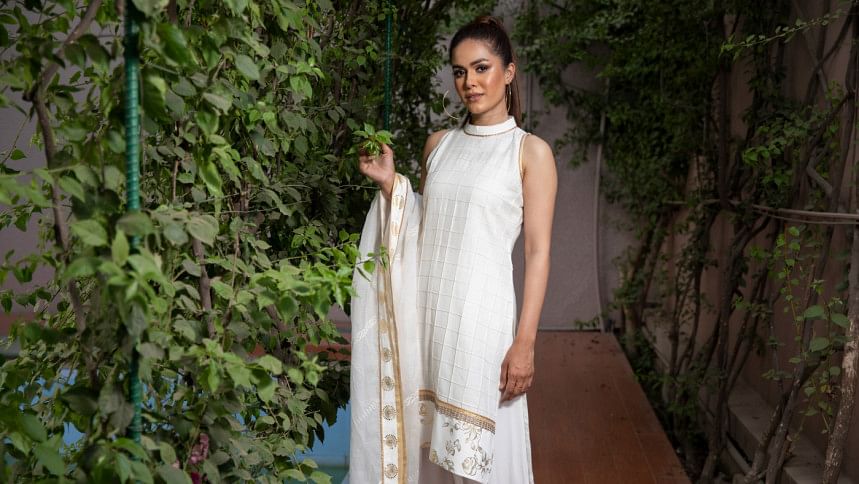 White is pure, while also dominating and bold. It is a hue that is plain and pristine, yet compels onlookers to give its wearer the due respect. For ages, white has been worn on occasions like weddings to signify the chastity of the bride and in religious festivities to represent peace. In the present fashion scene, white is a silent, yet enticingly potent colour that one almost cannot do without in some form or another.
Although the colour is versatile and serves as the most beautiful backdrop to any shade on the spectrum, one style that is currently topping the fashion charts is the combination of white on white. Be it eastern ethnic wear or a billowy western summer dress, the final look is simple and almost entirely dominated by the colour white.
White is Graceful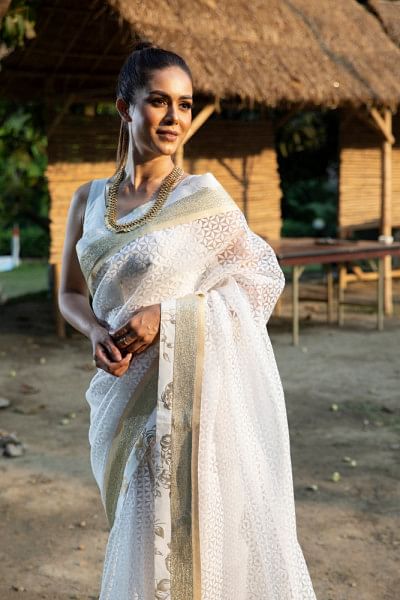 Through ages, we have seen our grandmothers and our mothers wear white saris with white blouses. For many of us, the combination may have seemed pale and uninteresting at that young age. However, the grace of the dreamy white grew on many of us as our taste matured and is now one of the top combinations for our sari ensemble. Be it a satin blouse on a full sequined sari or a gorgeous, pearl worked blouse behind a plain white satin sari, the combination makes the wearer look elegant and immediately noticeable. Pairing the look with a white pearl hair pin, white heels and a small clutch will elevate the look to a whole new level.
White is Sassy
A shade that works well on all skin colours, white is the choice for most summer and beach wear. Reflecting off heat and giving the wearer some coolness, summer dresses in cotton or crocheted material are all the rage now and the top choice for a casual day out with the girls or a solitary walk along the beach. Paired with a wide brimmed white hat and wedges in the same colour, the look can be completed by adding some chunky bracelets on the hands and a polka dotted silk scarf. Due to the quietness of the colour, none of it will ever seem like overkill.
White is Nostalgic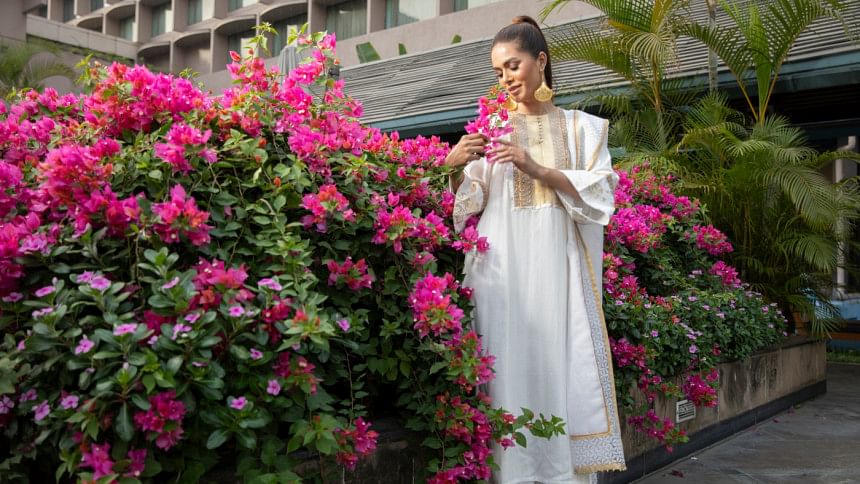 A loose, mirror-worked white kameez with bell bottom sleeves and shalwar to match will never go out of style. Nor will a shorter, lightly embroidered kurti with a traditionally styled shalwar. Be it a garara or a sharara, ways to style the all-white combination of traditional wear are endless. Pair the look with flat, white sandals or khussa jutis and big statement earrings in oxidised gold and pearls to steal the show at each dinner party you show up to. The understated style works well without a dupatta too but the long scarf in plain or embellished material will really lift the entire look.
White is Powerful
Some may mistake white to be a timid colour for the professional scene but when worn right, it can look every bit as impressive and tough as black. Pant suits with capes are trending in both dark and pastel colours and one of the most daring shades one can wear the ensemble in is — you guessed it — white! Keeping the look chic and minimal here with small earrings in white and gold and a classy pair of milky white clogs will have you turning heads wherever you go. Opting for a box or briefcase style handbag will make the wearer look even more striking and professional.
Model: Tania
Wardrobe: Chondon
Make-up: Sumon Rahat
Styling: Sonia Yeasmin Isha
Location: Pan Pacific Sonargaon Dhaka