Trouble mounts for Sanofi dengue vaccine over safety concerns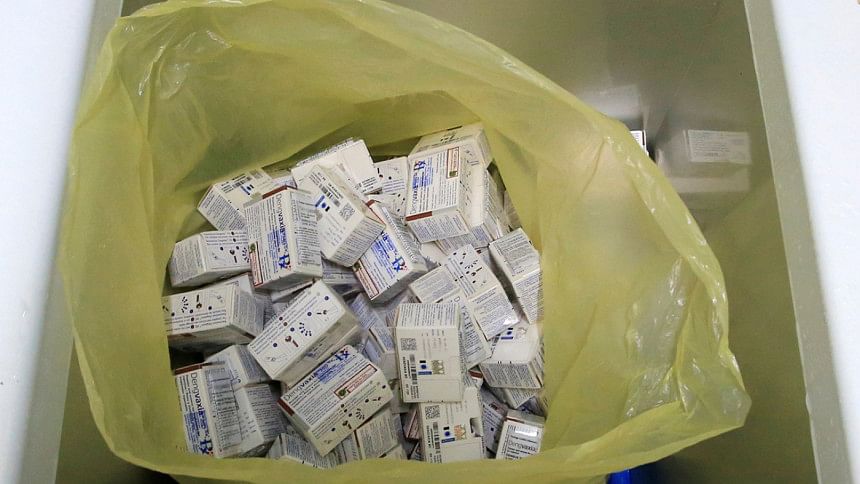 The World Health Organization said on Monday it hopes to review safety data on Sanofi's dengue vaccine this month, while the Philippines ordered an investigation of its now suspended massive immunization program after the French drugmaker said it could actually worsen the disease in some cases.
The safety fears involve possible increased risk to people who had not previously been exposed to the dengue virus prior to vaccination with Dengvaxia.
Sanofi SA attempted to allay concerns, saying in a statement that "the vast majority of those vaccinated to date live in high endemic settings and, therefore, will have had a prior dengue infection before vaccination."
Dengvaxia, the first approved Dengue vaccine, had been forecast by Sanofi to eventually bring in nearly $1 billion in annual sales. But even recent more modest analysts' sales forecasts are now looking unattainable given the safety issue and clinical evidence revealing unequal protection against different strains of dengue.
The vaccine so far has been approved in 19 countries and launched in 11, Sanofi said. Most sales have come from the Philippines through its government immunization program involving more than 730,000 children, and Brazil, where the state of Parana has seen a three-fold increase in dengue in the past few years.
Dengue is a mosquito-borne tropical disease that kills about 20,000 people a year and infects hundreds of millions.
The WHO, which issued a report identifying the vaccine's safety risk in mid-2016, recommended it only be used in people who had prior dengue infection.
Brazil confirmed it already had recommended restricting use of the vaccine to those previously infected with dengue but had not suspended it entirely.
Brazilian health regulator Anvisa, in an emailed statement to Reuters, said it had not received any reports of vaccine recipients dying or falling more severely ill because of the drug. It does not know how many people have received the vaccine in Brazil since its 2015 approval.
Sanofi, whose shares rose 0.4 percent in Paris on Monday, explained its "new findings" of increased risk at a news conference in Manila. It did not say why action was not taken when the WHO raised the issue last year.
The Philippines Department of Health halted use of Dengvaxia last week after Sanofi reported it could worsen the disease in some people.
"As far as we know, as far as we are made aware, there are no reported deaths that are related to dengue vaccination," said Ruby Dizon, medical director at Sanofi Pasteur Philippines.
A Philippine health official said the deaths of three children who received Dengvaxia, reported by a non-government organization, were not related to the vaccine.
Nearly 734,000 children aged 9 and over in the Philippines have received one dose of the vaccine as part of a program that cost 3.5 billion pesos ($69.54 million).
Sanofi said it had not seen any evidence of increased incidence of severe dengue in vaccinated individuals in the real world experience with the vaccine. The drugmaker said the long-term safety evaluation of Dengvaxia showed significantly fewer hospitalizations due to dengue in vaccinated people over 9 years old compared with those who had not been vaccinated.
Singapore's Health Sciences Authority said last week it was working with Sanofi to strengthen risk warnings on the drug's packaging.
Sanofi spent 20 years developing the world's first dengue vaccine at a cost of around 1.5 billion euros ($1.78 billion).
In addition to Brazil, the Philippines and Singapore, Dengvaxia is being sold in Mexico, Indonesia, Thailand, Paraguay, Peru, Costa Rica, El Salvador and Guatemala.
Health officials in Mexico, the first country to approve the vaccine in 2015, and in Peru had no immediate comment. Paraguay's health officials said Dengvaxia is not widely used due to cost but that they have not received reports of problems from doctors who provide the vaccine.
It is approved but not yet launched in Honduras, Malaysia, Australia, Argentina, Venezuela, Bolivia, Bangladesh and Cambodia.
Sanofi said it plans to discuss with the U.S. Food and Drug Administration moving forward with its U.S. regulatory filing for Dengvaxia with new labeling recommendations.
Dengvaxia is under review by European health regulators. A spokeswoman said in an email that regulators there could not comment on the status of the application but that any emerging data will be taken into account during the assessment of the vaccine.
Consensus analyst forecasts collated by Thomson Reuters before the latest problems pointed to Dengvaxia sales of about 360 million euros ($426.5 million) by 2022. Some analysts now expect that figure to fall significantly as national vaccination programs are curtailed and usage restrictions put in place.