Facing the COVID-19 crisis: where do we stand after six months?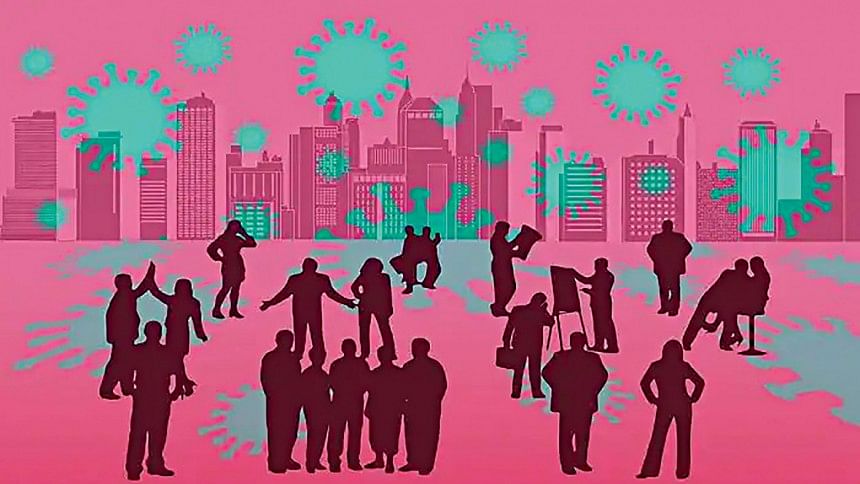 Six months have now been passed since the first COVID-19 patient was detected in Bangladesh. Bangladesh has been fortunate to see a low percentage of symptomatic patients with a low death rate as compared to many other nations. This offered an opportunity to control the pandemic, but only if appropriate steps are taken in a timely fashion. If not, underestimating the infection might result in grim consequences.
Although a glimpse at the recent daily case counts may present a semblance of a controlled infection situation, a deeper look shall reveal otherwise. The percentage of daily tests that come out positive (test positivity rate) is high enough to clearly indicate that a large number of infections do remain unidentified and these undetected cases are spreading the disease throughout the community.
Therefore, the steady decline of daily cases as reflected from the official records is merely deceptive and can be credited to the decreasing number of daily tests. The anticipation that nine percent of Dhaka city dwellers have already been infected with coronavirus, according to a recent investigation by the Institute of Epidemiology, Disease Control And Research (IEDCR) and International Centre for Diarrhoeal Disease Research, Bangladesh (icddr,b), also endorse the same.
As of September 5th, Bangladesh has the tenth most active COVID-19 cases among the world countries while being 159th as regards to the number of tests per one million population. This inadequate testing not only lets to lose control but also limits the government's ability to plan, monitor and take necessary actions to keep track of the pandemic.
In contrast to the World Health Organisation's (WHO) strong recommendation of achieving a positivity rate lower than 5% for at least 14 consecutive days before reopening, Bangladesh's infection scenario and the testing measures are nowhere close to that.
Moreover, imposing fees for testing and delayed reporting have discouraged people to test and isolate. Many have now arrived at pandemic fatigues to show reluctance in following the safety measures which is alarming.
Downplaying the severity of the pandemic at the policy level or in public messaging should be avoided, as an underestimation would discourage people to follow the safety guidelines, which may contribute to an upsurge of infection.
Surely, the pandemic will not go away on its own without an effective vaccine and proper interventions to control the transmission. Therefore, there is no escape from taking actions appropriate to the situation, which may include:
1. Deploy rapid antigen-testing and eliminate any barrier to test (testing fees, long reporting time, stigma related to COVID-19) to effectively identify and isolate infected persons.
2. Closely monitor three health measures to track the course of the disease: i. test positivity rate, ii. hospitalisation rate, and iii. daily new cases both at national and at local levels.
3. Engage and mobilise local resources and deploy the field-level administrations to conduct massive awareness campaigns.
4. Monitor whether the safety guidelines are followed by institutions and individuals and ensure penalisation for violations.
5. Protect the healthcare professionals to ensure resources/workforce are available to treat patients and utilise telehealth to decrease pressure on the health system.
6. Employ vaccine diplomacy and development of an implementation plan (e.g., from pre-ordering syringe to identifying priority groups) to vaccinate before vaccines become available.
Although the infection slowed slightly as the country is passing through the first wave, it may witness a surge in the coming winter. It is essential to take a precautionary approach and make evidence-based decisions to ensure that we do not let the pandemic go unleashed. Visit https://www.cridaction.org/ to learn more about the recommendations.
Dr Shahriar Rozen is a public health professional, currently working as a Senior Policy Lead for Alberta Ministry of Health, Canada. Email: [email protected]

Muhammad Rizwanur Rahman is a doctoral student at the Department of Mechanical Engineering, University of Alberta, Canada. Email: [email protected]

Dr Sabrina Saba is an MSc Candidate (Health Policy Research), University of Alberta, Canada. Email: [email protected]