100-day programme to improve health care launched
Monitoring cells at divisional levels to fight graft; free health care for people below 1yr and above 65yrs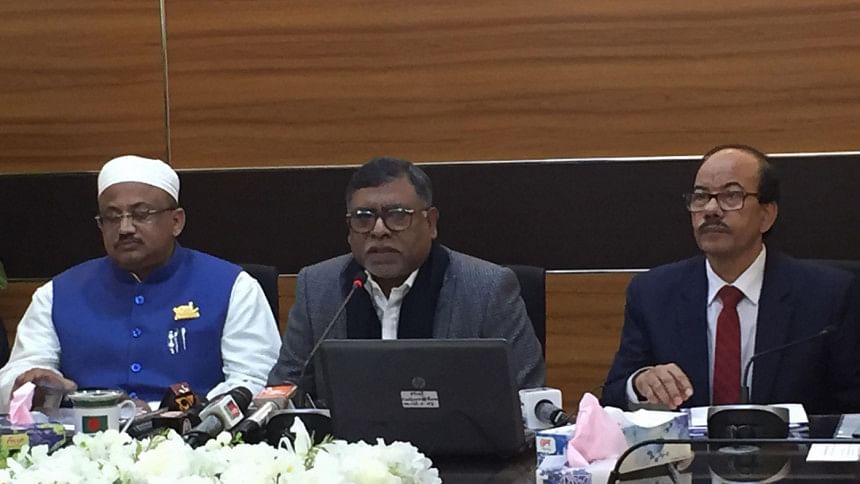 The Health and Family Welfare Ministry will begin a strong anti-corruption campaign in the health sector to improve governance in the sector, said Health Minister Zahid Maleque today.
"We have recently suspended one employee and removed another employee on charges of corruption. We will continue the anti-corruption campaign everywhere," he told reporters at the health ministry conference room in Dhaka.
Zahid Maleque announced a 100-day programme of the ministry to improve country's overall healthcare service.
Within this time, he said, the ministry will set up monitoring cells in the ministry, Directorate General of Health Services and at the divisional levels.
Zahid Maleque said these monitoring cells will conduct regular visits to the hospitals and ensure that those maintain cleanliness and provide proper healthcare to the patients.
The ministry today launched complaint corner for the people who face problems while taking healthcare, he told journalists.
Asked about non-utilisation of medical equipment in the public hospitals, he said from now on the hospitals will not buy any equipment without prior approval of the ministry.
'Free health care for people below 1yr and above 65yrs'
Minister Zahed Maleque also said the government will provide free health care services to people aged below one year and above 65 years as per its election manifesto.
All the government-run hospitals and health complexes across the country will provide free health services to those aged below one year and above 65 years, he said.
The programme will be incorporated within the current government's tenure as per its election manifesto, the minister added.
He, however, did not elaborate on how the services will be offered and when the beneficiaries of the programme will begin receiving the services.