A delectable mix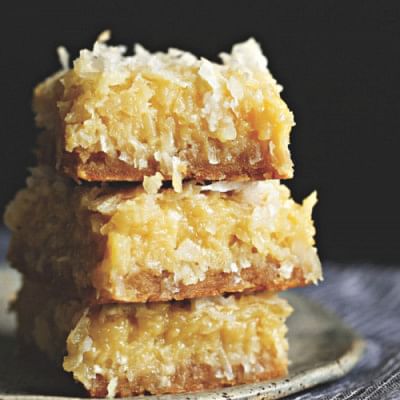 The year began with a cold wave that made us all want to curl up into a ball and stay hidden under the warmth of our blankets. It also left most of us sniffling and coughing with the seasonal flu. So, this time I bring to you some recipes that could brighten up the evening snack time and also add some much-needed heat to your menu.
VEGETABLE PASTRY WITH A MIX OF EVERYTHING SEASONAL AND A DASH OF DHAKA PONEER AND THE FEARLESS OLIVE PIZZAZ!
Ingredients
200g potatoes, grated
250g filo pastry sheets
150g radish, thin, round slices
200g carrots, grated, 200g water spinach
¼ cup lemon juice, 2 large onions
3-4 cloves of garlic, diced
Thyme, basil, mint and rosemary
1 egg, whisked and used for egg wash
Olive oil, 200g Dhaka poneer
Method
Steam grated carrots and potatoes for about 1 minute. Dip the filo sheets in lukewarm water to soften them and in an 8-10' baking dish; line the base with the sheets in a crisscross pattern. Lightly smear them with the olive oil. Sauté water spinach with about half the garlic in olive oil for about 1 minute. Whisk the eggs with oregano, basil, salt and pepper.
Mix half the eggs with half the grated potatoes and set aside. Slice the vegetables in thin rounds and the broccoli in bite sizes. Mix the radish, zuchhini, broccoli and tomatoes with olive oil, all of the carrots and half the potatoes, lemon juice, salt and pepper, oregano and the rest of the garlic. Mix in the cooked spinach also.
Layer all the vegetables on top of the filo. Put a final filo layer and generously brush it with the egg wash. Lastly, add the last bit of grated potatoes on top and sprinkle some crushed Dhaka pioneer cheese on top. Bake it for about 10-15 minutes, checking to make sure that the egg does not overcook or the sides do not burn excessively.
MUTTON SOUP TO DRIVE AWAY THOSE LINGERING WINTER CHILLS AND SORE THROATS.
Ingredients:
250g mutton bones with a bit of meat on them
1 tbsp celery stalks, chopped
1 heaved tsp garlic paste and same amount of ginger paste, ¼ tsp oregano
1 tsp cumin powder
1 stick of cinnamon, ¼ tsp rosemary
1 tsp black pepper
Some whole peppercorns
2 large onions, sliced, 2-3 cloves thinly sliced
½ tsp sliced ginger, 1 carrot
1 zucchini, 1 small radish
2-3 spring onions (only used for garnishing), 1 tbsp grated walnuts
1 tsp grated lemon rind, ½ cup olive oil
½ tbsp dish ghee or clarified butter
Method
Sauté onions, mutton bones and half the garlic and ginger and celery stalks for about 5 minutes until the bones reach a glazed state. Add rosemary for about 1 minute and sauté, then add about 4 cups water and add the rest of the ginger and garlic, cinnamon, cumin powder, pepper (powder and peppercorns) and oregano and also all the vegetables. Cook for about 45 minutes until it reaches the required consistency. Add ghee in the last 10 minutes. Once done, take the bones out and blend the soup for a better consistency and add the bones again to serve.
Serve with sliced ginger, coriander, grated lemon rind, and walnuts with a piece of bread.
---
COCONUT BARS
Ingredients
2½ cups unsweetened coconut, flakes or shreds
2 tablespoons coconut oil, solid or melted
¼ cup + 2 tablespoons coconut cream*
2 tbsp pure date syrup (khejurer gur)
For the chocolate layer —
½ cup chocolate chips
¼ cup coconut cream
Method
Line an 8-inch square baking pan with baking paper. Add coconut flakes, coconut oil, coconut cream, and date syrup to a blender and blend until you get a wet and sticky mixture, with some tiny coconut pieces still visible. This helps maintain a grainy structure to make sure the bars maintain their shape.
Pour coconut mixture into the prepared pan. Press down and smooth until you get a tightly packed layer. For the chocolate layer, add the chocolate chips and coconut cream, heat in 15-second increments until just slightly softened and melted, being careful not to burn.
Stir thoroughly in between heating increments, until smooth. Then pour melted chocolate over coconut bars. Using a clean rubber spatula, smooth into an even layer. Freeze for 40-70 minutes. The longer the bars chill, the cleaner and less crumbly the slices. Slice the bars into 16 parts and serve chilled.
Photo: Collected