Irrigation water crisis in barind: Small farmers in a vicious trap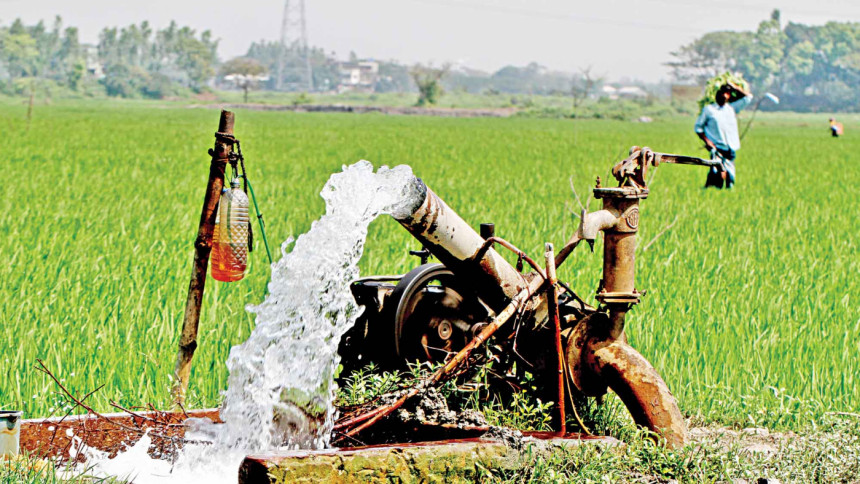 Amid lax monitoring by the authorities, many deep tube-well operators have been depriving small farmers in Rajshahi, Chapainawabganj and Naogaon of their fair share of water for irrigation.
Those operators delay releasing water from their pumps, which leads to frequent crop loss for the farmers. Thrown in a situation they simply cannot cope with, the farmers are then forced into selling their land or leasing out land to others. 
Many of them leave farming for good and become day labourers to survive. In many cases, the tube-well operators, who have money and political connections, buy those land or take them on lease to grow their own crops, The Daily Star has learnt after talking to several such farmers as well as experts and development activists in the Barind region.
On the other hand, the well-off farmers, who pay the operators extra money, are supplied with the irrigation water on time, they also said.
On Wednesday, two farmers drank pesticides standing beside a deep tube-well in Issoripur village of Rajshahi's Godagari upazila. One of them, Abhinath Mardi, 36, died later that night while the other, Robi Mardi, 27, passed away on Friday. They were cousins, who belonged to the Santal community.
Abhinath's wife Rozina Hembrom filed a case with Godagari Police Station on Friday night, accusing the well operator, Sakhawat Hossain, of abetting the suicide of her husband.
In the case statement, she alleged that Sakhawat did not supply water to Abhinath's field for 12 straight days. The water came, but only after news spread that Abhinath had died.
Talking about the incident, Prof Chowdhury Sarwar Jahan of Rajshahi University's geology and mining department yesterday said, "We've noticed one sort of feudal system emerging in the Barind villages."
Farmers are losing crops and land to the system as they keep struggling to survive, he said, adding that many operators exploit farmers taking advantage of the water crisis in the region.
He said areas in Nachol and Gomostapur upazilas in Chapainawabganj; Tanore and Godagari in Rajshahi; and Porsha, Sapahar, and Niamatpur upazilas in Naogaon, have severe water shortages.
Bimol Hasda, a farmer in Issoripur village, said he had to wait for 15 days to get water to his Boro field. "I needed water for at least two hours, but was given only for one hour."
Bimol now fears he might have a poor yield, like he had last year. "If this continues, I will have nowhere to go. I don't know how I will feed my family."
The government's Barind Multipurpose Development Authority (BMDA) appointed operators for its 16,000 deep tube-wells in Rajshahi and Rangpur divisions, earning around Tk 150 crore in revenues annually.
More than half of those tube-wells are in Rajshahi, Chapainawabganj and Naogaon districts where water for irrigation is scarce, said BMDA sources, adding that there are also around 56,000 private irrigation wells approved by upazila irrigation committees.
Experts and development activists working in the region said money and politics come into play in picking operators.
Several farmers said many became extremely rich within years after installing water pumps in their areas.
Mazed Ali of Godagari's Jogpur village said, "The well works like oil mines for many. Their owners are denying us water. They are making huge money within a short period of time after forcing us to sell our land."
In cases, the operators would help well-off farmers buy or take lease of such land, in exchange of money, he said.
They also illegally take crops from farmers for meeting costs of maintenance of equipment needed to supply water to the fields. Besides, they take money from them when the tube-wells go out of order.
The farmers also said they have to pay more for the water, which is supplied to their land through dug-up paths.
For example, a private pump owner charges them Tk 110 for one hour of water, whereas it should be around Tk 28.
BMDA provided smart cards to farmers for getting the water, but the operators don't let them use it. Rather, the operators somehow collect the cards themselves and take cash from those seeking water, they said.
Contacted, BMDA Executive Director Abdur Rashid said they receive complaints from farmers in this regard. "We terminated one or two operators, but complaints keep coming."
"We will look into the matter."
Speaking to The Daily Star in front of his two-storey home, the only concrete building in Godagari's Issoripur village, Sakhawat denied depriving farmers of irrigation water.
Asked about the delay in supplying water to Abhinath's field, he said, "We have to maintain serial numbers as the demand for water is always high."