1 in 10 people now living with diabetes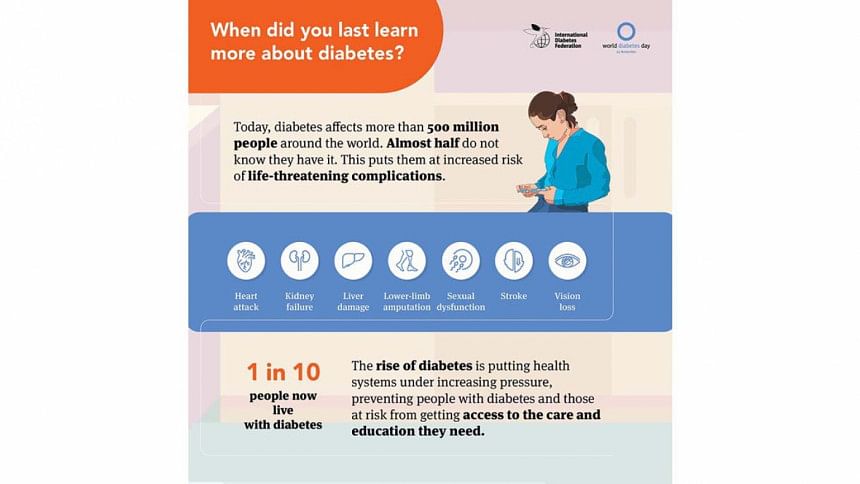 One in every 10 persons now lives with diabetes, International Diabetes Federation said on the occasion of World Diabetes Day today.
It said diabetes has affected more than 500 million people around the world but almost half of them are undiagnosed.
The rise of diabetes is putting the health system under increasing pressure, preventing people with diabetes and those at risk from getting access to the care and education they need, the federation said.
Today, Bangladesh is observing  Diabetes Day to raise awareness  about the disease.
This year's theme of the day is "Education to protect tomorrow."
President M Abdul Hamid and Prime Minister Sheikh Hasina issued separate messages urging all concerned to work together for creating awareness among the people about diabetes.
In his message, president Abdul Hamid said the prevalence of diabetes is increasing day by day due to urbanisation, changes in lifestyle and food habit and lack of physical labour.
Prime Minister Sheikh Hasina, in her message, said that various steps have been taken, including the establishment of new hospitals and nursing institutes, to ensure up-to-date health care by formulating pro-people health policies.
As a result, significant progress has been achieved in the health sector of Bangladesh, she added.
Number of doctors, nurses and supporting staff has been increased to a large extent along with increasing the number of beds in hospitals across the country, she said.