Tarique's Citizenship: He submitted passport to UK Home Office to seek asylum
Says BNP, trashes Shahriar's claim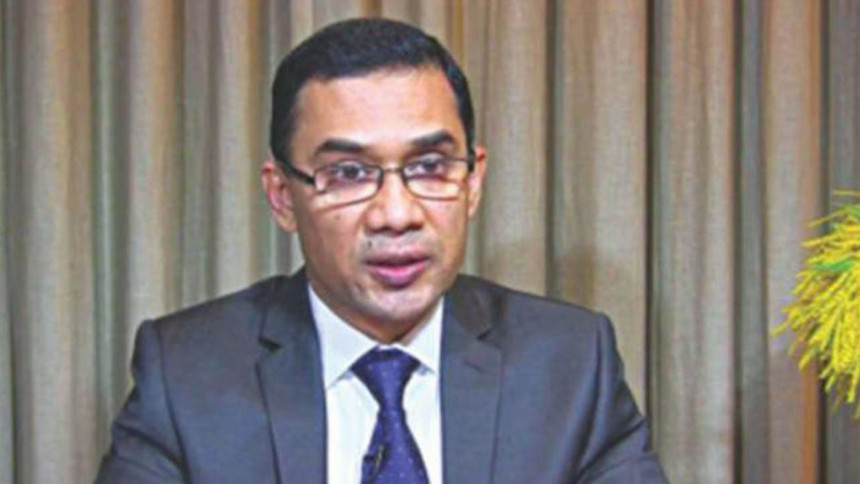 Amid claim and counter-claim of the government and the BNP over whether Tarique Rahman gave up his citizenship, the latter yesterday said he submitted his passport to the Home Office of the United Kingdom for seeking asylum.
"Tarique Rahman sought a temporary political asylum and got it. Submitting passport is a necessary procedure for seeking asylum," said BNP Secretary General Mirza Fakhrul Islam Alamgir yesterday.
He was addressing a press conference at the party's Nayapaltan central office yesterday, a day after State Minister for Foreign Affairs Shahriar Alam had come up with some documents claiming that Tarique had surrendered his Bangladeshi passport and renounced citizenship.
Shahriar had also said that Tarique, his wife and daughter handed over their passports to the British Home Office four years back.
In this context, Tarique's lawyers served a legal notice on the state minister seeking proof within the next 10 days backing his claim.
Fakhrul said it's a "shame" for the nation that the state minister for foreign affairs does not know how a citizen can lose his citizenship.
"The information which is being circulated about sending his [Tarique's] passport to the Bangladesh High Commission in Landon from the British Home Office for retention also doesn't legally and logically prove that he relinquished his Bangladeshi citizenship.
"The UK authorities issued him travel permit after he submitted his passport. When he will be physically fit to return home, he can apply for his passport and obtain it."
Tarique, now party's acting chairman, went to London in 2008 for treatment upon a court order after falling victim to "political vengeance" of the then caretaker regime, Fakhrul added. 
"It is clear from the statements of government representatives that Tarique Rahman is not safe in Bangladesh. That is why he sought asylum in London."
Fakhrul also termed mysterious the "forwarding letter" of the British Home Office shown by the state minister about retention of Tarique's passport as it bears "13 major mistakes".
"We would like to categorically say that Tarique Rahman is a proud citizen of Bangladesh by birth. He was the citizen of this beloved country, he still is and will remain so.''
This is the first time the BNP came up with a statement about Tarique's status in the UK since he went there in 2008.
Meanwhile, pro-BNP lawyers yesterday organised a press conference where Supreme Court Bar Association Secretary AM Mahbub Uddin Khokon said, "The document presented before the nation by Shahriar Alam is false. The state minister for foreign affairs has to prove whether it is forged or not."
SHAHRIAR'S FB ACCOUNT 'HACKED'
Shahriar yesterday claimed that his Facebook account was hacked on Monday night. A post in connection with Tarique's "surrendering his passport" was deleted from his page, he said in a post yesterday morning.
"My Facebook account went through torture the whole night. Hacking. Post disappeared. You can understand who has invested in it," read his post.
JOY HAS NO FOREIGN PASSPORT
On Monday, Prime Minister's ICT Affairs Adviser Sajeeb Wazed Joy said he does not have any foreign passport, reports UNB.
"I don't have any foreign passport. I have permanent residency in the US. I travel proudly on my green Bangladesh passport," Joy said in a status update on his verified Facebook account.
Sharing a news report on Shahriar Alam's remarks on Tarique Rahman's citizenship status, he denounced the BNP as "thoroughly dishonest". "You cannot believe anything coming out of any of their [BNP leaders'] mouths," he added.
The news report Joy shared contained what appear to be scans of one of Tarique's passports along with a copy of a letter sent by the British Home Office to the Bangladesh High Commission accompanying the passports of the BNP leader and his family members, writes UNB.
It remains unclear under what circumstances the Home Office came to be in possession of the passports, or exactly why those were forwarded to the High Commission either, the agency added.