Khaleda greets people on Eid from jail: Rizvi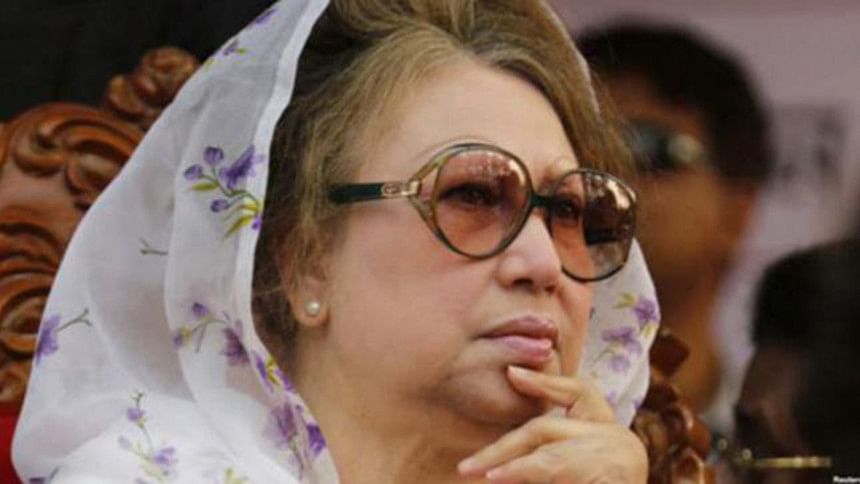 BNP Chairperson Khaleda Zia has greeted the country's people and wished them 'Eid Mubarak' from jail on the occasion of Eid-ul-Fitr.
"Our chairperson through those who met her in jail has greeted people on the occasion of Eid-ul-Fitr. Our acting chairman Tarique Rahman and secretary general Mirza Fakhrul Islam Alamgir also greeted people," said BNP senior joint secretary general Ruhul Kabir Rizvi today.
Speaking at a press conference at BNP's Nayapaltan central office, he also said Khaleda and Tarique sought blessings from people.
"We're going to celebrate Eid with a heavy heart as our chairperson has been kept in jail in a false and fabricated case. Though she got bail from the apex court, she was neither released nor taken to a hospital of her choice to receive treatment," he said.

The BNP leader alleged that the government obstructed Khaleda's release from jail by interfering in the judiciary.

He said though the BNP chief's personal doctors advised conducting some crucial health tests of her, the government has not yet taken any step in this regard.

Rizvi said the government has long been showing an inhuman and brutal attitude towards a 73-year-old female leader.

He once again called upon the government to shift Khaleda to United Hospital for better treatment.

The BNP leader alleged that the government has continued its crackdown on their party leaders and activists even ahead of the Eid.

He voiced deep concern as police rearrested Jatiyatabadi Chhatra Dal president Rajib Ahsan on Thursday night at the gate of Keraniganj Central Jail soon after he was freed on bail.