Advance Eid train ticket sale begins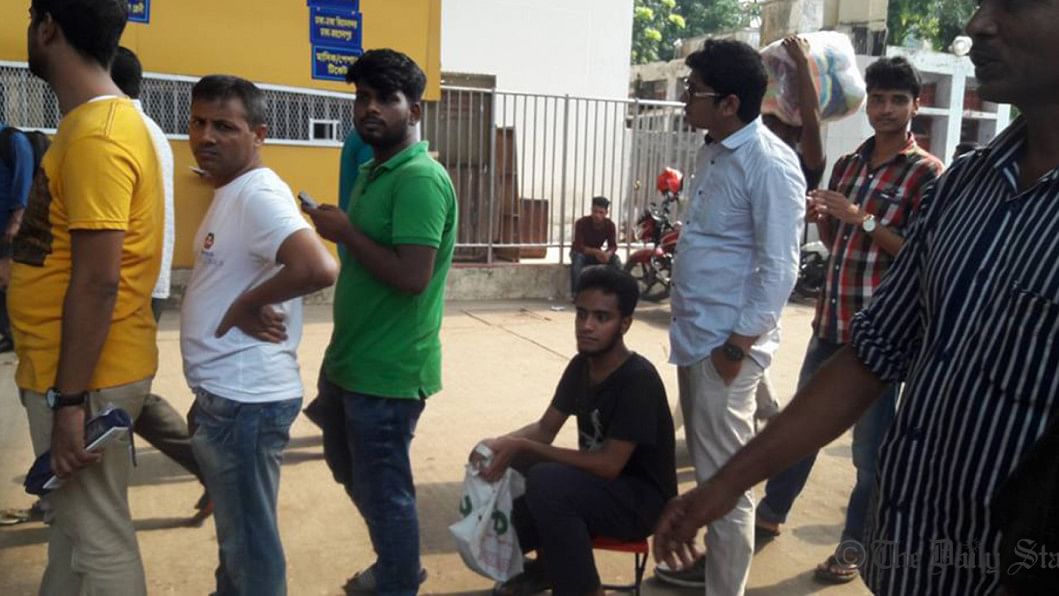 Bangladesh Railway authorities this morning began selling advance train tickets ahead of Eid-ul-Fitr as per the previous announcement.
There are long queues in front of all the counters at Kamalapur Railway Station in Dhaka with some people waiting for those to open since last night, our staff correspondent reports from the spot.
Read more: Advance Eid train ticket sale pushed ahead to June 1

"A total of 26 counters are selling tickets from 8:00am, among which two are reserved for women only," Sitangshu Chakraborty, station manager of Kamalapur Railway, told The Daily Star.
"We will sell up to 23,514 tickets for June 10 today," the manager added.
Director General (DG) of Bangladesh Railway, Amzad Hossain, visited the Kamalapur Railway Station around 10:15am to observe the sales.
"We are trying the most within our limit in order to ensure tickets for everyone," the DG said while talking to the reporters after observing the authorities' operation.
Earlier on May 24, Railway Minister Mujibul Haque fixed June 1 for the advance train ticket sales to begin.
Advance tickets for travelling on June 10, 11, 12, 13, 14 and 15 would be sold on June 1, 2, 3, 4, 5 and 6 respectively, the minister said.
Return tickets for June 19, 20, 21, 22, 23, and 24 will be open for sale on June 10, 11, 12, 13, 14,  and 15 correspondingly at Rajshahi, Khulna, Rangpur, Dinajpur and Lalmonirhat stations, he said.