Advance Eid train ticket sale pushed ahead to June 1
7 special trains to carry holidaymakers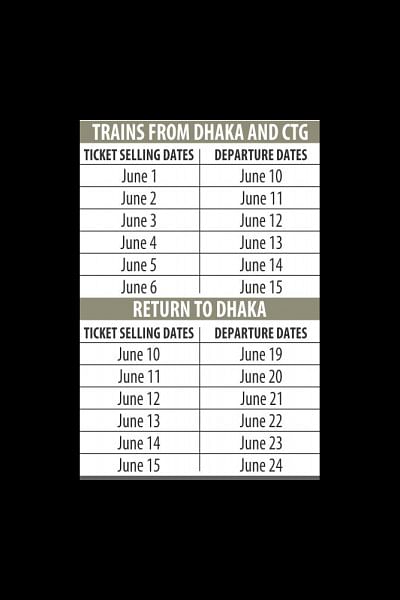 Bangladesh Railway will begin the sale of advance train tickets from June 1 ahead of Eid-ul-Fitr and seven special trains will be operated during the Eid rush, to ensure hassle-free journey for the public.
Railway Minister Mujibul Haque yesterday made the announcement while briefing reporters at Railway Bhaban. Earlier, a "preliminary" decision was taken to sell advance train tickets on June 2.
Each year, thousands of homebound people throng ticket counters at Kamalapur Railway Station in Dhaka for the advance tickets. A large number of them even start forming queues the night before the counters open.
This year, railway may face more pressure due to poor condition of some major highways, officials said.
Now, advance tickets for travelling on June 10, 11, 12, 13, 14 and 15 would be sold on June 1, 2, 3, 4, 5 and 6 respectively, the minister said.
Return tickets for June 19, 20, 21, 22, 23, and 24 will be open for sale on June 10, 11, 12, 13, 14,  and 15 correspondingly at Rajshahi, Khulna, Rangpur, Dinajpur and Lalmonirhat stations, he said.
Tickets will be sold at 26 counters at Kamalapur Railway Station from 8:00am every day. Two among those will be for females only. One person will be eligible to buy a maximum of four tickets.
Five special trains will be added to the existing fleet to cope with the excessive rush of passengers from June 13. The trains are Dewanganj Special, Chandpur Special-1, Chandpur Special-2, Rajshahi Special, and Parbatipur Special.
Besides, the railway authorities will also operate Solakia Special-1 trains on Bhairab-Kishoreganj-Bhairab and Solakia Special-2 on Mymensingh-Kishoreganj-Mymensingh routes on the Eid day.
Some 184 additional coaches will be included with the existing 1,221 coaches and 20 additional locomotives will be added with the existing 209 locomotives during the Eid rush, the minister said.
Railway caters to some 2.6 lakh passenger everyday and, it has taken steps to provide service to 2.75 lakh passengers on the occasions of Eid, the minister said.
Adequate security measures will be taken to avoid "black marketing" (scalping) of tickets and subversive activities, the minister said. Mobile courts will be operated as additional measures.
Operation of Maitree Express, which runs on Dhaka-Kolkata route, will remain suspended on June 15 to 18 due to Eid.
Weekly holidays for all intercity trains have been cancelled for five days starting June 11. Leave for railway officials have been cancelled for six days from June 10, he said, hoping to maintain schedule.
Railway ministry Secretary Mofazzel Hossain and BR Director General Amzad Hossain were present at the briefing.