How was Eid for Bangladeshi tourists stuck in Kolkata?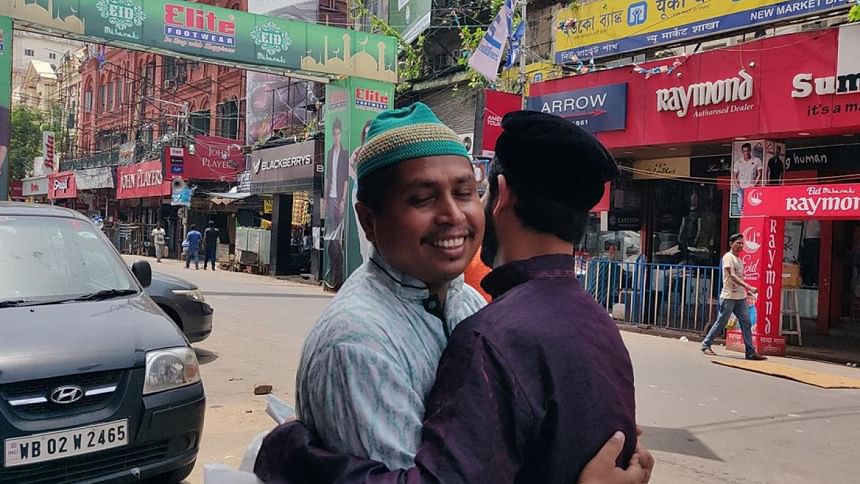 Thousands of Bangladeshi tourists go to Kolkata every day for various reasons. Most of these tourists are Muslims. Unless for dire needs, these tourists do not stay in this Hindu-majority town during the Eid celebrations.
But those who stay for unavoidable reasons spend their time in their own way during the Eid celebrations. They try to share their joy with the near and dear ones.
Many such Bangladeshi tourists who remained stuck for various needs in Kolkata, were found at Red Road adjacent to Dhormotola and Tipu Sultan Mosque on the Eid day morning.
Although they were stuck, they were seen roaming around in search of joy. They offered the Eid prayers with their Bangladeshi companions.
Muhammad Ronnie was sitting along with his wife Sheuli Begum, their children and mother-in-law at a coconut vendor in front of New Market.
"I know that we cannot be able to find the joy of Eid day here like Dhaka. But we could only have the Eid prayers together. After that, everyone got busy with their own families," Ronnie said, while sipping from the coconut with a straw.
"No shops are open, so we are drinking coconut water on Eid day morning," Ronnie's wife Sheuli Begum said.
"We are missing Bangladesh, but also enjoying roaming around in the new city," she added.
Just going ahead within the New Market, there is Hartford Lane. There are some famous tea stalls by the lane. Some crispy street food vendors too are there.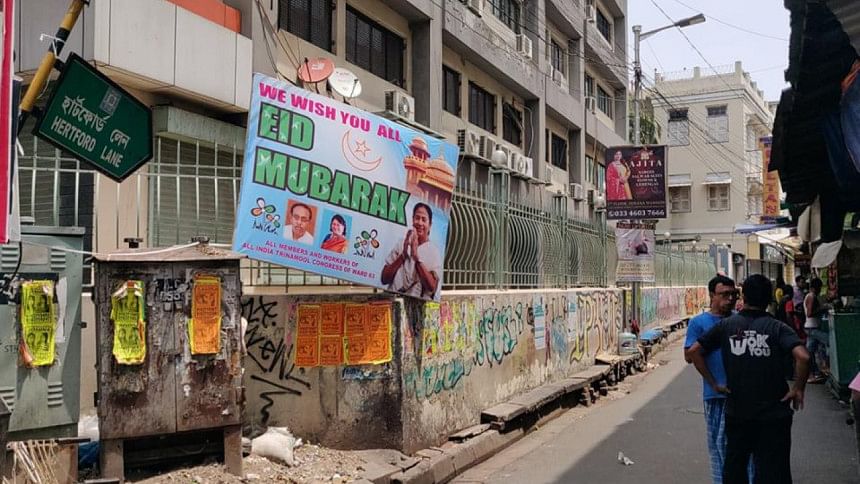 Although these shops usually remain open from 10:00am in the morning on other days, only a handful two or three shops were open on the Eid day. Rubel Mia from Mirpur was there.
He came to Kolkata to pay a visit to a doctor during the Eid holidays, he told The Daily Star. He performed his Eid prayers at Red Road in the morning. 
"But, aside from treatment, I could see how observing Eid in Kolkata feels for once in life," Rubel said.
Just a few paces down is Todi Lane. Almost same situation was prevailing there.
Quite a few Bangladeshi tourists were sitting there wearing new clothes. They could not decide which places to visit in Kolkata. There was a journalist too in that group.
"I came to this city only to celebrate the Eid day. To perform Eid prayers at the historic Red Road. I will see movies the whole day," he told The Daily Star.
Due to father's cancer, Abdul Jabbar Morol has been staying in Kolkata for a month. The Daily Star had a talk with him at Tipu Sultan Mosque.
"We are here out of necessity. After feeding father in the morning, I came to offer the Eid prayers. There's no Eid like atmosphere in the city nor there is peace in my mind. In spite of this, I would like convey Eid greetings to all." He said.
"Please, ask for prayers from all for us through your newspaper so that my father becomes well," he quickly passed by after saying this.
Many were complaining that there were no special culinary arrangements at the New Market area famed for having Bangladeshi restaurants. So, they even could not offer sweet treats to the tiny members of the family.
"No matter what, if only we could find some Shemai-Pays made at these restaurants then it would have been much better", Shyamoli Begum from Chittagong said.
The same complaint was received from her husband Mohammad Wasi. Failing to find anything worthwhile, they had to give cold drinks to their children.
Abu Sinha, resident if Dhanmondi and a chief official of a private company in Dhaka and his wife Farhana Rashid was also found roaming around in search of food for an hour.
Even after that what they could find was just average and usual food item. Nothing special for Eid, they told The Daily Star.
There are almost 350 residential hotels in the Kolkata New Market and the surrounding areas. Apart from the Eid celebrations, Bangladeshi tourists throng the area throughout the year and make the area famous for Bangladeshi restaurants vibrant.
But many Bangladeshi tourists are asking now, whether the New Market area could truly become tourist friendly towards Bangladeshis? Have the government given any considerations in this regard? 
Gautom Dev, the minister responsible for tourism related issues, of state could not offer any positive assurance regarding the matter while talking to The Daily Star over phone recently.
 And the Deputy Embassy of Bangladesh in Kolkata simply said that this is out of their jurisdiction so they have nothing to do in this regard.