SQ Chy's wife, son indicted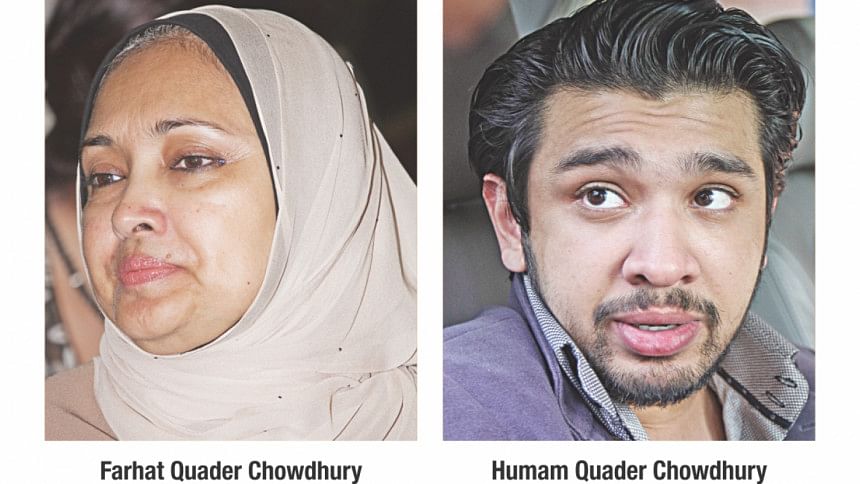 A Dhaka court yesterday framed charges against the wife and son of executed war criminal Salauddin Quader Chowdhury and five others for allegedly leaking the draft verdict of the International Crimes Tribunal-1 that sentenced him to death.
The ICT-1 on October 1, 2013, had awarded capital punishment to the BNP leader for committing crimes against humanity during the Liberation War.
The seven accused are: Salauddin's wife Farhat Quader Chowdhury, son Humam Quader Chowdhury, manager Mahbubul Ahsan, counsel Fakhrul Islam, Fakhrul's assistant Mehedi Hasan, the tribunal's then office assistant Faruk Hossain and peon Nayan Ali.
Of them, Farhat, Humam, Fakhrul and Ahsan are on bail, Faruk and Nayan behind bars while Mehedi has been on the run.
All but Mehedi, who were present at the Cyber Tribunal, pleaded not guilty and demanded justice in the case after Judge KM Shamsul Alam read out the charges to them. The court set March 28 to start trial of the case.    
On October 1, 2013, soon after the pronouncement of the verdict in the war crimes case, Salauddin's wife and family members showed "a copy of the verdict" to newsmen and claimed that it was leaked.
Three days later, detectives filed the case with Shahbagh Police Station against Fakhrul, Mehedi, Faruk, Nayon and several unnamed people under the Information and Communication Technology Act, 2006.
On August 28, 2014, detectives pressed charges against Farhat, Humam and five others for their alleged involvement in the incident.
According to the charge sheet, Salauddin's wife and son "hatched conspiracy and instigated" the leak while Fakhrul "facilitated" it. Mehedi, Mahbubul, Faruk and Nayan were "directly involved" in the crime.
Salauddin was executed at Dhaka Central Jail on November 22 last year.