Quasem has 15 days to seek review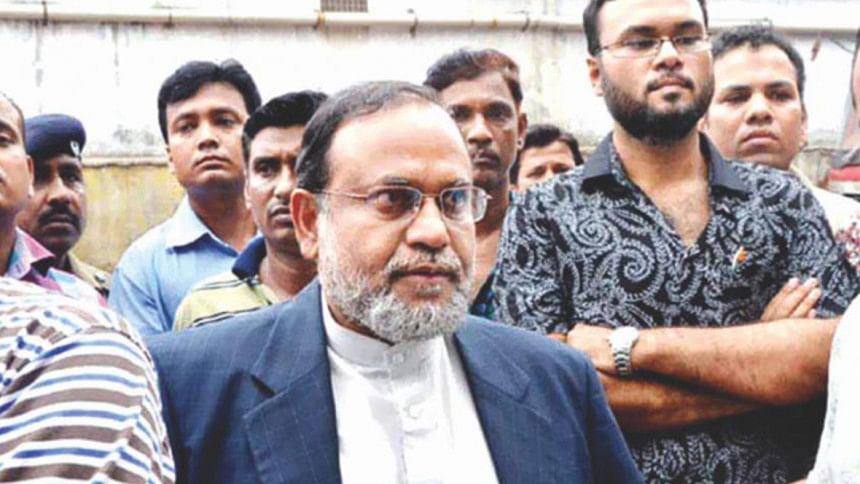 The prison authorities read out the death warrant to condemned war criminal Mir Quasem Ali at Kashimpur Central Jail-2 in Gazipur yesterday, a day after the International Crimes Tribunal issued the warrant for him.
The warrant was read out to Quasem around 7:00am after it reached the jail around 1:00am yesterday, Prasanta Kumar Banik, jail super of Kashimpur Jail-2, told our Gazipur correspondent.
Quasem will get 15 days from today to file petition seeking review of the SC verdict. His lawyer on Monday said they will file for a review within this deadline.
On Monday, the tribunal issued a death warrant for the Jamaat-e-Islami central executive council member hours after the Supreme Court released the full text of its verdict upholding his death penalty.
On November 2, 2014, the Tribunal-2 handed down capital punishment to 63-year-old Quasem, chief of Chittagong Al-Badr Bahini for crimes committed against humanity during the 1971 Liberation War.
On Monday, the SC released the full text of its March 8 verdict that upheld the death penalty of Quasem, considered by many as the chief financer of the anti-liberation Jamaat-e-Islami party, leaving him with the only option of seeking review of the judgment.
So far five war criminals have been executed. All of them sought review of the SC verdict in their cases but all petitions were rejected.
If Quasem's review petition is rejected, the last option for him would be to seek presidential clemency.
Quasem is the fifth Jamaat leader to have got the death penalty for crimes against humanity committed in 1971.
During the Liberation War, Quasem led several Al-Badr torture camps, including the one set up at Mahamaya Dalim Hotel in Anderkilla of Chittagong, where his cohorts tortured and killed freedom fighters and pro-liberation activists captured from across the city.
The ICT-2 sentenced him to death on two charges and different jail terms on eight other charges. He later challenged the verdict at the apex court.
The SC upheld his death penalty for one charge -- the brutal torture and killing of young freedom fighter Jasim.
His conviction and punishment on six other charges were also upheld by the five-member SC bench headed by Chief Justice Surendra Kumar Sinha.