Singapore detains 8 Bangladeshis
The suspected militants were planning to launch attacks in Bangladesh, say Singapore authorities; another 5, deported earlier, held in Dhaka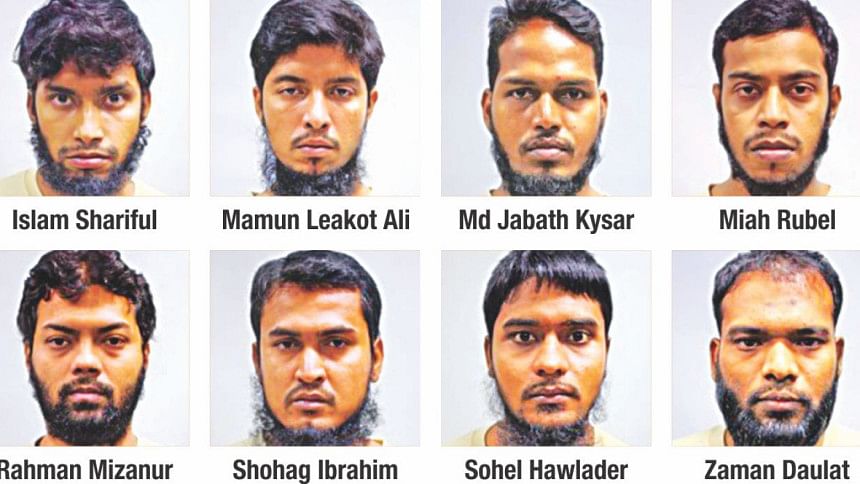 Months after deporting 26 "radicalised" Bangladeshi workers, Singapore arrested eight other Bangladeshis who the authorities say were members of a group called Islamic State in Bangladesh (ISB).
Besides, another five Bangladeshis were deported for suspected militancy link. They were arrested from Banasree area in Dhaka yesterday.
The five were investigated as part of crackdown on the so-called ISB, and it was found that "they possessed and/or proliferated jihadi-related materials, or supported the use of armed violence in pursuit of a religious cause". 
However, their involvement in ISB was not found, according to Singapore's home affairs ministry.
Briefing the media yesterday, Additional DMP Commissioner Monirul Islam said some of the five arrestees were found in possession of Mufti Jasim Uddin Rahmani's books that are known for preaching militancy.
According to investigators, Rahmani is the spiritual leader of banned local militant outfit Ansarullah Bangla Team.
Sent back on April 29, the five have been identified as Mizanur Rahman alias Ghalib Hasan, 38, of Kasba upazila of Brahmanbaria, Md Rana Mia Pilot, 29, of Gabtali upazila of Bogra, Md Alamgir Hossain, 31, of Gangni upazila of Meherpur, Md Tanjimul Islam, 24, of Matlab upazila of Chandpur, and Masud Rana alias Sontu Khan, 31 Bera upazila of Pabna.
While the eight others were detained on April 26. Singapore's home ministry website said they were aged 26 to 34 and planning to stage terror attacks in Bangladesh.
They have been identified as Rahman Mizanur, 31, Shariful Islam, 27, Mamun Leakot Ali, 29, Md Jabath Kysar Haje Norul Islam Sowdagar, 30, Miah Rubel, 26, Sohag Ibrahim, 27, Sohel Hawlader Ismail Hawlader, 29, and Zaman Daulat, 34.
Members of the so-called ISB, formed in Singapore in March by Rahman Mizanur, had identified several possible targets in Bangladesh, which include lawmakers, ministers, and media personnel, according to a kill-list released in the website.
In a document titled "We Need for Jihad Fight", which was recovered from Rahman, the group also listed military targets such as the Border Guard Bangladesh (BGB), the air and navy forces and the Rapid Action Battalion (Rab).
"He also possessed documents on weapons and bomb making, as well as a significant amount of ISIS and al-Qaeda radical material which he used to recruit ISB members in Singapore from January 2016," it says.
Asked about the militancy links of the eight, the additional DMP commissioner only said the Singapore authorities were interrogating them.
He, however, said the laws of the two countries are different. "If what is considered radicalism in Singapore is to be considered the same in Bangladesh, half the population would have to be in jail."
Of the eight, Rahman Mizanur was an "S-Pass" holder. According to Singapore's manpower ministry website, the "S-Pass" allows mid-level skilled staff to work in Singapore. Candidates need to earn at least $2,200 a month and have the relevant qualifications and work experience.
The other seven were "Work Permit" holders employed in the local construction and marine industries. These permits allow semi-skilled foreign workers from approved source countries to work in certain sectors.
The ministry said the eight men held in April had intended to join the Islamic State (IS or ISIS) militant group.
But after realising it would be too hard to travel to Syria, they instead planned to return to Bangladesh to overthrow the government and had "identified several possible attack targets".
According to the ISB members, at least two more members of the group are in Bangladesh, said the ministry.
"The ISB members planned to recruit other Bangladeshi nationals working in Singapore to grow the group. The group had also raised monies to purchase firearms to carry out their planned terror attacks in Bangladesh. The money has since been seized," read the ministry statement.
"Several of those detained may be liable for prosecution for terrorism financing."
Rahman "admitted" to investigators in Singapore that he would carry out an attack anywhere if he was instructed by ISIS to do so, it said.
"ISB poses a security concern to Singapore because of its support for ISIS and its readiness to resort to the use of violence overseas."
Meanwhile, Bangladesh High Commissioner to Singapore Mahbub Uz Zaman confirmed that the eight Bangladeshi nationals were detained for their alleged involvement in militancy.
He told The Daily Star that the suspects were detained on April 26 from their respective workplaces in Singapore as part of an ongoing investigation to identify the Bangladeshis who were suspected of plotting attacks on different professionals at home.
"The investigation is going on. We are closely working with the Singaporean authorities as our government has taken the security issue seriously," the envoy told this correspondent over the phone yesterday afternoon.
The detainees were being quizzed by the Singaporean authorities, he added.
Earlier, Singapore authorities arrested 27 Bangladeshi construction workers between November 16 and December 1 last year for "supporting armed jihad ideology of terrorist groups such as Islamic State (IS) and al-Qaeda".
Of them, 26 were deported to Bangladesh and local police arrested 14 of them on December 21 after police found their link with militancy.
DB officials then said the 26 deportees had no links to Islamic State or al-Qaeda. But the 14 had links with banned local outfit Ansarullah Bangla Team (ABT) and its detained spiritual leader Jasim Uddin Rahmani. A case was filed against them under Anti-Terrorism Act of Bangladesh.
"After investigation, those who were not found guilty under Bangladeshi law were freed, but they are kept under surveillance," Additional DMP Commissioner Monirul Islam said back then.
The 14 are in jail and police are yet to submit any charge-sheet against them.
DMP PRESS BRIEFING
Monirul, who is the chief of Counterterrorism and Transnational Crime Unit of Dhaka Metropolitan Police (DMP), said they arrested the five during a raid at Banasree area of the capital around 11:30am yesterday.
They were deported on April 29 and were under surveillance. After filing of a case against them, they would be produced before a court with 10-day remand prayer for each of them.
The five went to Singapore between 2007 and 2011 as skilled and unskilled labourers.
Singaporean authorities alleged that these Bangladeshis were involved in terror recruitment and they used to seek financing and assistance in militancy, Monirul said during the briefing at the DMP Media Centre.
In primary investigation, it appeared that they became radicalised during their stay in Singapore and they didn't have any militant connection before leaving the country as workers, he said.
The official added that police are now verifying the allegations made by Singapore authorities.