2 get death; 6 others jailed
Ansarullah Bangla Team chief among the convicts in the first verdict in blogger murder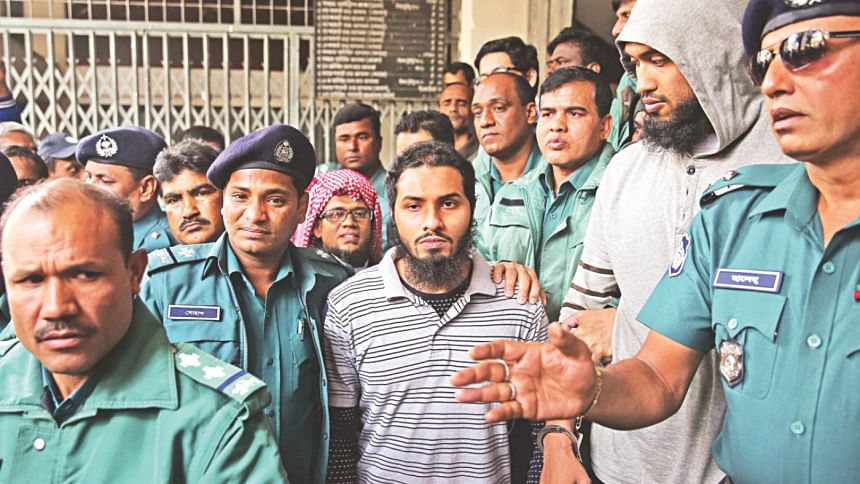 A Dhaka court yesterday handed down death penalty to two people and different jail terms to six others, including the chief of banned Islamist outfit Ansarullah Bangla Team, for the killing of blogger Ahmed Rajib Haider almost three years ago.
Rajib was an activist of Shahbagh movement and used to write against Jamaat-Shibir and war criminals on different blogs under the pseudo name of Thaba Baba.
He was hacked to death near his Mirpur house in the capital on February 15, 2013. The 32-year-old architect was the first secular blogger to have been killed in Bangladesh.
"Undoubtedly, it was a planned and brutal murder," said Sayeed Ahmed, the judge of Dhaka Speedy Trial Tribunal-3, as he delivered the first ever verdict over blogger killings that has taken a serious turn lately.
"I didn't find any ground to acquit any of them [accused] and gave punishment considering the gravity of their crimes," the judge said.
Seven of the convicts were present in the court while another is on the run.
Rajib's father Dr Nazim Uddin rejected the verdict. He alleged some of the "self-proclaimed killers" were not given fitting punishment.
Gonojagoron Mancha, of which Rajib was a key organiser, also rejected the judgment and called for protests.
Both the state and defence counsels were also "unhappy" with the verdict.
THE SENTENCES
Redwanul Azad Rana, 32, the main planner of the killing, and Faisal Bin Nayem alias Dweep, 24, who hacked Rajib to death, were given the capital punishment. They have also been fined Tk 10,000 each.
Maksudul Hasan alias Anik, 25, who accompanied Rana and Dweep during the killing, was given life in prison. He was also fined Tk 10,000, in default of which he will have to serve one more year in jail.
Ehsan Reza Rumman, 25, Nafis Imtiaz, 24, and Nayem Sikdar Irad, 21, were each given 10 years of rigorous imprisonment. In addition, they will have to pay a fine of Tk 5,000 each. If they fail to pay the money, they must serve six more months in jail.
The court sentenced Sadman Yasir Mahmud, 22, to three years in prison. His fine amount is Tk 2,000, in default of which he will sever two more months in jail.
All the seven were students of North South University in 2013. Of them, Redwanul Azad Rana, also the main suspect in the murder of writer-blogger Avijit Roy, is absconding.
Mufti Jasimuddin Rahmani, 45, chief of Ansarullah Bangla Team, was found guilty of provoking Rajib's murder through his sermons. The court sentenced him to five years and fined Tk 2,000. In default, he has to serve two more months in prison.
The court ordered the authorities to deduct the time they already served since their arrests.
RAJIB KILLING AND ITS AFTERMATH
Rajib was a key organiser of Shahbagh movement that began on February 5, 2013, hours after Jamaat leader Abdul Quader Mollah was given life sentence for committing war crimes in 1971, a punishment that was deemed lenient.
He graduated in architecture from Asia Pacific University in 2004.
After the killing, online Jamaat-Shibir activists and some pro-Jamaat and BNP newspapers tried to justify the murder branding him as "an atheist".
Following his death, the country saw the rise of a radical force, Hefajat-e Islam. The Chittagong-based Islamist group stood against the Shahbagh Movement and termed its organisers as "atheists."
The BNP threw its weight behind Hefajat, which held rallies and meetings, spread hatred against bloggers and demanded stern punishment for Shahbagh activists. The group even gave a list of bloggers to the government for its action against them.
Since then, the secular and pro-Liberation War bloggers started receiving death threats. Things turned bloody in 2015 -- four bloggers, two of whom were involved with Shahbagh movement and was reportedly on the Hefajat list, and a secular publisher were killed in a similar fashion.
Rights groups and freethinkers said the Awami League-led government failed to stop the killing spree. Instead, the government arrested some bloggers for allegedly defaming religious groups -- a strategy seen by many as pandering to hardline elements.
DISSATISFACTION
"I am not satisfied with the verdict ... At least five of them [accused] confessed to the killing. And yet they were not given the death penalty. I cannot accept it," Rajib's father Nazim Uddin said.
Imran H Sarker, spokesperson of the Gonojagoron Mancha, said: "It was a farce in the name of trial."
Public Prosecutor Mahbubur Rahman said he was "not fully satisfied" with the judgment and that he would make a decision about challenging it after getting the full verdict.
Faruk Ahmed, a defence lawyer, said they were satisfied "partially" but would have been happy if their clients got acquittal. "We will file an appeal with the High Court."
CASE PROCEEDINGS
Nazim Uddin filed the case on February 16, 2013, and police pressed charges against the eight convicts on January 25, 2014. The Fourth Additional Metropolitan Sessions Judge's Court framed charges against the eight and the case was later transferred to the present court for quick disposal.
Seven accused gave statements confessing their involvement before magistrates on different dates. Thirty-five prosecution witnesses, including three investigating officers, testified. 
Yesterday, Judge Sayeed Ahmed took the seat around 12:30pm to deliver the verdict.
Citing the charge sheet, the judge said Jasim Uddin used to give sermons in different mosques to kill "atheist bloggers" and Rana, the main accused, and others regularly heard those.
Inspired and provoked by the sermons, they planned to kill Rajib, the judge added.
"On the basis of an idea or propaganda that Rajib alias Thaba Baba wrote derogatory write-ups about religion and Prophet Hazrat Muhammad (pbuh) in blogs, the said accused became aggrieved towards Rajib alias Thaba Baba," reads the charge sheet.
As per the plan, the judge said, they divided themselves into two groups – "Intel Group" for collecting information about Rajib and "Execution Group" for executing the plan. As planned, Dweep, Rana and Anik went to Pallabi and killed Rajib on the night of February 15. 
Though there was no eyewitness, the accused gave confessional statements and the testimonies of 35 prosecution witnesses proved the case, the judge said.
There should be a limit to what a person can say in his sermons and there should also be a limit to what a blogger can write, but no one can take the law into his own hands because a blogger has written something on a blog, he added.