Bangladesh biggest development, trade partner of India: Modi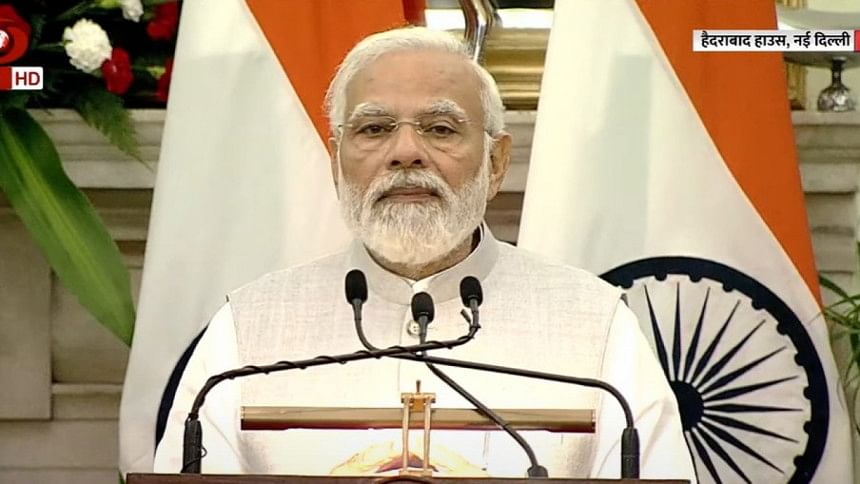 Indian Prime Minister Narendra Modi today said Bangladesh is the biggest development and trade partner of India.
He said this at a press briefing after a meeting with Prime Minister Sheikh Hasina at Hyderabad House.
"First of all, I welcome Prime Minister Sheikh Hasina and her delegation. Last year, we celebrated the 50th anniversary of Bangladesh's Independence Day, the golden jubilee of our diplomatic relations and the birth centenary of Bangabandhu Sheikh Mujibur Rahman together. On December 6 last year, we celebrated the first Friendship Day all over the world."
"The prime minister's (Hasina's) visit today is taking place in the midst of our independence festival. I have full faith that in the next 25 years, the friendship between India and Bangladesh will reach a new height. Significant progress has been made in Bangladesh under the leadership of Prime Minister Sheikh Hasina. In the last few years, our mutual cooperation has grown very rapidly in every field," he said.
"At the same time, people-to-people relations (of the two countries) are also improving steadily. Today, Prime Minister Sheikh Hasina and I had a lot of discussions in all bilateral fields and on various issues of the two countries," our New Delhi correspondent quoted Modi as saying.
Modi also said India and Bangladesh should jointly face terrorist and radical forces that threaten to attack the friendship and trust between the two countries.
"Today, we also stressed on cooperation against terrorism and fundamentalism. To keep the spirit of 1971 alive, it is also very necessary that we face such forces together who want to attack our mutual trust," Modi said.
India and Bangladesh signed seven agreements after the talks between Modi and Hasina, including one on sharing of waters of Kushiyara River which is expected to benefit the regions of southern Assam and Bangladesh's Sylhet region.