Rice price shows downward trend
Wholesale price of coarse rice falls by Tk 4 a kg; govt going for more import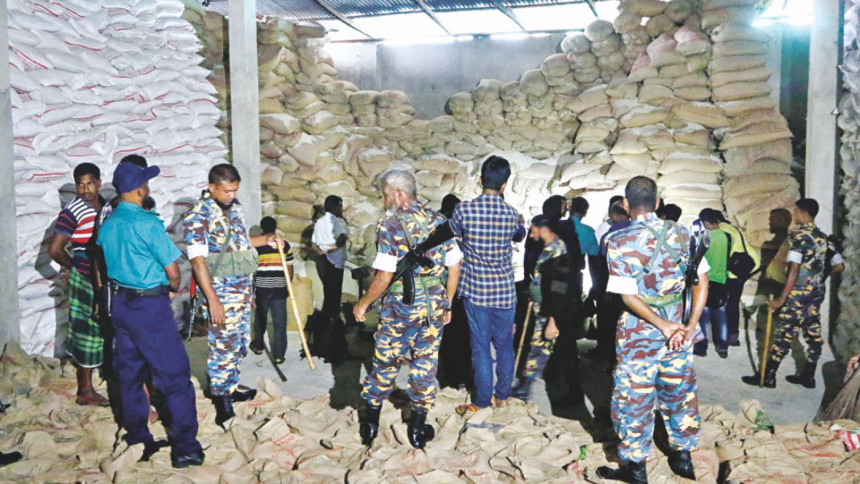 Failing to import parboiled (Shiddo) rice from Myanmar due to high price, the government yesterday approved another deal to import 50,000 tonnes of rice through international tender.
A Thai-based company has agreed to provide Bangladesh with parboiled rice at $438 per tonne, $47 less than the asking price of Myanmar.
Meanwhile, a day after three ministers held a meeting with rice traders, millers and importers in the capital and fulfilled some of their demands, rice prices at wholesale markets started showing a downtrend.
Coarse rice prices, which shot up to Tk 47/48 a kg in the wholesale markets and up to Tk 54 a kg in the retail markets, came down by Tk 4 a kg at the wholesale level yesterday.
Market sources attributed the price fall to release of rice by many of the millers from their godown stocks.
Importers at Benapole land port told The Daily Star that once the circular allowing use of poly-bags instead of jute sacks for rice packing reaches there, the prices would fall further. 
Bangladesh Rice Millers' Association President Abdur Rashid said consumers at the retail level would get price fall benefits in three to four days.
A visiting Myanmar official delegation on Monday agreed to provide Bangladesh with just one lakh tonnes of white (Atap) rice at $442 a tonne but didn't budge from their asking price of $485 per tonne for parboiled rice.
Amid a spiraling of rice prices in domestic markets, the government struck deals, both through tenders and government-to-government arrangements (G2G), to import as much as 9 lakh tonnes of the staple, two-third of which is white rice.  
While allocating this white rice for an extended Open Market Sale (OMS) operation, the government found that the sale of subsidised food grains drew little response from people here who prefer parboiled rice over white one. 
Food Secretary Kaikobad Hossain told reporters in Dhaka that of the total expected import volume, two lakh tonnes had so far reached public food granaries while another 1.5 lakh tonnes were expected to reach land ports soon.
Some 5.5 lakh tonne more rice would be brought in by November, Kaikobad added.   
The government had decided to import as much as 20 lakh tonnes of food grains (15 lakh tonnes of rice and 5 lakh tonnes of wheat) in the ongoing fiscal year following crop loss in excess of 20 lakh tonnes due to haor flashfloods and rice blasts. 
Though it succeeded striking G2G deals with Vietnam, Cambodia and Myanmar for importing rice, most of it was white rice. Government efforts to sign deals with India and Thailand for import of parboiled rice did not yield results as both the countries asked for exorbitant prices -- over $500 per tonne.
Asked why the government went for relatively pricey imports through G2G arrangement while rice is available at cheaper rates through open tenders, the food secretary yesterday told reporters that there was no quality concern in case of G2G rice, while private parties on winning bids sometimes tended to compromise the quality.
Besides, the government-to-government deals guarantee quicker shipment, he added.
OMS & FOOD FRIENDLY PROGRAMME
A day after the food minister's announcement that the OMS programme would be extended from district to upazila level, the subsidised food grains sale programme could not be launched in most upazilas yesterday.
In most of the areas, dealers selected by the food department for OMS programme were busy depositing money in banks and collecting the rice allocated from the government silos in their respective districts. 
Our correspondents from Rajshahi, Dinajpur, Natore sent dispatches that dealers would begin the OMS operation today.
In another development, the government postponed distribution of rice at Tk 10 a kg among 50 lakh ultra poor across the country due to insufficient rice stock in public grannaries.
Food officials said the priority was to operate OMS programme on a wider scale now over Food Friendly Programme. Together these two programmes would require more than 6 lakh tonnes of rice but the government's food reserve currently has only 3.4 lakh tonnes of rice.