Pope pulls for Rohingyas
To visit Bangladesh, Myanmar late this year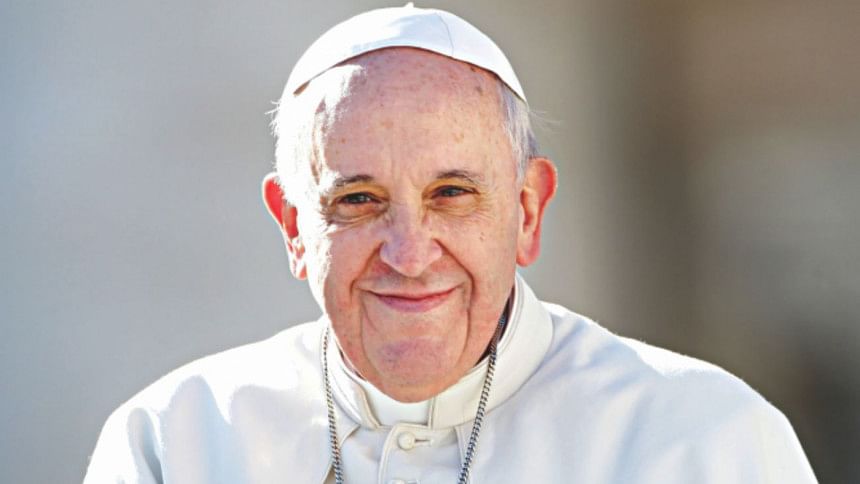 Pope Francis will visit Bangladesh and Myanmar later this year, the Vatican announced yesterday.
The announcement comes barely a day after the pope voiced concern over the persecution of Rohingyas in Myanmar.
The Pope will be in Myanmar from November 27 to 30 and Bangladesh from November 30 to December 2, said Archbishop George Kocherry, Vatican ambassador to Bangladesh, at a press conference at Ramna Cathedral in the capital.
The Pope had on multiple occasions slammed the persecution of Rohingyas in Buddhist majority Myanmar.
"Pope is following the situation of Rohingyas in Myanmar. He expressed concern over the issue," Kocherry said.
On Sunday, the spiritual head of the world's 128 crore Catholics said, "Sad news has reached us of the persecution of our Rohingya brothers and sisters.
"I would like to express my full closeness to them -- and let all of us ask the Lord to save them, and to raise up men and women of good will to help them, who shall give them their full rights."
At yesterday's press conference, Cardinal Patrick D' Rozario said the Pope is always compassionate about homeless people. "We all have a moral duty to help them."
Meanwhile, the foreign ministry in a press release said the Pope is visiting Bangladesh at the invitation of Prime Minister Sheikh Hasina.
"During the visit, Pope Francis is expected to meet President Md Abdul Hamid, the premier and Christian communities in Bangladesh," it added.
Francis will be the third Pope visiting Bangladesh. The first visit was by Pope Paul VI in November 1970. The next one was by Pope John Paul II in November 1986.
Cardinal Patrick D' Rozario observed that Bangladesh has made good socio-economic progress and has a unique tradition of harmony among different communities.
"The Pope will highlight these values, our achievements and our expectations to the world," said Cardinal Patrick, who was appointed as the first ever cardinal from Bangladesh in November last year.
"The visit will help further improve our inherent harmonious living and peace."
A website, www.popebd.info, on the papal visit themed "Harmony and Peace" was launched at the press conference.