Khaleda goes to Cox's Bazar today to visit Rohingyas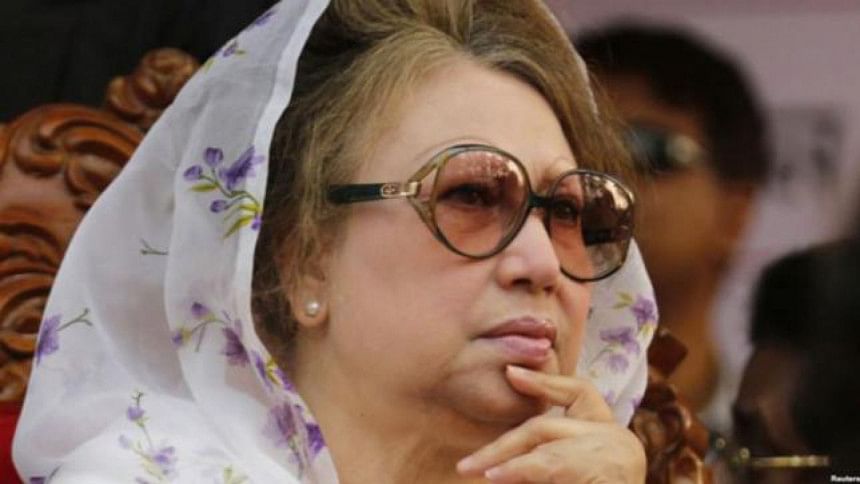 As BNP Chairperson Khaleda Zia leaves the capital for Cox's Bazar today to distribute relief supplies among the Rohingyas, her party is all set for a massive showdown on her way to Cox's Bazar.
Thousands of party activists and supporters will assemble at different points on the Dhaka-Chittagong highway to welcome Khaleda who will be travelling in a motorcade.
However, the party high-ups have asked the leaders and activists not to set up any arches on the highway or block the traffic, said BNP leaders.
On Wednesday, BNP Secretary General Mirza Fakhrul Islam Alamgir had a meeting with the leaders of the party's district, front and associate bodies concerned at the party headquarters in Nayapaltan to make Khaleda's tour a success.
"Party leaders, activists and supporters will stand along the highway to greet the chairperson on her way to Cox's Bazar. The leaders were asked not to block the highway and build any arches as she is making the trip to provide humanitarian relief," BNP Vice Chairman Mohammad Shahjahan told The Daily Star.
He also said a team, led by him, was working to make sure that Khaleda's motorcade could move smoothly and no untoward incident took place.
BNP chairperson's adviser Taimur Alam Khandakar, also a party leader from Narayanganj, said the district BNP leaders already held a number of meetings with the leaders of the party's associate and front bodies to ensure maximum participation by BNP men and supporters.
"Around 2.5 lakh BNP leaders and activists of Narayanganj will gather along the Dhaka-Chittagong highway during the chairperson's trip to Cox's Bazar," he said.
Khorshed Alam, president of Comilla (north) district BNP, said they had been taking preparations for the last few days and hoped that thousands of party leaders and activists would welcome Khaleda.
Party men would stand along the Dhaka-Chittagong highway at the stretch between the Meghna Bridge and Comilla Biswa Road.
Khaleda is scheduled to start from her Gulshan house for Chittagong at 10:00am today and spend the night at Chittagong Circuit House, said BNP Senior Joint Secretary General Ruhul Kabir Rizvi.
She will start for Cox's Bazar tomorrow. After staying overnight at Cox's Bazar Circuit House, the BNP chief will visit four Rohingya refugee camps in Balukhali, Boalmari and Jamtali in Ukhia upazila of Cox's Bazar on Monday, Rizvi added.
The former prime minister is likely to return to Dhaka on Tuesday, said the BNP leader.
Meanwhile, another BNP team, lead by party standing committee members Mirza Abbas and Nazrul Islam Khan, was looking after the relief distribution programme.
"The BNP chairperson is likely to provide relief materials to 10,000 families which would benefit 50,000 people. Besides, aid will be distributed among 10,000 newborn babies and pregnant women," said Mirza Abbas.
Khaleda last went to Cox's Bazar in November 2012 to visit Buddhist monasteries and houses which were damaged in communal attacks in Ramu upazila.