Police form new anti-terror teams
With commando training, members of the new force will respond instantly to crisis situation in all major cities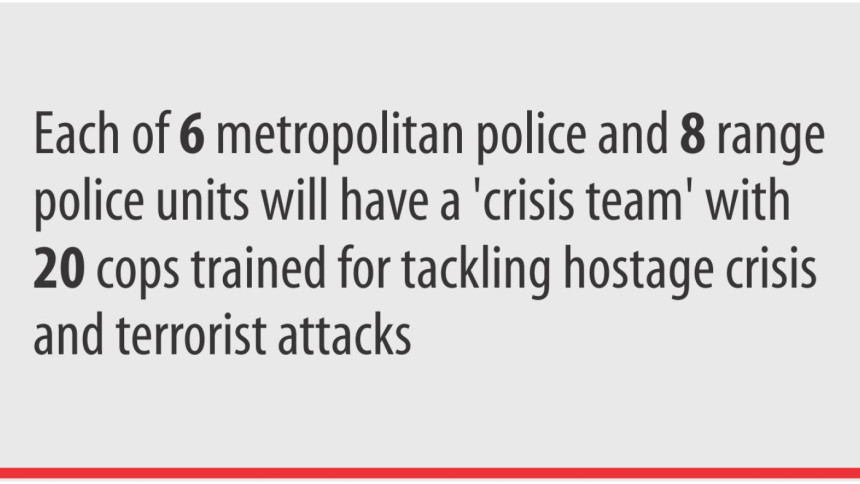 Bangladesh Police is going to create commando teams in all metropolitan areas and range police units to deal with any crisis situation such as militant attack or hostage situation.
"The crisis teams will respond to any emergency call within five minutes," Dr Kh Mahid Uddin, additional deputy inspector general (training and sports) at the police headquarters, told The Daily Star yesterday.
Recent militant attacks, especially last year's Gulshan café siege, prompted the police to make a move to create commando teams across the country, said officials at the police headquarters.
On July 1 last year, militants killed 20 hostages, including 17 foreigners, before army commandoes stormed the Holey Artisan Bakery in Dhaka's diplomatic zone.
Now, only Dhaka Metropolitan Police has a Special Weapons and Tactics (SWAT) Team under the Counter Terrorism and Transnational Crime Unit to deal with a crisis situation of this kind.
Primarily, each of the six metropolitan police units and eight range police units will have a "crisis team" with 20 police personnel trained for tackling terrorist attacks and hostage crisis, said the officials at the police headquarters.
Seeking anonymity, one of the officials said they were also considering a proposal for creating a "commando battalion" to be led by a deputy inspector general.
Already 40 police officials -- 25 from Armed Police Battalion (APBn) and 15 from Chittagong Metropolitan Police (CMP) -- completed 15-day commando training at the National Security Guard Centre in India on December 27 last year.
Of them, 20 are now posted in the CMP and the rest in APBn in Dhaka.
These officials, along with others, will provide commando training to selected police personnel at the APBn Specialised Training Centre in Khagrachhari.
Inspector General of Police AKM Shahidul Hoque is expected to inaugurate the training programme in Khagrachhari today.
"Analysing the training modules of several countries, we have already updated the module for the commando teams in Bangladesh. They will be given eight-week commando training," said Mahid.
Seeking anonymity, an official at the police headquarters said 20 each from Khulna Metropolitan Police and Rangpur Range Police would be trained in the first batch.
Mahid said commando training would be conducted in the hill areas by the officials who are expert in night-vision shooting, post-blast operational activities and other fields.
A list of officials, who received training abroad, has been prepared, and they would train the members of the commando units in phases, he said.
The unit members would also be given training on how to assemble weapons within the shortest possible time and how to deal with armed criminals, Mahid added.
Of the 40 officials trained in India, five are women. Tanjila Akhter, senior assistant superintendent of police of APBn-8, is one of them.
Tanjila told this correspondent that India is using an up-to-date module for commando training, and Bangladesh is lagging far behind.
Asked, Mahid said, "We have some limitations but we are working to modernise the force and upgrade the existing facilities."
Sources said Bangladesh police personnel now get training in India, the US, Japan, China, Australia, Italy and Thailand.
In 2015, around 203 police officials received training in those countries. The number rose to 397 last year, they said.