PM, please intervene
Urge DU teachers, students and alumni, demanding safe return of missing NSU teacher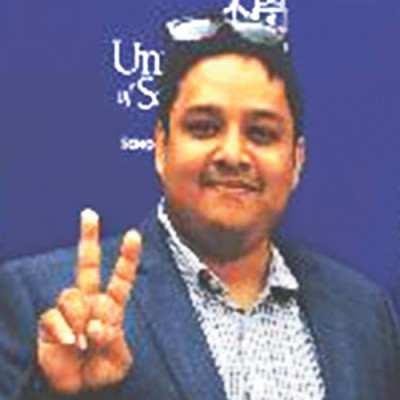 Teachers, students and alumni of Dhaka University yesterday sought the prime minister's intervention in tracing North South University teacher Mubashar Hasan who went missing on Tuesday evening.
They formed a human chain on Aparajeyo Bangla premises and said if Mubashar was guilty of any crime he could be brought to book and tried. His disappearance only proves the state's failure to protect its citizen, they observed.
Mubashar is a DU alumnus who studied mass communication and journalism. His former department organised the human chain under the banner "Teachers, Friends and Dear Ones". The participants wore masks made of Mubashar's photographs to resemble that they "all are Mubashar".
Mubashar, a researcher of political Islam and assistant professor of political science at NSU, disappeared after he had left his workplace around 4:30pm on Tuesday. Police said he last talked with someone over his cellphone at 6:41pm when he was near Lions Eye Hospital at Agargaon.
He is among a host of individuals who might have fallen victim to either abduction or forced disappearance in recent months. At least nine people, including journalist Utpal Das, book importer Tanvir Yasin Karim and some political leaders, have gone missing since August 22.
Home Minister Asaduzzaman Khan has meanwhile said law enforcers are working and will be able to rescue those, including Mubashar and Utpal, who went missing in recent months.
"Detectives are investigating. We are sure we will be able to rescue them at any moment," he told reporters, emerging from a programme marking the fourth anniversary of Marine Police in the capital yesterday.
The minister urged all to have patience.
Yesterday's human chain was formed in continuation of citizens' raising voice in public and social media demanding the administration's prompt step for his safe return. NSU will organise a human chain on its campus tomorrow to press home their demand to rescue the faculty member immediately.
Prof Mofizur Rahman, chairman of DU mass communication and journalism department, sought the PM's instruction upon the authorities concerned to trace Mubashar as soon as possible and said the state must take the responsibility for his sudden disappearance and find him.
"Disappearance of a person without any clue is unacceptable," he observed.
Speaking at the human chain, Mubashar's younger sister Tamanna Tasmin alleged a few media houses were publishing "baseless stories" against her brother. She said if anyone has any proof in support of their claim, they should talk to her family.
She demanded prompt and unconditional steps from the administration to trace her brother. "I want my brother back, safe and sound," she added.
Prof Robayet Ferdous of the department said the agony that Tamanna and her family members have been undergoing is similar to what is experienced by many other families as people were picked up in the past and they have never returned.
Protests against such heinous crimes must continue to stop its recurrence, he added.
When a teacher-cum-researcher who was doing nothing but regular duty of what a teacher should do disappears all of a sudden, common people's souls start to shiver in fear, said Prof Gitiara Nasreen, a distinguished teacher of the DU department.
"This has to stop. The culture of impunity has to end," she told the human chain.
Former students of the department and journalists including Zahid Newaz Khan of Channel-i, Shafiqul Alam of AFP Bangladesh Bureau, Shariful Hasan of Brac, Rakib Hasnet of BBC Bangla and Mubashar's classmate Rakibul Shipon, spoke at the human chain.
Shushashoner Jonno Nagorik (Shujan) at a protest rally demanded that the authorities concerned trace the NSU faculty member immediately and punish those responsible for his disappearance.
The civil society platform organised the rally in front of Jatiya Press Club in the capital where its activists also demanded tracing others who are still unaccounted for.