Four days on, no trace of Mubashar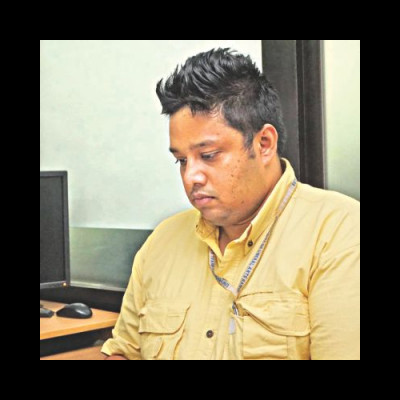 With no trace of North South University teacher Mubashar Hasan even in four days, citizens continue to raise voice in public as well on social media demanding the administration's prompt step for his safe return.
The family of the young political Islam researcher, who have been missing since Tuesday evening, is now only praying for his return after exhausting various means.
Mubashar is among a host of individuals who have become victims of either abduction or enforced disappearance in recent months. At least nine people, including journalist Utpal Das, book importer Tanvir Yasin Karim and some political leaders, have gone missing since August 22.
Against this backdrop, teachers and former and current students of mass communication and journalism of Dhaka University is going to form a human chain this morning on the campus, demanding the authorities' action to trace him.
A handout provided by the department cites that Prof Gitiara Nasreen, on behalf of the department, called for the human chain to be held at 10:00am at Aparajeyo Bangla.
The administration has yet to take any visible steps, although he has been missing for more than 72 hours, Prof Nasreen said yesterday afternoon.
The teachers and students of the department are extremely concerned and worried regarding Mubashar's whereabouts, she added.
A teacher of the School of Humanities and Social Sciences at NSU, Mubashar is a former student of the DU department.
On Wednesday, his family filed a general diary over his going missing with Khilgaon Police Station.
Police said Mubashar last talked to someone on his mobile phone at 6:41pm on Tuesday when he was near Lions Eye Hospital at Agargaon.
His father Motahar Hossain yesterday said he has informed law enforcers, and the media is also writing about his disappearance. "Now I can only pray for my son's safe return."
A former DU student wrote on Facebook at 4:12pm that Mubashar was "online" on the social media's messaging app. "I am texting him, but no replies. Suppose our state agencies have not arrested him, but is it too hard to locate the IP address?"
Another Facebook user yesterday posted a collage including Mubashar's photo and words written in Bangla that demand an end to the country's "missing culture".
Contacted, Anwar Hossain, deputy commissioner (Motijheel Division) of Dhaka Metropolitan Police, told this newspaper yesterday evening that police were looking for Mubashar.
He said they were doing their best.
Rights body Ain o Salish Kendra says 334 of the 524 people, who allegedly became victims of enforced disappearance between 2010 and October 2017 across the country, are still missing.
Many of those who returned to their families never disclosed anything to the media about their abductors.
The latest victim of a series of disappearance is Tanvir Yasin Karim, owner of Karim International and Darus Salam Publications. He was picked up allegedly by plainclothes men from his house in Gulshan on Wednesday.
Journalist Utpal Das has been unaccounted for since October 10. Mithun Chowdhury, president of the newly formed Bangladesh Janata Party, and his associate Ashit Ghosh were picked up allegedly by law enforcers from the city's Sutrapur area on October 27.
"I sought remedy from the police but I have yet to get back my son," Utpal's father Chitta Ranjan, who lives in Narsingdi, told this newspaper over the phone.
Those who went missing in recent times include McGill University student Ishrak Ahmed Fahim, who was abducted on August 26 from the capital.
Bangladesh Kalyan Party Secretary General MM Aminur Rahman went missing after he had gone out of his office in Nayapaltan on August 27.
On August 22, businessman Syed Sadat Ahmed, also a BNP leader, was picked up from near Banani flyover. Another businessman, Aniruddha Kumar, was abducted from Gulshan on August 27.