Observing January 5: AL to hold rallies, BNP denied nod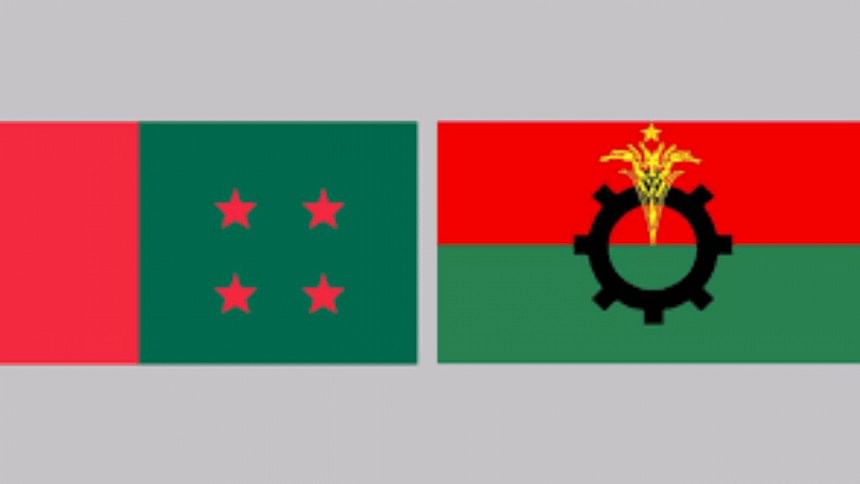 The Awami League will hold rallies and bring out processions in Dhaka to mark "Victory Day for Democracy" today but its arch-rival the BNP was denied permission to hold any rallies in the capital to mark what it calls "Democracy Killing Day".
The Awami League will hold two separate rallies on Banani ground and Bangabandhu Avenue, apart from "gala" celebrations across the country, said a press release of the party.
AL General Secretary Obaidul Quader called on AL activists and supporters to observe the day in the final year of the incumbent government.
Dhaka Metropolitan Police denied the BNP permission for holding a rally at the Suhrawardy Udyan today, the fourth anniversary of the 2014 parliamentary election which the party boycotted.
"We have been denied permission for the rally," Shahid Uddin Chowdhury Annie, publicity affairs secretary of BNP, told The Daily Star after a meeting with the DMP authorities yesterday.
Abdus Salam and Abul Khoyer Bhuiyan, advisers to BNP Chairperson Khaleda Zia were also in the meeting.
BNP's high ups would reveal their next course of action via press conference scheduled for today at the party's Nayapaltan headquarters, Annie said.
The last parliamentary election was held on January 5, 2014, amid controversy as the BNP, main opposition in the immediate past parliament, and most other political parties boycotted the polls terming it "farcical and one-sided". At least 153 lawmakers were elected uncontested in the 10th parliament.
In 2015, on the first anniversary of the day, violence erupted across the country centring rally and counter rally of the parties. The situation remained turbulent for weeks.
The BNP was not granted permission for its rally then. Police kept Khaleda confined to her Gulshan office by blocking the streets in front of her office with sand-laden trucks.
Only the ruling AL men were on the streets, celebrating the day as "Victory Day for Democracy".
An angry Khaleda called for a countrywide non-stop blockade from January 6 to topple the government. The blockade went on until the last week of March.
At least 95 people were killed and about 1,500 injured in arson attacks on public transports during the blockade. Most of them were ordinary citizens. Another 45 got killed in "shootouts" with law enforcement agencies. About half of them were allegedly involved in the arson attacks.