Opinion: Thank you, Khaleda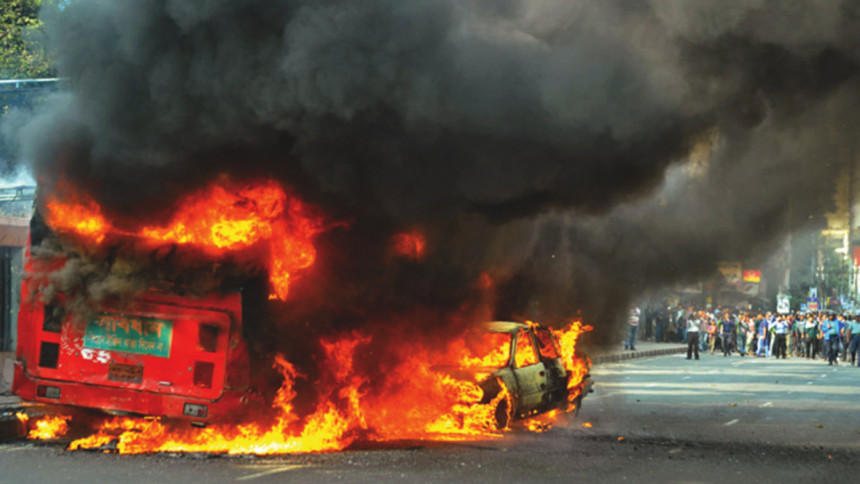 We can thank Khaleda Zia and her party BNP for at least one thing that they have contributed to Bangladesh politics. They have made hartal redundant for this country.
She with the dreadful advice of her son Tarique Rahman, who is staying in London and recently had earned the credit of getting his name into Interpol Red List, had embarked on a reckless and mindless programme of nonstop blockade and hartal since January 6 this year.
The results are awe-striking. The country saw 100 days of blockade to be topped with 51 days of hartal. Khaleda's party men went on a demonic killing campaign with petrol bombs that saw the most painful deaths of 64 innocent citizens who were travelling on public transport amid her blockade programme.
That is the human cost. Khaleda did not also think of the economic cost of the country that she claimed is waging her movement for.  The World Bank has summed up that the economic loss was $2.2 billion, just short of the Padma Bridge cost of $2.93 billion.
This meant we would have GDP growth lesser by 1 percentage point.
So, Khaleda with the demonic advice of her son thought she would cause so much of misery to the people that they would rise against the government one day. And what a fool she was!
Her tactics boomeranged. People have rather decided to ignore the unbearable shackle of hartal and blockade. They have started taking out cars and buses.  Khaleda and her hartal have both fallen flat.
The evidence of it was very clear during the Jamaat's last hartal after the hanging of war criminal Kamaruzzaman. Jamaat, known for its terrorist tactics, had enacted effective hartals before and after the hanging of Quader Mollah, another war criminal.
But this time, the people have rejected its hartal call and the roads were all crammed with crawling traffic.
BNP with its arcane political acumen had not bothered to lift its 'nonstop' blockade.  It probably would never announce the end to blockade – that would be even more comical because nobody now remembers there is a blockade. 
So thank you, Khaleda for bringing this change to politics.