Last Part
Asset now burden
One gruesome attack turned Bogra trucker into a liability for a family of six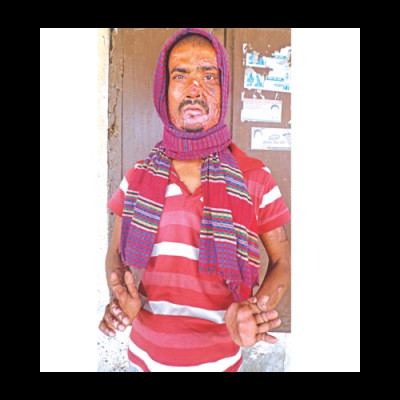 Over the past few days, The Daily Star published a series of reports on ordeals of the victims of mindless violence in the name of politics between January 5 and April 5 last year. Lives perished, people were crippled, families torn apart and dreams shattered in the 91 days of brutality that shook the nation to its core. In the last part of the series, we today will tell you the story of a victim who is living a life no one wants.
Golam Mostafa wishes he were dead.
He has keloid scars all over his face and throat, and deep eschar marks on both hands, so frightening a sight that people do not even want to sit beside him.
The fingers of his both hands are disfigured, so much so that he cannot even hold a spoon.
Once a happy man with a good income, Mostafa is now a "burden" for his six-member family.
"I had a happy life with my wife and children. But everything has been ravaged. I have now become a burden for them," the 36-year-old told this correspondent, staring blankly at his burnt palms.
He is a living example of what happens when politics becomes a mere game of power where the lives and properties of people are simply expendable.
On February 7 last year, trucker Mostafa, accompanied by his assistant Hashib, was returning to his hometown Bogra after unloading a shipment at Ahmedpur of Natore. It was night already.
The BNP and its allies had been enforcing nationwide blockades and shutdowns, marked by an unprecedented extent of violence and bloodshed, for about a month now. They were protesting the January 5 parliamentary elections they had boycotted and trying to unseat Sheikh Hasina's government that assumed power for the second time in a row through the polls in 2014.
As Mostafa reached Rupihara on Bogra-Natore road in Bogra's Shajahanpur upazila, suspected blockaders firebombed his truck. The blaze killed Hashib and left Mostafa critically burnt.
The next five months he spent in hospital beds, writhing in pain and fighting for life.
If those sufferings were excruciating for him, what followed was unbearable.
"I now need to take others' help for everyday things. I cannot even wear my clothes properly on my own," said Mostafa, heaving a sigh.
"People feel repulsed by my scars. I wear extra clothes to cover them. People do not want to sit beside me in the bus."
Around 19 years ago, Mostafa, then a well-built youth, married the love of his life -- Golapi Begum. They later became happy parents of four children. He was living at Kazipur of Sirajganj district at the time and used to drive private cars and microbuses.
Two years ago, he started driving heavy-duty trucks for a better income and he did find it.
He soon bought a small piece of land at Chhoto Kumira of Bogra town, built a tin-roofed house on it and started living there.
He would earn enough to bear all the expenses. Life was full of happiness.
"But the petrol bombs shattered all my dreams," Mostafa said before breaking down in tears, something he was doing often while talking to The Daily Star.
"I cannot work anymore. I do not earn a single penny. Is this called living? Isn't death better than this?"
With the lone breadwinner of the family crippled, his wife now works as a domestic help and his eldest son Ibrahim, 18, pulls rickshaws.
"It is on their income that my family survives."
Mostafa managed to marry off his elder daughter Nurjahan, 16, last year by taking loans from relatives and neighbours.
But the worries about the future of two other children -- Nurunnabi, 8, and Nurunnahar, 6 -- upset him.
"Doctors have said I need further treatment. I need money for that as well."
Mostafa said he did not get any financial aid from the government. Some organisations and individuals gave him around Tk 60,000.
While he now desperately seeks help from the government, his wife wants something more.
"Those who did this [pointing to Mostafa's face] ... those who are responsible for my husband's present condition ... I want exemplary punishment for them," said Golapi Begum, her voice choked with a mixture of pent-up rage and insufferable pain.