Nine hours in captivity
AL leader says abductors 'threatened to kill him in crossfire'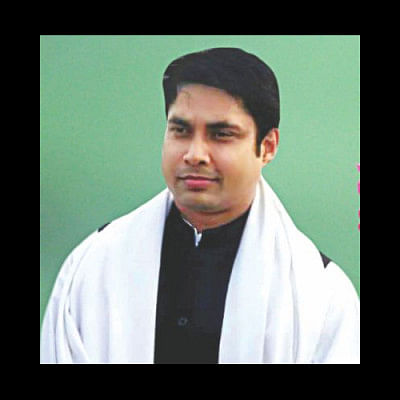 Moments before being released by his abductors, an Awami League leader was threatened with death in "crossfire" and forced to sign two sets of blank papers and stamp papers each.  
Parvez Hossain Sarker, president of Comilla North Awami League, claimed this while sharing the experience of his nine-hour ordeal of abduction with The Daily Star at his home in the capital's Lalmatia.
Parvez, also a former chairman of Titas upazila of Comilla, was picked up in broad daylight from in front of his house allegedly by four unidentified people equipped with firearms and walkie-talkie sets around 1:45pm on Friday.
Nine hours later, around 10:45pm, the kidnappers released him in Purbachal area.
However, many questions remain about the mysterious abduction of the MP-aspirant from Comilla-2.
Regarding the abduction, Parvez said a youth stopped him and shook his hands when he was returning home after Juma prayers.
Suddenly, another person grabbed him from behind and together they forced Parvez into a black car.
"As I refused to enter the car, one of them hit me on the head with the butt of a firearm," he said, adding he was then forced into the vehicle. 
"They handcuffed me and administered chloroform to make me senseless. Then they took away my cell phone, blindfolded me and put a black cloth on my face," said Parvez. 
Later, they laid him in the backseat of the car where he lost consciousness after a minute or two, Parvez recalled.
After a few hours, when he regained consciousness, he noticed it was already dark outside. He said he was still groggy at the time. But he remembered that the kidnappers removed the blindfold and handcuffs and gave him a packet of biriyani and some water.
He only drank water, after which the kidnappers put a black cloth on his face again.
Later, around half an hour before he was dropped off near Kanchan Bridge, Parvez claimed the kidnappers handed him two sets of Tk 300 stamp papers and two blank sheets to sign.
When he protested, the kidnappers scared him by saying they would kill him in "crossfire", Parvez told this newspaper. He then signed the paper eight times in English and Bangla. He did not know what they were for.
Afterwards he was dropped off near Kanchan Bridge around 10:45pm, still blindfolded. The kidnappers told him not to remove his blindfold or try to see where the car was going. 
Parvez claimed the men said they were letting him go alive because they were also "Awami League men."  
After one or two minutes, Parvez removed his blindfold and walked towards some shops. He found a fuel store from where he called his wife.
Later, police and Rab, along with the family members, rescued him from the spot.
Asked about suspects, Parvez said that he had some political rivalries in Comilla and he had also faced a gun attack last year. "But I do not know or can say for sure that this rivalry is the main reason behind the incident," he said.
As no case was filed regarding the incident till filling of this report yesterday evening, Parvez replied to a question on it saying he would take a decision discussing the issue with the home minister.
Contacted, Jamal Uddin Mir, officer-in-charge of Mohammadpur Police Station, told The Daily Star yesterday they were yet to identify the car or the abductors.
"We are investigating to the incident and hope to solve the mystery soon," he added.