Cops rescue kidnapped boy in Dhaka, 6 held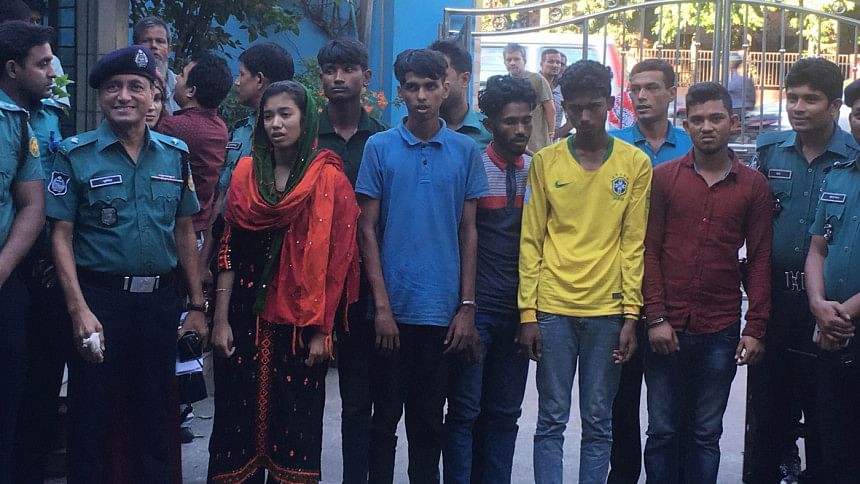 Police yesterday rescued a four-year-old boy from Dhaka's Bijoynagar area, two days after he had been kidnapped.
The law enforcers also arrested six persons in this connection.
Toasim Islam Shimul, 4, son of Bangla daily Prothom Alo's staff member Saiful Islam, was rescued from a house early yesterday, said Biplop Kumar Sarker, deputy commissioner (Tejgaon Division) of Dhaka Metropolitan Police.
Addressing a briefing at his office yesterday afternoon, he said they first arrested two "kidnappers" on the spot. Based on their information, four others were arrested in Mohakhali and Farmgate areas.
The six are: Ruman, 18, and his wife Mim Akter Ria, 18, Shahidul Islam, 19, Jisan Mia, 20, Saiful Islam Imon, 19, and Ali Ahmed, 18.
DC Biplop Kumar said a gang picked up Shimul on Tuesday while he was playing alone in front of his East Nakhalpara house.
Later, his father filed a case with Tejgaon Police Station, said the police official.
On Wednesday, the kidnappers called the boy's father over cellphone and demanded Tk 20 lakh as ransom. They used "magic voice apps" to distort their voice, he said.
The police team rescued the boy by analysing the conversation, he said.
Arrestee Ruman, a neighbour of the victim, visited the police station to inquire about the boy to avoid suspicion, said the police official.
Ruman also announced through a loudspeaker in the area that Shimul had gone missing, he added.
The arrestees will be produced before a court today with a remand prayer, he said.