Fraud accused walk out on bail, abduct lawyer's son: police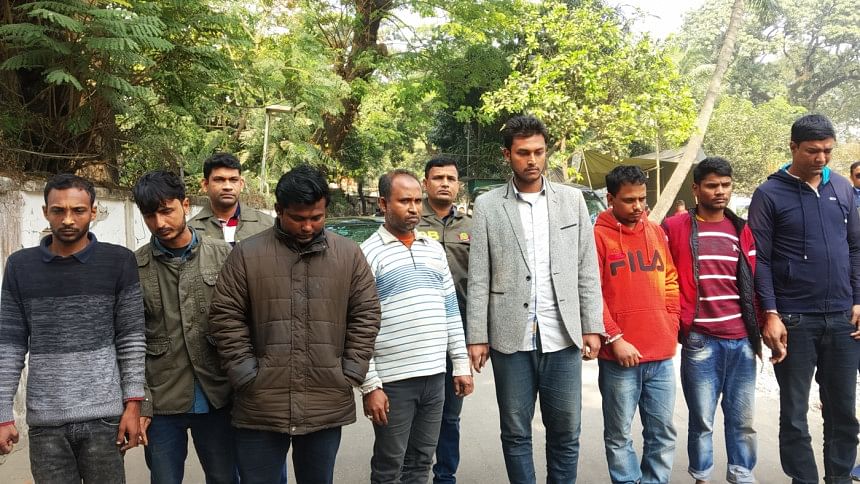 A lawyer who represented and secured bail for a group accused in a fraud case, later became their victim after the group abducted his son.
The gang members who were arrested from Demra yesterday revealed the details to police.
They made plans to abduct their lawyer Fakhrul Islam's son, Tanzim Al Islam Dibos (17), after they walked out on bail six months back, Abdul Baten, additional commissioner of Detective Branch of Police, said during a press conference today.
The gang also abducted Fakhrul's brother-in-law Khalid Hasan Dhrubo (19) from Mohammadpur as he was with Dibos at the time.
The abductors demanded Tk 40 lakh from the victims' family after keeping the duo hostage at a house in Dhaka Udyan area in Mohammadpur.
Police arrested eight members of the gang and rescued Dibos and Dhrubo from Dhaka's Demra area yesterday evening.
The arrestees are: Moshiur Rahman Pappu (32) who led the kidnapping, Fakar Uddin (24), Mahmudur Rahman Rasel (32), Rashiduzzaman Tushar (34), Ariful Islam Nishan (30), Shafiqul Islam (28), Imtiaz Ahmed (30), and Abdullah Al Noman (25).
Abdul Baten, additional commissioner of DB, said the gang used to abduct people pretending to be members of DB police.
A case was filed with Mohammadpur Police Station in this regard.