Niko deals illegal
Declares HC as two deals with Petrobangla, Bapex made thru' graft; court also orders return of assets that the company took over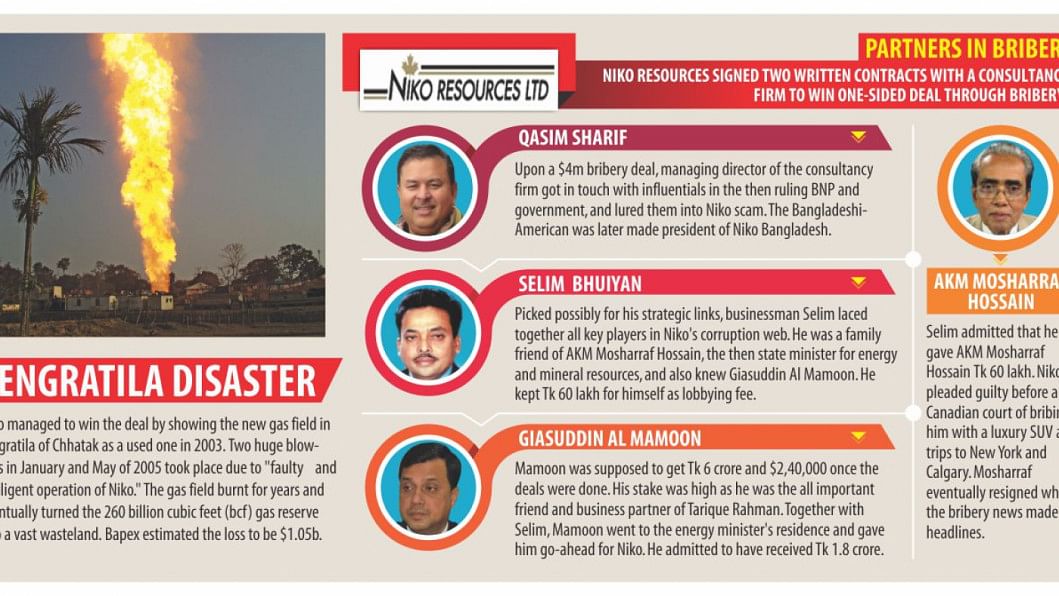 The High Court yesterday declared illegal and void the two deals Niko Resources Bangladesh Limited signed with Bapex and Petrobangla, as those were procured through corruption.
The court also directed the authorities to "revert back" to the state the assets Niko possessed through the Joint Venture Agreement (JVA) and the Gas Purchase and Sales Agreement (GPSA) signed in 2003 and 2006.
No payments can be made to Niko Bangladesh or its mother organisation Niko Canada till the pending damage case involving the company is settled and adequate compensation is given to the victims of the two blowouts in Tengratila of Chhatak in 2005, stated the HC.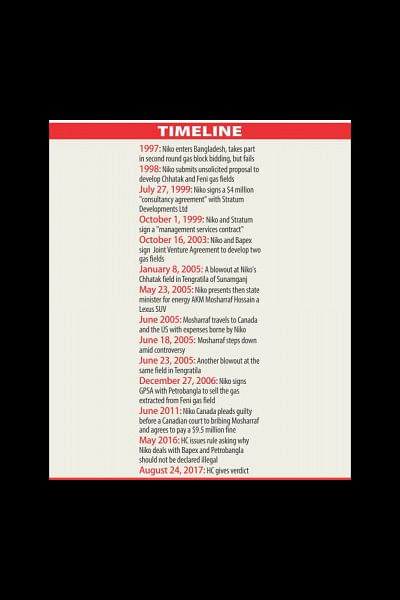 Assets of the subsidiaries of Niko Canada, including the shareholding interests in Tullow Bangladesh Limited concerning Block-9 PSC, are to be attached and seized to provide compensation to the blowout victims, it added.
The two huge blowouts took place in January and May of 2005 due to "faulty and negligent operation of Niko".
The HC bench of Justice Naima Haider and Justice Abu Taher Md Saifur Rahman delivered the verdict following a writ petition by Prof M Samsul Alam, energy adviser to the Consumers Association of Bangladesh early last year.
Petitioner's lawyer Tanjib-ul Alam said the court also ordered the authorities to take legal action against those involved in the signing process of the deals.
Contacted, Attorney General Mahbubey Alam said the government would get benefits of the verdict in dealing with other cases over the Niko issue.
At least five cases are now pending with national and international courts.
BNP Chairperson Khaleda Zia and former BNP ministers Moudud Ahmed and AKM Mosharraf Hossain are accused in one of the cases.
"The Anti-Corruption Commission can now launch investigation to find out who were involved in the deals," the AG added.
Niko's local counsel Rokanuddin Mahmud declined to comment on the verdict.
Following the filing of the petition, the HC on May 9 last year issued a rule upon the government and Niko, asking why the two deals should not be declared illegal and Niko's assets should not be seized to provide compensation for the blowouts.
Earlier in June 2011, Niko Canada pleaded guilty before a Canadian court to bribing AKM Mosharraf Hossain, who resigned as state minister for energy in June 2005 amid controversy, with a luxury sport utility vehicle and a trip to New York and Calgary mainly for damage control following the blowouts.
The company also agreed to pay $9.5 million in fine, which went to the Canadian government fund, according to the documents obtained by The Daily Star.
Tanjib said Niko gave statements to a Canadian court, admitting that it made payments through Qasim Sharif, president of Niko's Bangladesh chapter.
He further said several payments were made by Qasim himself and some others by Nationwide, a company of former Dhaka Club president Selim Bhuiyan who worked as a Niko agent.
In its statements, the Canadian company said it made the payments "for their ability to influence the government officials and getting decision in their favour."
"As they [Niko] have confessed in writing, there is no dispute over it. The court said their acts constituted crimes… It asked the authorities to take action against them," he said.
In its judgment, the court said, "We find that the JVA and GPSA have been procured by corruption and thus render them void ab initio."
Citing the verdict, Moin Ghani, lawyer for Bapex and Petrobangla, said, "The assets of Niko Canada and its subsidiaries in Bangladesh, obtained through the corrupt scheme in place, are to be treated as proceeds of crime."
TRAIL OF CORRUPTION
The Daily Star on April 7 ran an investigative report revealing how the Canadian explorer left behind a hard-to-miss corruption trail, won an unsolicited energy deal and dodged responsibility for the subsequent blowouts by bribing influential people linked with the last BNP-led government.
The company, floated in 1987, was so desperate that it didn't even hesitate to appoint a consultancy firm, owned by a Bangladeshi-born American, for $4 million to handle the dirty work in Bangladesh, according to evidence obtained by this newspaper.
Niko went on to sign another contract with the same consultancy firm, Stratum Developments Ltd, partly for disbursing the speed money among government officials. As part of the deal, Stratum would "ensure and expedite" the process of a JVA with local explorer Bapex to develop two gas fields.
Niko's corruption evidence seen by this newspaper includes the firm's own admission of bribing Mosharraf to further its business activities in Bangladesh; a cheque showing payment to Giasuddin Al Mamoon, a close friend and business partner of Tarique Rahman; payments to businessman Selim Bhuiyan who had close links with Mosharraf; confessional statements of Selim; and consultancy and management deals signed between Niko Resources Bangladesh Ltd and Stratum.
It all goes back to 1997, when Niko entered Bangladesh during the second round Production Sharing Contract bidding for oil and gas exploration. But with just 10 years' experience in the field, the firm failed to qualify in the bid both on technical and financial grounds.
But it continued lobbying to work around the obstacle. In 1998, it submitted an unsolicited proposal for developing the Chhatak and Feni gas fields.
Bapex refused to sign the deal as it found that Chhatak field was an unexplored field, and not a used one as Niko falsely claimed.
Stratum, however, was already on the scene to make it all happen. Niko signed a "consultancy agreement" with the firm in July 1999, and renewed it in 2003.
Niko and Stratum also signed a "management services contract" in October 1999, which was renewed in October 2003, just 15 days before Niko and Bapex signed the JVA.
Government documents show that the JVA deal, signed on October 16, 2003, was vetted by the law ministry and approved by the then prime minister Khaleda Zia.
The then Law Minister Moudud Ahmed on August 25, 2003 gave his opinion in favour of the JVA.
Interestingly, Moudud's law    firm "Moudud Ahmed and Associates," which was acting as a legal counsel for Niko, gave similar legal opinions on the issue on February 27, 2003.
According to Niko's documents, the firm made a payment of $6,065 to Moudud on October 12, 2000, and another of $8,315 on January 15, 2002, when he was law minister.
In a clarification of this newspaper's report, Moudud, however, claimed that the "so-called opinion dated February 27, 2003 was fictitious and forged.
The money was not paid to him but to the law firm against the bills for the work it had done for Niko during the period of their agreement, he said.
Five days after the JVA was signed, Niko wire-transferred $2.93 million from Niko Canada's First Caribbean International Bank (Barbados) account to a Union Bancaire Privee (Zurich) Swiss bank account of Stratum.
From the sum, Qasim paid $500,000 to Selim's company Nationwide.
Niko documents show that it paid Selim for his personal influence in arranging meetings with government officials at Bapex, Petrobangla and the energy ministry.
On January 8, 2004, barely three months after the agreement, Selim paid Giasuddin Al Mamoon Tk 1.08 crore through a Standard Chartered Bank pay order (Ref No-CO-60-20040107-0201).
Four years later, Selim admitted before a Dhaka court that he gave Tk 1.8 crore to Mamoon (Tk 1.08 crore through SCB cheque and Tk 72 lakh in cash in phases) and Tk 60 lakh to Mosharraf. He kept the remaining Tk 60 lakh for himself in lobbying fee.
"Mr Mamoon told me that he was taking the lion's share of the money as Tarique Rahman was with him," Selim, who now lives in Dhaka, said in the confessional statement.
But in 2012, he told The Daily Star that he gave the confessional statement "under duress".
As part of their investigation, officials of Royal Canadian Mounted Police visited Bangladesh and questioned Mamoon in jail on November 7-8, 2008. He admitted to them that he had received the money in return for securing the deal.
Mamoon is now serving jail term in a money laundering case.
Former state minister Mosharraf refuted all the allegations against him.
PENDING CASES
During the tenure of the last caretaker government, the ACC in December 2007 filed two cases -- one against Awami League President Sheikh Hasina and the other against BNP chief Khaleda Zia -- over the bribery scam.
The case against Hasina was quashed in 2010, a year after she took office.
The case against Khaleda and 10 others is under trial.
In 2008, the government filed a damage suit with a Dhaka court against Niko, claiming Tk 746.5 crore in compensation. The case is pending.
Four years later, the ACC sued Mosharraf and Qasim for bribery. This case also remains pending.
On April 1 and June 16 in 2010, Niko Resources Bangladesh Ltd filed two cases with World Bank's International Centre for Settlement of Investment Dispute -- one seeking an order clearing it of the liability for the two blowouts and the other demanding outstanding payments for the gas it supplied to Petrobangla from the Feni gas field.
Both the cases are pending.