Workers Tricked, Trafficked: Sold in Algeria, waiting for rescue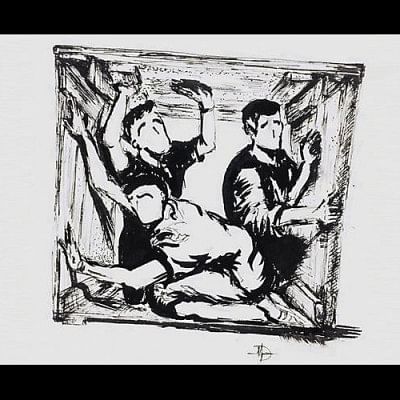 A group of at least 55 Bangladeshis had paid recruiting agencies over Tk 3 lakh each for jobs in Algeria and the promise of illegal passage into Spain -- what they got instead was indentured labour under subhuman living conditions.
It was nothing but modern-day slavery in the guise of construction jobs -- when they attempted to release themselves from their exploitative contracts and leave the country, they were told they had been "bought".
Tushar, who worked in a project in Mascara, Algeria, said according to his contract, he was recruited to a company called SARL Yuan Xiang Construction de Chine.
"I was told I need to pay back the $1,500 I was bought for," said Tushar.
The fact that they cannot leave and must bear the horrendous working conditions was bad news for the workers for whom Algeria was only a pit stop to their final destination.
"Let me be honest with you, we had gone there to go to Spain. At the Singapore Skills Training Centre [their recruiter], they had maps of the countries on every table. They kept saying that we would be able to go to Spain from Algeria. They would show us the map and tell us to see how close Algeria is to Spain," said Tushar.
Several other workers, contacted over WhatsApp, told this correspondent that they too were told they were "bought".
In 2019, the 55 Bangladeshis were recruited by Singapore Skills Training Centre (currently known as Asia Skills Training Centre) in Munshiganj. Their BMET (Bureau of Manpower, Employment and Training) clearance was processed by Banna Bijoy Overseas Ltd.
Without an Algerian embassy in Dhaka, their visas were processed from Islamabad in Pakistan, their passports show.
Brac Migration Programme's head Shariful Hasan attested to the fact.
"We had even officially sent letters to the ministry in 2019 saying that workers are being recruited for Algeria, for the purpose of being sent to Spain," he said.
Copies of these letters show that these were sent to the Bangladesh Embassy in Algeria, which in turn wrote to the Expatriates' Welfare and Overseas Employment Minister, and to the Director-General of the Wage Earner's Welfare Board.
"Whenever the workers complain about the working conditions, they are encouraged to contact the agency's people in Algeria for passage to Spain," said the letter.
Shariful commented, "We need to take steps immediately to investigate why people are going to informal labour markets, and how they are being trafficked from there."
At least one worker, Abdul Hai, died while trying to make the trip.
On January 4, in a drive on both the skills training centre and the processing agent's office which recruited these workers, a total of three arrests were made by Rab-3.
The arrestees are Mohsin Madbor and Shakil Chowdhury, the executive director and cashier respectively of the training centre in Munshiganj, and Barun Debnath of Banna Bijoy Overseas Ltd.
"This is a clear case of labour trafficking, according to the Prevention and Suppression of Human Trafficking Act and we have charged them accordingly," said Additional Superintendent of Police Bina Rani Das of Rab-3.
"The workers were recruited by the local agent, but their BMET clearances were processed by Banna Bijoy Overseas Ltd. This is illegal. As a result, they were sent to jobs under exploitative working conditions.
"When the workers were in trouble, or were not getting their payments, they contacted the local agent who had no legal responsibility over them. The legal responsibility lies with Banna Bijoy, but they do not even know which workers they sent."
While Singapore Skills Training Centre is still operational as Asia Skills Training Centre, Banna Bijoy Overseas Ltd 's licence has been temporarily suspended, said the Rab official.
No other officials from the two companies could be contacted as the phone numbers The Daily Star got were found switched off.
BMET Director-General Shamsul Alam said, "The only way a recruiting agency can send workers recruited by another agency is if they formally let the BMET know that they are taking over the workers of the agency. They have to provide a written statement pledging that they will take the responsibility of the workers. If this was not done, then it is unacceptable.
"If the lower officials of BMET are facilitating such processes then they should be found out. I am deeply against this."
SUBHUMAN LIVING CONDITIONS
As the barometer dips to 10 degrees Celsius in the city of Boumerdes of Algeria, with gusts of wind coming in from the Mediterranean Sea, Sohel Rana and his group bathe and defecate outdoors.
These workers, constructing a housing project, sent videos over WhatsApp to this correspondent to prove their claims.
A single PVC pipe hanging over a muddy cesspool, comprises their bathing area.
Their toilet is a hole in the ground, with raised planks for squatting.
"We were asked to defecate in the open when we got here, but we could not do that, so we created these structures. They docked a day's worth of wages for all those who spent the day constructing a toilet," alleged Sohel Rana in a clip, while another worker wearing a woollen cap and scarf wrapped around his face walked out of the "toilet".
This correspondent spoke to Sohel earlier this month.
"Just three days ago, we were allowed to move into these [ship] containers to give us some weather protection. Up until then, and throughout winter, we had been living in an under-construction building with no doors or even walls to catch the draught coming in from the sea," he said.
The under-construction buildings had damp dirt floors and were littered with construction materials stored in the living quarters of the workers.
The irony of the matter is that they are constructing a luxurious ocean-view multi-story housing project. The project is in an area called Ouled Abdel Krim and is done by a Chinese company.
Tushar, who worked in another project, said, "It was very cold. It used to snow but we did not have any gloves. If we asked for gloves, they said to talk to the Bangla boss.
"We had knee-deep snow, but we are not allowed to heat water for bathing because it would use up the gas cylinder, and then we would have nothing left for cooking."
While Tushar managed to escape -- his family sent him money and he bought a ticket back to Dhaka on December 30 last year -- others however have not yet been that fortunate.
DEBT-LADEN FAMILIES
The workers seen in the videos and contacted by this correspondent unanimously spoke about how they do not get their monthly wages in time, and have tens of thousands in arrears.
When the wages are paid, the worker's employers send the money directly to the Bangladeshi recruiting agent. Several workers said their families got paid only once or twice.
"We only got money twice from the agent, and that was only Tk 80,000 in total," said Abdur Razzak, the father of one worker. This is about three months of his son's salary, even though he had been working for a year by then.
"When he asked for his salary after six months, his company told him that they bought him," said Razzak.
His son ran away from these exploitative conditions and is elsewhere now, but where he does not know, because they have had no contact in three months.
"I cannot even die in peace because I loaned a lot of money to send him," he said.
Similarly, Kanon, the wife of a worker Swapan Sardar, waits for the monthly wages her husband had been promised.
"I was once told by the agent that my husband sent me Tk 30,000 but whenever I went for that money, they drove me away. I have not gotten a single taka from the agent," she said.
Nilufa, the widow of the worker Abdul Hai, who attempted to make the trip in December 2019 and died after his boat capsized, told this correspondent that she, too, was in debt.
"I got his body back in February of last year. To this day, I don't know how he died, or even when he died. When he was in Algeria, he used to complain about not having enough to eat."
She sent a photo of his dead body -- drenched, blue with cold, lying against what seems to be the bottom of an orange lifeboat.
Next, she sent a photo of her kids, aged three, eight and 10. The eldest, a boy, is the spitting image of his dead father.
"He had gone to Algeria after borrowing Tk 3.5 lakh in 2019. I only got money from him twice, a total of Tk 1.2 lakh. The minute I got the money, the loan sharks took it away. I had to sell my house for Tk 45,000 to pay off another lender. The next day I was told he died. What am I and my children to do now?"
Meanwhile, the Bangladeshis in Algeria wait to return home.
"Rescue us from this place, please, we entreat the government," workers said in a video sent to The Daily Star.
"We don't know how many Bangladeshis are stuck there in dire situations, but there might be over a hundred," said Brac's Shariful.
Contacted recently, The Director-General of the Africa Wing of Ministry of Foreign Affairs, Md Tarikul Islam, said he is not aware of Bangladeshi workers in Algeria awaiting repatriation, but said he would inquire into it.