Strikers paralyse waterways
People suffer, businesses hurt; workers postpone strike for 45 days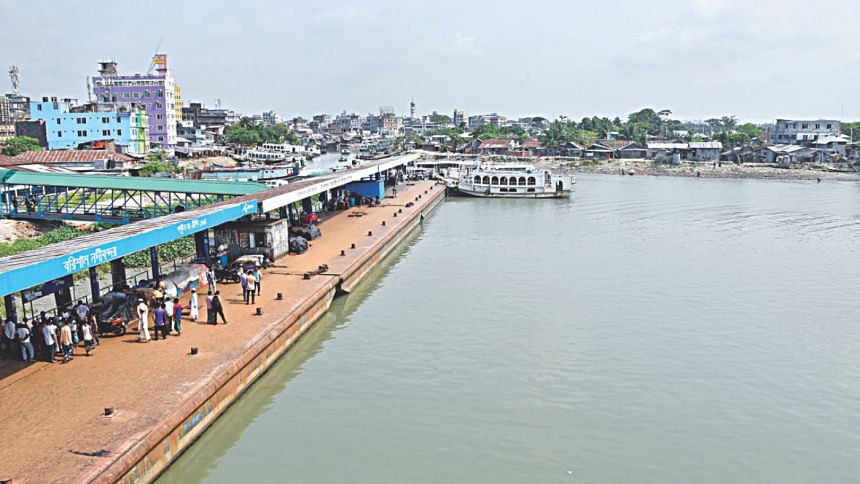 River communications across the country came to a near halt yesterday as water transport workers went on a nationwide strike that caused huge public sufferings and hampered business activities.
Operation of all types of passenger and cargo vessels remained suspended from 12:01am yesterday. Loading and unloading of goods at two seaports and major river ports were severely disrupted, dealing a blow to traders.
People of southern districts suffered immensely as only a few launches operated from the capital's Sadarghat and other major terminals in Narayanganj, Chandpur, Barishal and Khulna.
Bangladesh Water Transport Workers Federation (BWTWF) called the strike to press home their 11-point demand, including full implementation of the pay scale of 2016, stopping extortion and robbery in river transport, and providing appointment letters, identity cards and service books to transport workers.
In the latest development, the federation early today postponed the strike for 45 days following a meeting between its leaders, transport owners and officials of the labour ministry.
Afsar Hossain Chowdhury, organising secretary of the federation, confirmed it to The Daily Star at 12:57am today.
State Minister for Labour and Employment Begum Monnujan Sufian was also present at the meeting that ended around 12:45am today, he said.
The meeting decided that the workers' demands would be met through discussions between all stakeholders within the next 45 days, mentioned Afsar.
The Daily Star could not get the versions of the water transport owners and the labour ministry officials about it.
Earlier, Chowdhury Ashikul Alam, general secretary of the federation, said they had warned the transport owners and the relevant authorities on February 27 that they would go for an indefinite work stoppage unless their demands were met by March 20.
He further said they had to observe work stoppage as the authorities did not pay heed to their demands.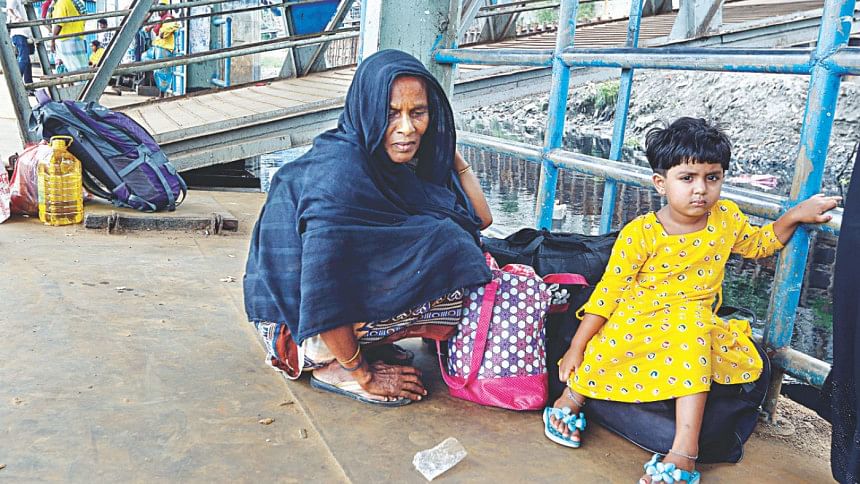 Transport owners, however, termed the strike "illegal and illogical", and claimed that they had not been informed about the strike beforehand.
The labour ministry on Monday held a meeting with transport owners and some labour leaders who represent a relatively small number of workers. The labour leaders agreed to stay away from work stoppage.
But the leaders of the federation, which represents more than two lakh workers, said they did not attend the meeting as many of the participants were "involved in extortion" in the sector.
SUFFERINGS
Visiting Sadarghat, the country's largest launch terminal, from 2:30pm to 5:00pm, this correspondent saw many people waiting for launches.
Only 12 launches were anchored at the terminal while scores were docked on the other side of the Buriganga.
Alamgir Kabir, joint director (marine safety and traffic management) of Bangladesh Inland Water Transport Authority (BIWTA), told this newspaper around 5:00pm that no launch had left the terminal since yesterday morning.
Around 80 launches operate from Sadarghat on 43 routes across 22 southern districts every day to carry about one lakh passengers, he mentioned.
Most of the 18 launches on Dhaka-Chandpur route operate in the daytime while those on other routes usually leave Sadarghat in the evening and at night, Alamgir mentioned.
Later at 7:45pm, he told this correspondent over the phone that some 10 launches had left the terminal.
Khwaza Mohib, sales officer of Green Line Water Ways, said their double-decker launch with a capacity of around 250 passengers, did not leave Sadarghat due to the strike.
There were many passengers who remained stranded at Sadarghat for hours.
One of them, Joynal Abedin, came to the capital from Borguna's Amtali upazila along with his sister and nephew for an urgent work on Monday and wanted to return home yesterday.
"We learnt about the strike after arriving here. How will we go home now?"
BUSINESSES HAMPERED
Unloading of around 12 lakh tonnes of imported goods from 30 mother vessels remained suspended at the outer anchorage of the Chattogram Port, according to the website of the Chattogram Port Authority. 
Besides, three lakh tonnes of goods were not unloaded from 16 lighter vessels at private jetties in the Karnaphuli River, Khorshed Alam, joint secretary of the federation, told this newspaper.
Transportation of goods by lighter vessels on inland water routes also came to a halt due to the strike, he said, adding that around 22,000 people are employed in the water transport sector in the port city.
No goods were loaded or unloaded at Mongla port and Khulna BIWTA Ghat, reports our Khulna correspondent, quoting a BIWTA official.
Moreover, none of the launches that operate on seven routes left Khulna BIWTA Ghat, said Sanower Hossain, BIWTA joint director in Khulna.
Visiting the BIWTA Ghat and Roosevelt Jetty, our correspondent found that around a hundred vessels remained anchored in the Bhairab River and near the BIWTA Ghat. 
Probir Bawyali, a passenger, was waiting at the BIWTA Ghat with heavy luggage. He was unaware of the strike.
He came to know about the strike after reaching the terminal.
"There is no other way for me to go home with all these belongings," said Probir, who was trying to board a launch to go to Kalabogi in the district's Dakope upazila.
The strike also spelled troubles for the businesspeople in Khulna region as they depend heavily on water transport to carry goods between Khulna Boro Bazar and Nayapara wholesale market.
In Barishal, operation of passenger vessels was suspended on 18 routes in the southern region, causing immense sufferings to hundreds of passengers.
Many of them were compelled to leave for their destinations by road, reports our correspondent.
Henry Swapon, a Dhaka-bound passenger, said, "I need to go the capital immediately with my family, but it's not possible because of the strike."
Our correspondents from Narayanganj and Pirojpur also reported that no long-haul launches operated in the districts.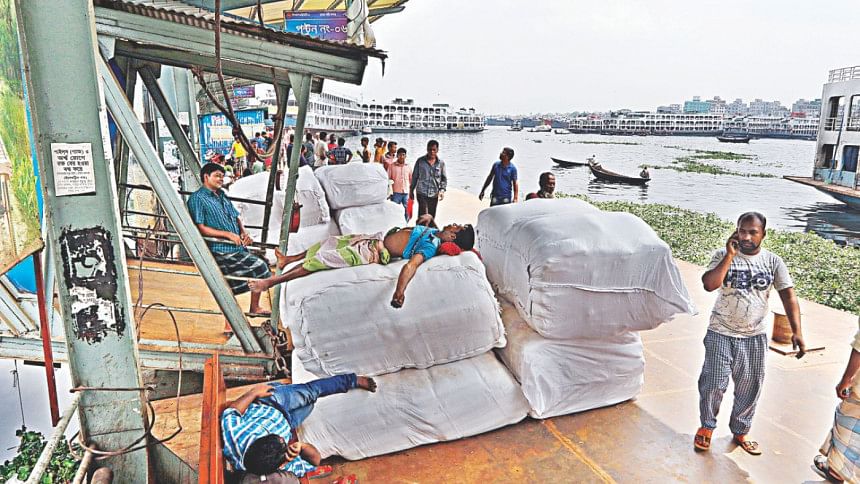 SPAT OVER STRIKE
Labour leaders said the government announced a new pay scale in 2016 with increased wages for workers following a countrywide strike.
But many owners, especially those of passenger carriers, do not follow the pay scale, alleged Mahabubul Haque, a member of the federation's executive council.
The workers have to take huge risk while working at vessels. But if a worker dies on duty, his family gets only Tk 2 lakh, he said, adding that the amount should be increased to TK 10 lakh.
Prokash Dutta, office secretary of the federation, said they announced a work stoppage in July 2017 to press home their 21-point demands, including the current 11 points. Later, they postponed it upon assurance from the government and launch owners, but their demands have not been met.
However, Golam Kibria Tipu, chief adviser of Bangladesh Inland Waterways (passenger carriers) Association, said a group of workers called strike "only to create anarchy".
He said they increased workers' wages by 114 percent in 2016, and that according to the agreement between owners, the federation and the government, the workers cannot call any strike for additional pay in five years.
"Their strike is illegal," Tipu, also a Jatiya Party lawmaker from Barishal, told The Daily Star.
Badiuzzaman Badal, senior vice president of the association, said they were not informed beforehand about the strike.