Strike called off after day- long trouble
Water transport workers had called it over 11-point demand; people, businesses suffer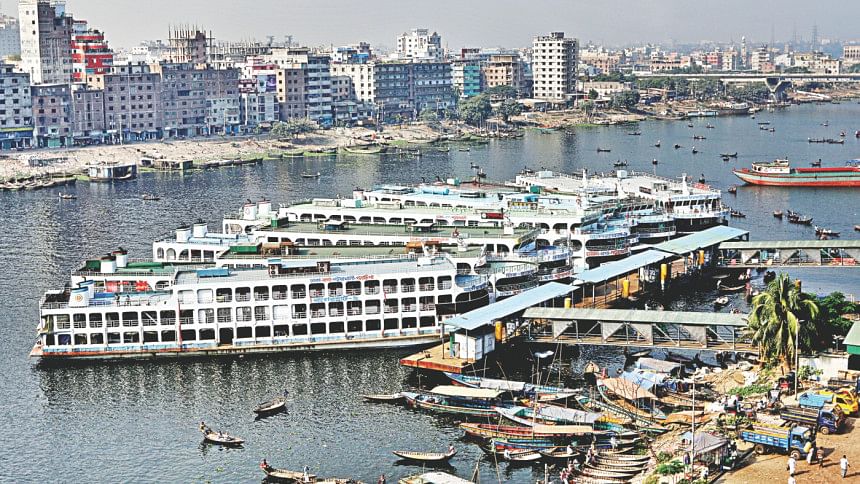 River communications across the country came to a halt today as a section of water transport workers went on a work abstention since midnight, causing immense sufferings to the commuters and hampering business activities.
Bangladesh Water Transport Workers Federation called off their strike last night, following a seven-hour meeting with worker leaders and labour officials at the Shrama Bhaban in the capital yesterday.
The strike had brought river communications around the country to a halt, disrupting communication and businesses. 
AKM Mizanur Rahman, director general of the labour department, told the The Daily Star last night that the work stoppage ended after the "successful" discussion.
Afsar Hossain Chowdhury, organising secretary of the federation said they took the decision as the authorities had agreed to accept some of their 11-point demand.
Of the 11 demands, the meeting decided to implement "Khoraki Bhata" (an allowance for workers while they are in the vessels) within March 2020.
Besides, the labour ministry will take action if any worker does not get salary and other allowance as per the gazette issued by the ministry in 2016, it said.
A 17-member delegation of the federation led by its president and general secretary, took part in the meeting where Mizanur Rahman led the labour officials.
Earlier in the day, labour officials held a meeting with owners of the riverine vessels.
River transport workers had started the nationwide indefinite strike at 12:01am on Saturday, after what they called was the authorities' failure to meet their demands in around seven months. 
Most of the passenger and cargo vessels remained docked during the work stoppage, while loading and unloading of goods at two seaports and all major river ports were severely disrupted.
Less than half of the passenger launches which operate between Dhaka and other southern districts were suspended, forcing people to look for other modes of transport.
In their list of demands, Bangladesh Water Transport Workers Federation (BWTWF) had asked for transport workers to be provided with appointment letters, identity cards and service books; Tk 10 lakh compensation if any worker dies on duty; and an end to extortion and robbery during river transport.
Earlier in April, the BWTWF had called a strike to press home almost similar demands, but a day later that was postponed for 45 days following a meeting between water transport owners, workers and authorities concerned.
Chowdhury Ashikul Alam, general secretary of BWTWF, told The Daily Star on Friday, "The authorities did not meet our demands and forced us to go for the work abstention again."
Badiuzzaman Badal, senior vice president of Bangladesh Inland Waterways (passenger carriers) Association, however, termed the strike "illegal."
He said following the government's decision, they increased workers' wages by 114 percent and other benefits in 2017. This followed an "agreement" between owners, the federation and the government, where the workers would not strike for additional pay in the next five years.
"They have violated the agreement by calling the strike," he added.
Worker leaders, however, rubbished talk of such agreement. Moreover, the latest strike is not related to pay, but other issues.
COMMUTERS, BUSINESS SUFFER
Alamgir Kabir, joint director of the Bangladesh Inland Water Transport Authority in Sadarghat, said although some ferries left the terminal yesterday, none had arrived from other districts.
More than 40 launches were supposed to leave the terminal till 6:30pm, but only 22 left, he said, adding that decisions about other launches depended on the ongoing meeting.
A total of 80 launches operate from the terminal on a daily basis.
"People are suffering immensely due to the lack of launches," he told The Daily Star.
In Barishal, launch operations in all the routes, including Barishal- Bhola, Barishal- Mehendigonj and Barishal-Dhaka, was stopped due to the strike. Passengers were seen desperately looking for alternative transports.
Hundreds gathered at the city's Nathullabad bus terminal to find a bus for their destination, forming long queues.
Anowar Sheikh, who works at a private company, said he came to the bus terminal at around 3:00pm, but was yet to find a vehicle two hours later.
"I want to go to Bhola. I have been waiting here with my mother for a long time. But I could not ride on any bus," said Akbar Miah, another commuter.
Talking to The Daily Star, Mansur Ali, driver of Sakura Paribahan, said they were facing a huge rush of passengers as river communications had been suspended.
In Patuakhali, the situation was the same as no passenger-carrying launch left the terminal yesterday.
"I did not know about the strike. But I need to go to Dhaka urgently," said Abul Hasem, 50, a resident of Amkhola village under Galachipa upazila.
In Chattogram, unloading of imported bulk cargo from the outer anchorage of Chattogram port and different private ghats (jetties) across the country, as well as transport of previously unloaded goods by lighter vessels through inland water routes, remained suspended since early yesterday.
Around 1,343 cargo vessels across the country, including 57 large mother vessels at the outer anchorage of Chattogram port, remained docked. Those are carrying around 32 lakh tonnes of imported goods, according to sources at Chattogram Port Authority (CPA), Water Transport Cell (WTC) and importers.
In Bagerhat's Mongla Port, loading and unloading of goods also remained halted yesterday.
In Chandpur, hundreds were seen heading towards bus terminals to travel to Dhaka and other destinations by roads.