Water transport workers call off indefinite strike
Water transport workers tonight called off their countrywide indefinite strike after the authorities agreed to fulfil some of their 11 point demands.
The decision came during an eight-hour long meeting held among Mizanur Rahman, director general of labor department, leaders of Bangladesh Water Transport Workers Federation and the water-vessel owners, said Prashanta Dutta, office secretary of the federation.
The meeting ended around 11:15pm, he added.
Bangladesh Water Transport Workers Federation (BWTWF) went on the countrywide work abstention around 12:01am Saturday to press home their 11-point demand that include implementation of wage scale 2016, issuance of identity cards, service books, appointment letters.
Following the strike, river communications across the country came to a halt, causing immense sufferings to the commuters and hampering business activities.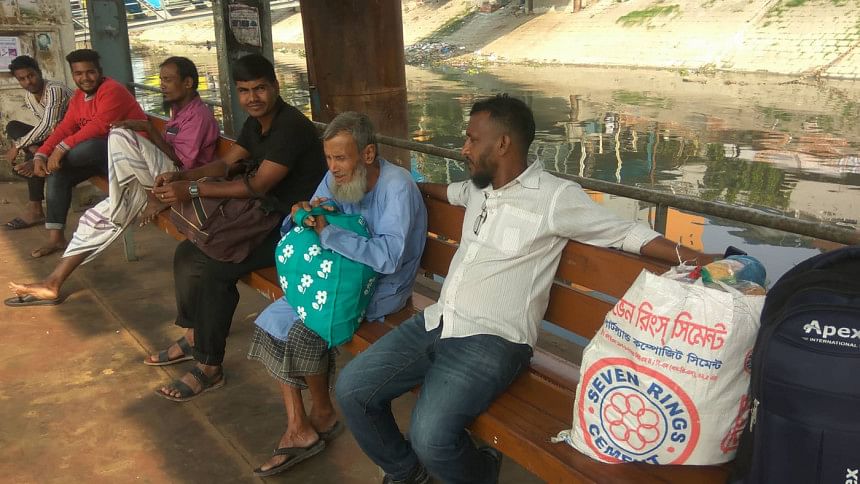 While talking to The Daily Star, the federation's General Secretary Chowdhury Ashiqul Alam said, "Workers are observing the work abstention programme spontaneously across the country except a few areas".
He also claimed that the workers across the country expressed their solidarity with their movement.
Operation of all types of passenger and cargo vessels remained suspended from 12midnight.
People were seen waiting at the terminals for vessels to reach their respective destinations. Some of them were seen leaving the terminals following this uncertainty.
Loading and unloading of goods at two seaports and major river ports were severely disrupted, dealing a blow to traders.
In Chattogram, loading and unloading of imported goods to and from lighter vessels at 16 private jetties in the city's Sadarghat and Majhirghat area remain suspended since early morning due to the work abstention of the water transport workers.
In Khulna, movement of all water transports were halted due to the strike, resulting in suspension of cargo handling at Mongla Seaport. Loading and unloading goods to and from lighter vessels at different private jetties in the city were also suspended.
Besides, the strike also affected the water transport operation in Chandpur, Barishal and many other districts, reports our correspondents.
The federation announced the indefinite strike yesterday through a press release.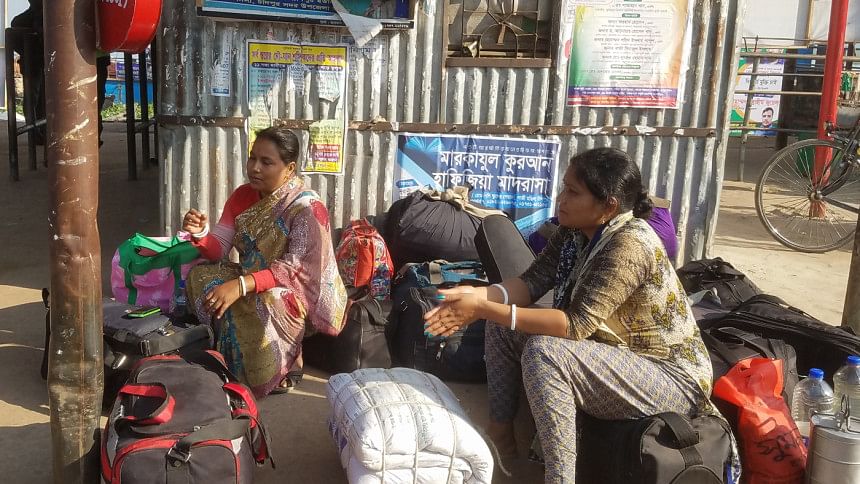 BIWTA RUNNING FEW WATER VESSELS TO EASE PASSENGER SUFFERINGS
Bangladesh Inland Water Transport Authority today managed some water vessels which made trips since the morning despite the ongoing work abstention of water transport workers.
Thirty vessels left Dhaka Sadarghat with nearly two thousand passengers, Alamgir Kabir, joint director (marine safety and traffic management) told The Daily Star.
Passengers had to wait for long hours to board the vessels and some launches had to make round trips to meet the huge demand, the official added.
WHAT ARE THE DEMANDS?
The demands include implementation of the pay scale of 2016, trial of the attackers; stopping extortion and robbery in vessels; providing appointment letters to workers, issuing identity cards and service books to workers; ensuring social safety of workers; and providing a compensation of Tk 10 lakh to a worker in case of his death while on duty.