Puzzle of 5 floors
23-storey FR Tower found to be built on 18-storey foundation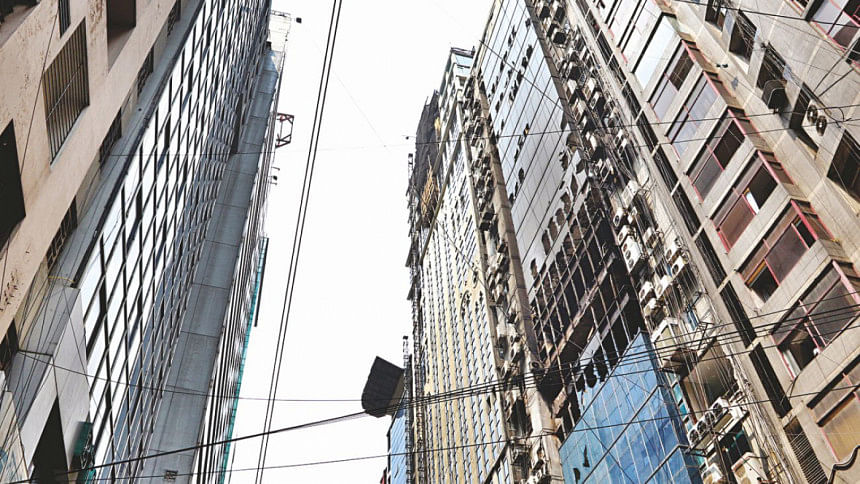 While the 23-storey FR Tower on Kemal Ataturk Avenue has a foundation for 18 storeys, around a dozen other high rises on the same street are taller than permissible height but Rajuk has been silent about this all along, said government high officials.
A public works ministry probe committee gathered these on the March 28 FR Tower tragedy that killed at least 27 people. The findings also came up at a parliamentary standing committee's hearing on April 28 where the Rajuk chairman was questioned about the buildings.
"The Rupayan-Faruque Tower with additional five floors beyond the capacity of its foundation remains a real threat to public safety," said a member of the probe committee, wishing anonymity.
Architect Asma Hafiz, who was claimed by Rupayan Housing Estate Ltd to have approved the 23-storey building plan, has denied signing it in a testimony to the probe body.
Before the committee, Abdul Muqtadir and Khan Mahmud Amanat, two civil engineering professors at Buet, also dismissed any involvement in the tower's structural and foundation designs, sources said.
Rupayan had claimed that the FR Tower's design validation was done by the professors.
After the 2015 Nepal earthquake, the FR Tower appeared tilted and an authorised officer of Rajuk officially asked the building owners to carry out a detailed engineering assessment, which was not done, said the sources.
Another member of the probe committee on condition of anonymity said, "We immediately asked for files of six high-rise buildings on both sides of the FR Tower. Rajuk provided documents, except for one 26-storey building. All five buildings have multiple floors built beyond approved plan." 
Major AKM Shakil Newaz, operations director of Fire Service and Civil Defence, said none of the high-rise commercial buildings on Kemal Ataturk Avenue in Banani had fire safety licence from the fire department.
Rajuk considers buildings 33 metres tall or taller as highrises whereas the fire department deems buildings above six-storeys as highrises.
Following one of the country's deadliest fire tragedies at a commercial high-rise on March 28, the public works ministry formed the seven-member probe committee, led by Additional Secretary Md Yakub Ali Patwary, to look into how the FR Tower was approved.
The committee is going to submit its findings this week.
Three days after the FR Tower blaze, Rajuk Chairman Md Abdur Rahman told this correspondent that Rajdhani Unnayan Kartripakkha (Rajuk) approved an 18-storey building plan on the plot where the FR Tower stands.
About the approval for 23-storey plan, he had then said, "We have no such records."
After the parliamentary body hearing, the Rajuk chairman told this paper, "Even with the revised height limit of 188 metres effective for the last one year, a building on this avenue may be 18-storeys tall at best, but there are buildings 23- to 28-storey high."
Asked how were those approved, he said, "I don't know."
Interestingly, the parliamentary standing committee on the housing and public works ministry during the hearing had asked the Rajuk chairman what the height limit was for a building on Kemal Ataturk Avenue, said a top official who was present at the hearing.
The Rajuk chairman said it was 155 feet, a 14-storey building at best, tall structure could be approved with space for machines.
When the parliamentary body asked how they approved an 18-storey building there, the official quoted the Rajuk chairman as saying, "I don't know how it was approved."
Abdur Rahman was silent when asked if any legal actions had been taken against the FR Tower builder for having the additional five floors.
He was also asked if Rajuk had taken action against any other commercial buildings in the neighbourhood for constructing beyond the permissible limit.
The Rajuk chairman said they surveyed and identified, following the FR Tower fire, other buildings that were taller than permissible and that they "would act according to the government's instructions".
Documents provided by Rupayan show that Rajuk approved a 23-storey FR Tower on February 23, 2005, under the memo R3C/ 1524/ 04/271.
According to those claimed memos, Rajuk's then authorised officer Syed Nazmul Huda signed off on the approval citing the decision of Building Construction committee's 44th meeting on February 15, 2005.
More than one probe committee members requesting anonymity said they contacted Syed Nazmul Huda, who is very ill. Huda told them that if he was given the original files, he would be able to testify if he had signed off on the approval.
The officials said the government has to go deeper with the help of criminal investigation experts if it intends to unearth whether Rajuk actually approved the 23-storey plan.
They believe the FR Tower case could be a classic example of penetrating a corrupt cartel in Rajuk that has long been accused of forging signatures of architects and authorised officers to tamper with approved building plans, and destroying original files.
Patwary Jahirullah, adviser to Rupayan Group, said, "We claimed authenticity of the 23-storey plan as per whatever documents we found. The mandate for checking the authenticity of these documents now rests on the probe committee."
According to some unverified documents, landowner SMHI Faruque in January and May 2009 wrote to the Rajuk chairman that Rupayan built four illegal floors beyond approved plan citing Rajuk memo Estate/Mohakhali/3330 dated September 22, 2007.       
Public Works Minister SM Rezaul Karim at a press conference at Dhaka Reporters' Unity on April 6 said it was the unbridled greed of the building owners, developers and Rajuk officials that led to FR Tower fire tragedy.
It is shocking that even though Rajuk knew way back in 2007 that the building had illegal floors and was in deviations of the approved plan, they turned a blind eye and remained silent, he said.