ACC sends letters to 9 govt bodies seeking info on FR Tower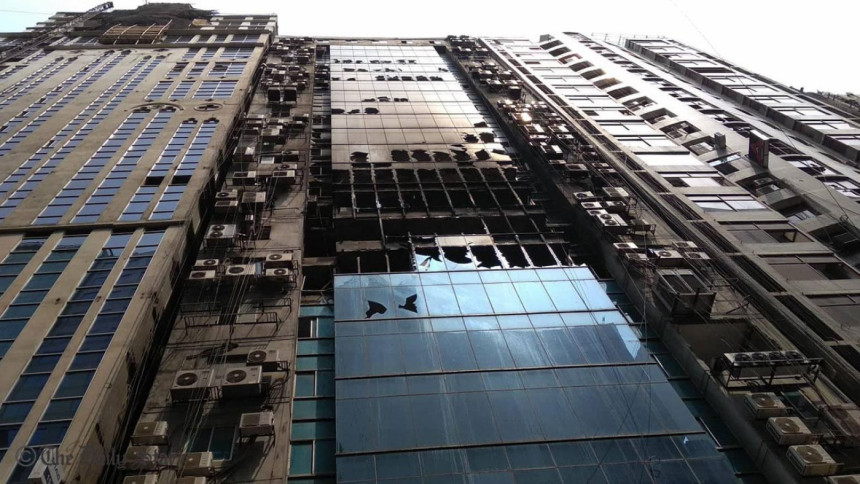 The Anti-Corruption Commission (ACC) has sent letters to nine different government authorities seeking information on the "irregularities and corruption" in Banani's FR Tower which caught fire on last Thursday.
ACC's Deputy Director Abu Bakar Siddique, also the investigation officer, sent the letters to the government agencies today, Bangla daily Prothom Alo reports.
The ACC's move came a day after the anti-corruption watchdog initiated the investigation into how the high-rise building's construction was extended to 23-storey flouting its approval for 18-storey.
Rajdhani Unnayan Kartripakkha (Rajuk), Fire Service and Civil Defence, Civil Aviation Authority of Bangladesh (CAAB), Department of Environment (DoE), Dhaka Metropolitan Police (DMP), Dhaka North City Corporation (DNCC), Dhaka South City Corporation (DSCC), Dhaka Transport Coordination Authority and Wasa have been made respondents to the letters, ACC sources said.
The government authorities have been asked to inform of any deviation or irregularities in building the structure to the commission in three working days.
The commission decided to initiate the investigation yesterday.
Earlier on Sunday, ACC Chairman Iqbal Mahmood said no one involved in the irregularities in building FR Tower would be spared even if they get clemency from other government agencies.
"There will be no mercy; playing games with people's lives will not be tolerated," he said while addressing a ceremony at Bangladesh Shilpakala Academy (BSA).
Engineer SMHI Faruque, the land owner of the FR Tower in Banani, and Tasvirul Islam, one of the owners of the high-rise building, were placed on a seven-day remand each in the case filed over the devastating fire that killed 26 people.
The two, along with Liakat Ali Khan alias Mukul, 57, chairman of Rupayan Group, the builder company and leaders of the building management committee, and some unidentified persons, were charged for the death of people due to negligence.