Hero fireman's final farewell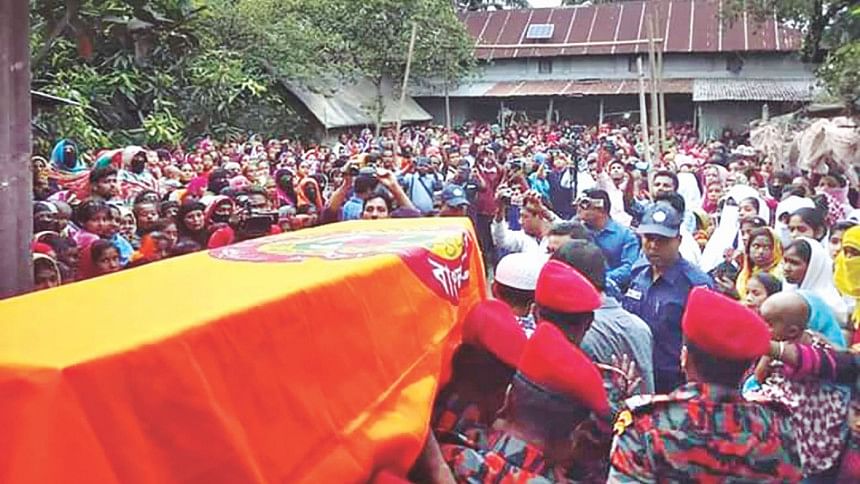 "I am dying…visit me at the hospital if you can," were the final words he uttered to his mother, Halima Begum, over phone on the very day he was critically injured during the FR Tower rescue operation.
Just as the body of firefighter Sohel Rana arrived around 10:45am yesterday, the skies opened up to let raindrops accompany the tears of those at the Fire Service and Civil Defence Headquarters.
As his body was taken out of the ambulance, wrapped in the departmental flag, his colleagues and family members struggled to hide the sorrow pouring out of their eyes.
The preparations for his final farewell had begun.
Many firefighters were overheard recalling the bravery Sohel showed in the rescue operation during the FR Tower fire tragedy on March 28.
His younger brother, Uzzal Mia, broke down in tears while seeking blessings for the departed soul, just minutes before the first namaz-e-janaza was held on the headquarters premises.
"My brother sacrificed his life for the country. He was our only hope ….His departure has left our family out on the streets," a tearful Uzzal said as he sought the prime minister's attention towards his family.
After attending the namaz-e-janaza, Home Minister Asaduzzaman Khan assured a job for one of Sohel's family members.
"Sohel was the lone bread earner of his family. We will all remember his contribution and arrange a job for a competent member of his family," the minister said.
The firefighter succumbed to his injuries early Monday at the Singapore General Hospital, 11 days after fighting for his life since the fire.
The fire incident claimed 26 lives and injured around 100 people.
Asaduzzaman also said Sohel received proper treatment at Combined Military Hospital (CMH) and was later flown to Singapore upon the Prime Minister's directives.
Sohel's body arrived at Hazrat Shahjalal International Airport on Monday night and was kept at CMH until being taken to the fire service headquarters yesterday.
After the namaz-e-janaza, Sohel's colleagues escorted the ambulance to his ancestral home in Kishoreganj's Itna Upazila. His parents, family members and neighbours were seen breaking down in tears as the convoy reached at 5:30pm.
While mourning his death, his neighbours hailed him as a hero for his courageous efforts to save lives from the FR Tower fire, family members said. 
Sohel was buried around 6:30pm after a second namaz-e-janaza at a local Madrasa premises. 
He sustained critical injuries while rescuing trapped people using a hydraulic ladder.
As the ladder basket was overloaded with rescued people and there was not room left, Sohel took position on the ladder steps, putting his life at risk. At one point, he got stuck in the ladder and his leg broke as the ladder folded. His stomach too was punctured.
He was rushed to CMH where he went underwent two surgeries and was put on life-support until he was flown to Singapore on April 5.
Sohel joined the fire service in 2015. With the money he earned, he used to support his family and bear the educational expenses of his brothers. Before that, he had taken up many an odd-job to support his family as his father Noor Islam, an ultra poor farmer, could not work due to ill-heath.
Along with his parents, Sohel left behind four siblings -- younger brothers Rubel, a student of Bangladesh Open University, Uzzal, a college student, and Delwar, a tenth grader, and his sister Selina Akter, a homemaker.