FR Tower inferno: Firefighter still in critical condition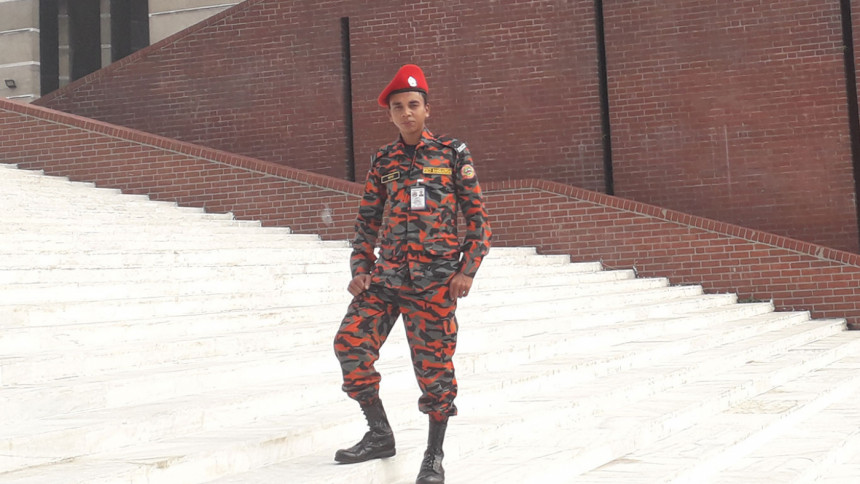 Sohel Rana, a firefighter who sustained serious injuries during the FR Tower fire rescue operation, remains in critical condition at Combined Military Hospital (CMH) in the city till today.
"His condition is critical and he has been put under life support as doctors conducted two surgeries after his arrival at the hospital," Lt Col Abdullah Ibn Zaid, director of Inter Service Public Relations, told The Daily Star.
His colleague Rubel Ahmed who was in CMH said, "Now, he can move his limbs and blink."
Sohel was among the first responders to the FR Tower fire that claimed the lives of 26 people and left around 100 injured. While his colleagues were dousing the fire, Sohel along with some others were taking trapped persons to safety using a ladder.
"As the ladder truck overflowed in the second rescue attempt, Sohel took position on ladder steps. But he got trapped there, and his legs were broken while the ladder was getting folded to drop survivors on the ground. A hole also developed in his stomach," Rubel said.
The sudden accident put his family in uncertainty. His family members sought prayers from the countrymen for his early recovery.
"I am proud that my son has saved the lives of many people... I am begging to Allah to get him back," Sohel's mother Halima Begum told The Daily Star.
Second among five siblings, Sohel financially supported his family in Itna upazila in Kishoreganj. His father Noor Islam is a farmer.