Enforcing fire safety requirements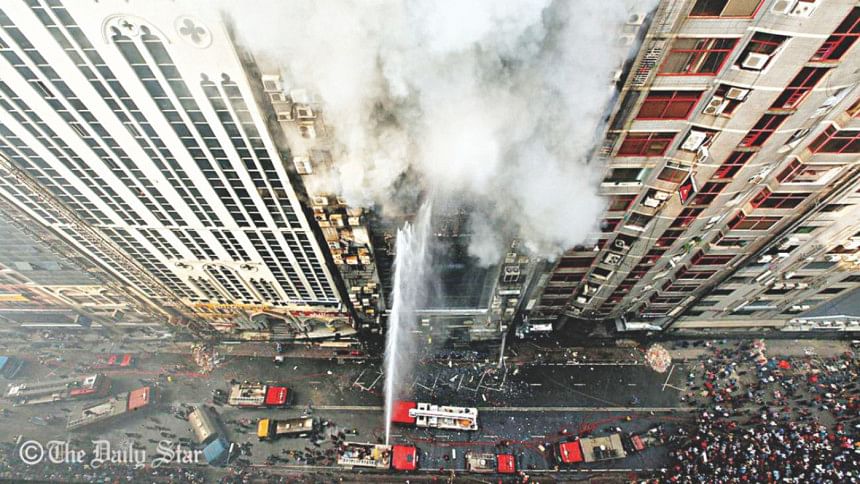 Over the past few months, Bangladesh has been passing an anxious situation. Banani FR Tower and Gulshan DNCC Market fire incidents are the latest cementation to this misfortune. Before that, the nation witnessed in February a massive fire break-out in old Dhaka's Chawkbazar. The deaths keep piling up and what could be more tragic than this? It seems we are coping with death and grief despite the fact that we all as the human beings deserve protection for our right to life. Buildings are being constructed without following proper guidelines and maintaining minimum safety protocol. If the appropriate codes were followed, the level of loss would have been reduced the undermost.
Rule 17(1) of the Building Construction Rules 1996 requires establishment of the emergency exit gate in every floor connected to its lower floors. It further provides installation of fire extinguisher machine or any other alternative arrangement as much as necessary in a conspicuous place of the building along with fire alarms as an indication to leave the building.
Chapter 4 of the Bangladesh National Building Code 2006 controls the design, construction and arrangement of building components to provide a reasonably safe means of escape therefrom. Buildings shall be evacuated during any repair or alteration works unless the existing means of escape and fire protection system are continuously maintained or other exit and protection measures are taken to provide an equivalent degree of safety. All buildings constructed for human occupancy or storage shall be provided with adequate exit facilities to permit safe and quick unaided escape of the occupants in the event of fire or other emergency. Paragraph 3.3.5 provides that the owner of the building shall be responsible for the safety of all occupants. Usually used stairways or lifts cannot be regarded as emergency exit. This code also enunciates some exit requirements for different occupancies such as health care, educational, institutional, dwelling houses, industries, etc.
In recent cases, we have seen that fighting fire incident in high-rise buildings is of a matter of extreme difficulties for our fire fighters. Pressure on fire fighting equipment in tall building is supposed to be reduced by water supply zones with automatic fire pump or intermediate gravity tank. Unfortunately, in most of the cases, the fire fighters do not find existence of any of such.
Section 4 of the Fire Prevention and Extinction Act 2003 provides that if any person wants to use any building as warehouse or workshop, he shall have to take license from the Directorate General of Fire Service and Civil Defense. Contravention of this section will cause imprisonment for 3 years or fine and the building along with goods kept in it shall be forfeited. Section 7 depicts, notwithstanding anything contained in any other law, without approval of the Directorate General of Fire Service and Civil Defence regarding fire prevention or extinction, no structural design or layout of multi-storied commercial building shall be approved or amended. Section 18 connotes that contravention of section 7 shall be dealt with imprisonment for 6 months or fine. Section 8 (3) directs every owner of the building to take precautions and other measures necessary for public safety. The Fire Prevention and Extinction Act 2003 is supplemented by the Fire Prevention and Extinction Rules 2014 which enumerates that owner of the building shall have to apply for occupancy certificate of the building at the end of the construction (Rule 22). These enable the authority to inspect the building, to examine whether the owner met all the requirements of the building code for the public safety or not.
If an owner fails to insert these basic safety measures in the structural design of the building, his application must be rejected but somehow they get the approval and get on with it. Back in 2010, the High Court Division of Bangladesh, in response to a writ petition (Writ Petition no. 718/2008) filed by BLAST and Safety & Rights Society jointly, directed RAJUK, City Corporation to implement the National Building Code 2006 properly and also dictated to form Code Enforcement Agency within a year. After almost eight years, where we faced fire incidents like Tazreen Garments, Nimtoli, Chawkbazar, Banani and Gulshan DNCC Market tragedies, still there is no ostensible implementation of statutory provisions as well as verdict given by the High Court Division.
The Writer is Student of Law, Bangladesh University of Professionals (BUP).