Sohel dies a hero
The firefighter, injured trying to save people from FR Tower blaze, breathes his last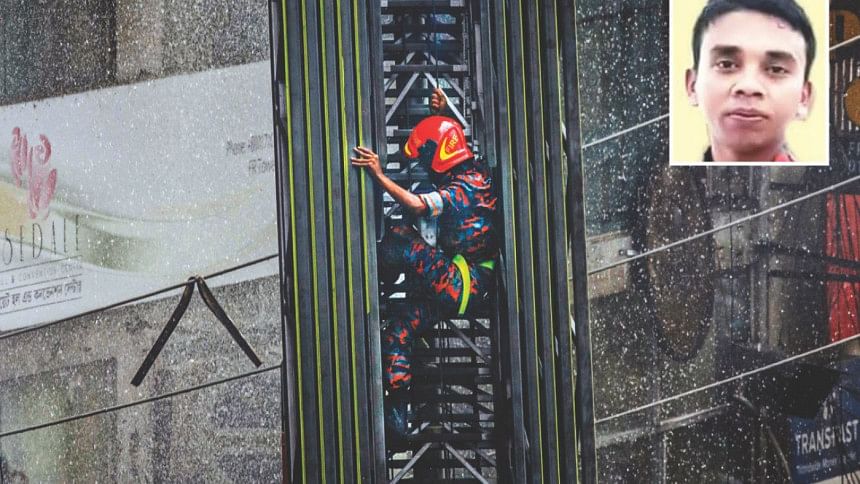 Four years ago, a poor family in Kishoreganj dreamt of better days as their eldest son, Sohel Rana, had joined the Fire Service and Civil Defence as a fireman.
The education of his two younger brothers, the funds for which had dried up, resumed once again. Everything was on the right track and plans for a more financially-secure future were being thought up. 
Two days before Sohel, 25, was supposed to visit home to buy an auto-rickshaw for one of his brothers, he sustained severe injuries while rescuing people trapped in the Banani FR Tower fire on March 28.
After fighting death for 11 days, he succumbed to his injuries early yesterday at Singapore General Hospital at 2:17am, fire officials said.
His body reached Hazrat Shahjalal International Airport around 10:45pm, said his brother-in-law Jashim Uddin.
His family members and top fire service officials, including its Director General Brig Gen Sazzad Hossain, received the body and placed wreaths on the coffin.
The body was taken to the Combined Military Hospital morgue. Family members would take the body to his village for burial after a namaz-e-janaza at the fire service headquarters around 11:00am today, officials said.
As the light of his life went out, so did the dreams of his family. Their sole bread-earner was gone.  
"Who will look after my parents and brothers now?" Sohel's elder sister Selina Akter asked this correspondent over phone yesterday afternoon.
Her voice was almost drowned by the cries of her family members in the background. Selina said her parents had not stopped crying since they came to know of Sohel's death.
Sohel was hailed as a hero for his courageous efforts to save people from the FR Tower fire that claimed 26 lives and left around 100 injured.
The president, prime minister and many others expressed their shock at his death.
On the day of the fire, Sohel, along with his colleagues, was taking those trapped by the blaze to safety using a hydraulic ladder.
At one point, he got stuck in the ladder and his leg was broken as the ladder was being folded.  His stomach was punctured and he was severely injured, his colleague Rubel said.
He was rescued and taken to Combined Military Hospital where doctors performed two surgeries and put Sohel on life support until he was taken on his final journey to Singapore on last Saturday.
Sohel's struggles had begun when he was just a school boy.
He used to do all types of laborious tasks to support his family. He also bore the educational expenses of his three younger brothers as his father Noor Islam, an ultra poor farmer in Itna upazila, could not work due to ill-heath. 
"Alongside his studies, he used to work the land belonging to others.  He also worked as a porter in the local market until he got his job in 2015 after completing the HSC examination," said Selina.
"He was very caring…. Whenever we asked him about his marriage, he used to say he would tie the knot only after all of his bothers are  established," she said in between pauses.
"My brother used to send the lion's share of his salary to my mother….He never even bought a costly shirt or a pair of pants for himself…"
Sohel was second among five siblings. His younger brothers Rubel is a student of Bangladesh Open University, Uzzal, a college student and Delwar, a tenth grader.  His sister Selina is a homemaker.
President Abdul Hamid and Prime Minister Sheikh Hasina expressed deep shock and sorrow at his death.
In a condolence message, the president prayed for eternal peace of the departed soul and conveyed deep sympathy to the bereaved family.
In another message, the PM said Sohel Rana would remain as a "bright example" of sacrificing one's life for others.
Hasina prayed conveyed profound sympathy to the bereaved family.
The US embassy in Dhaka also offered condolences to his family, friends and colleagues.