FR Tower: Rajuk ex-chief engineer gets bail on health grounds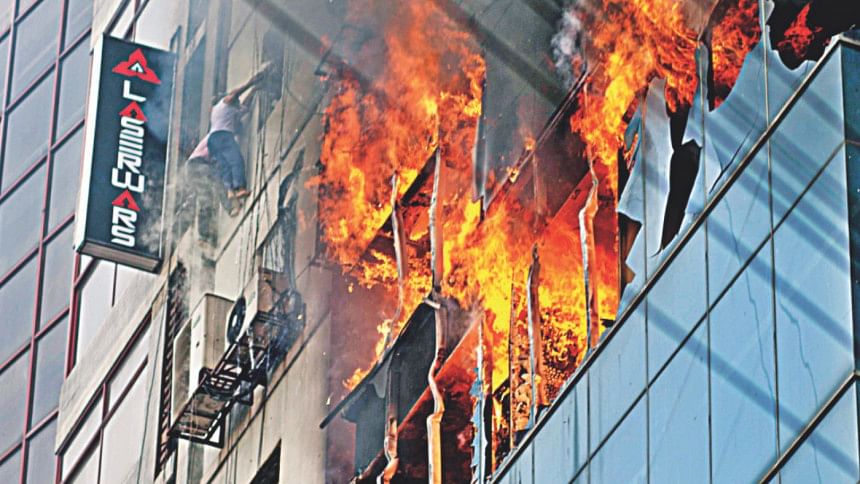 The High Court today granted bail to former chief engineer of Rajdhani Unnayan Kartripakkha (Rajuk) Saidur Rahman in a case filed over forgery in the design of Banani's FR Tower that was ravaged by a deadly fire in March this year.

The bench of Justice Md Nazrul Islam Talukder and Justice KM Hafizul Alam granted the bail following a petition filed by Saidur seeking bail in the case.

On March 27 this year, FR Tower located in Banani area of Dhaka caught fire that left 25 people killed and 73 others injured.

The ACC on June 25 filed two cases with the Combined District Office in Dhaka against 23 people for their alleged involvement in illegally extending the FR Tower from 16th to 18th and 19th to 23rd floors.

Twenty people are accused in one case while five people including Saidur Rahman are made accused in another case. Two of the accused were charged in both the cases.

Advocate Qamrul Islam, the lawyer of Saidur Rahman, informed the court that he (Saidur) is sick, Deputy Attorney General AKM Amin Uddin Manik told The Daily Star.

He said government will move an appeal before the Appellate Division of the Supreme Court seeking stay on the HC verdict. 

Advocate Khurshid Alam Khan appeared for the Anti-Corruption Commission (ACC) that filed the case against Saidur.

On November 25, the same HC bench rejected a bail petition of Saidur Rahman in the same case and also directed him to surrender before the trial court in a week.

He then surrendered to the lower court which sent him to jail in connection with the case. 

Following another bail petition, the HC bench on December 3 issued a rule asking the ACC and government to explain why Saidur should not be granted bail. 

The ACC on October 29 submitted charge sheet of the case against five people including Saidur to the lower court

The four other accused are Syed Md Hossain Imam Faruq, a lease holder of FR Tower; Liakat Ali Khan Mukul, chairman of Rupayan Housing Estate Ltd; Md Humayun Khadem, former chairman of Rajuk and Syed Makbul Ahmed, former authorised officer of Rajuk.