Nothing special for small farmers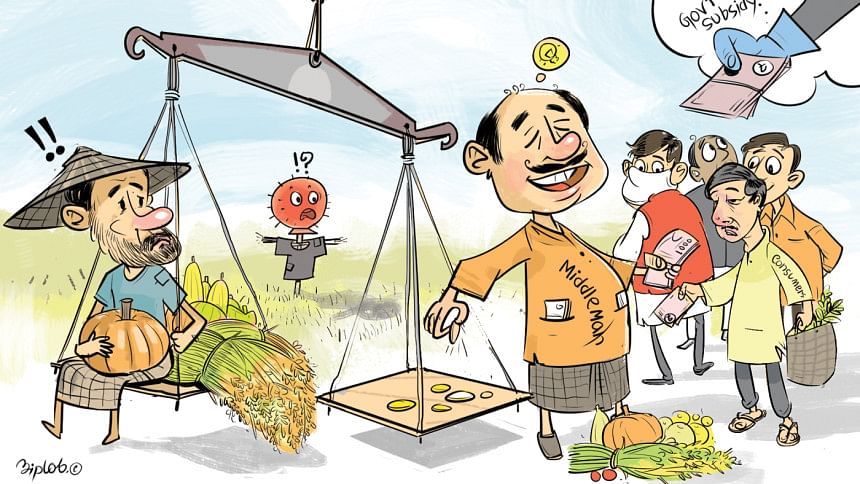 Though farmers have been hit hard by the pandemic, no special stimulus package for small farmers was announced in the proposed budget, frustrating agriculture experts and economists.
It has happened despite Finance Minister AHM Mustafa Kamal's announcement that agriculture was the second highest priority after the health sector this year.
In his budget speech yesterday, Mustafa said the pandemic has affected the agriculture sector in Bangladesh and the government puts the highest emphasis on addressing the adverse effects on domestic sectors.
"One of the key priorities in the post-Covid-19 economic recovery plan is to keep the momentum of agricultural production," he said.
But how the government was going to put that "highest emphasis" and how it was going to keep up the momentum was not answered in the proposed budget.
Talking to The Daily Star, Dr Mustafizur Rahman, a distinguished fellow at Centre for Policy Dialogue (CPD), said, "The government is only going to continue all the subsidies and incentives it provided in the agricultural sector last year.
"Initiatives needed to be taken so that farmers get fair prices for their produce. But we haven't seen that in the proposed budget. Maybe it was assumed that the agriculture sector was not hit as hard as the SME and garment sectors were," he said, adding that it was necessary to ensure food security in the country.
Abdus Sattar Mandal, former vice chancellor of Bangladesh Agricultural University, said the government should have announced a special stimulus package for farmers, like Tk 1,000 for each farmer who owns at least one acre of land.
Such an initiative would increase the cash flow in the rural economy and help marginal farmers, he said.
The government could have allocated a Tk 2,000 crore fund in this regard. In India, the authorities have already launched such programmes, he said.
Currently, there are 2.8 crore enlisted farmers with cards.
However, allocation of Tk 3,198 crore to promote farming mechanisation and reducing custom duty on importing parts of agriculture machinery would reduce the price of farming equipment and generate employment, he said.
"Many small businesses related to agriculture machinery will grow in the rural areas and generate employment," Prof Sattar said.
About the allocation of Tk 5,000 crore for the agriculture refinancing scheme through Bangladesh Bank announced by the finance minister, Sattar said only the farmers who deal with banks would be able to avail the service.
"But most of the small farmers are illiterate and they would not be able to avail it as they remain out of the banking system," he said.
Meanwhile, Prof Asaduzzaman, senior researcher at Bangladesh Institute of Development Studies (BIDS), said the initiative of mechanisation in the agriculture sector would help farmers cultivate and harvest crops, but it might render thousands of farm labourers unemployed.
"Only allocation for machinery will not help small farmers as they would not be able to buy the farming machinery equipment," said Prof Asaduzzaman, adding that the machinery would help only those cultivating paddy.
"What about those cultivating vegetables and fish? How are they going to benefit from those equipment?" he asked.
Rather, it was necessary to create an agriculture business linkage, storage facilities for agro products and build a supply chain.
"Actually it was necessary to think about the whole agricultural sector holistically," he said.
Even though the finance minister mentioned the prime minister's directive on ensuring that not even an inch of land is left uncultivated, he did not come up with any plans to ensure it in the coming fiscal year.
The government is, however, going to encourage onion farmers by increasing import duty on onions, so that local farmers get interested in growing it.
Shykh Seraj, eminent agriculture expert, said the government emphasised on mechanisation of agriculture in the proposed budget.
"But I think the government should have emphasised on digitalisation of agriculture by now," he said.