Mango growers hit hard by cyclone
2 lakh tonnes of mangoes drop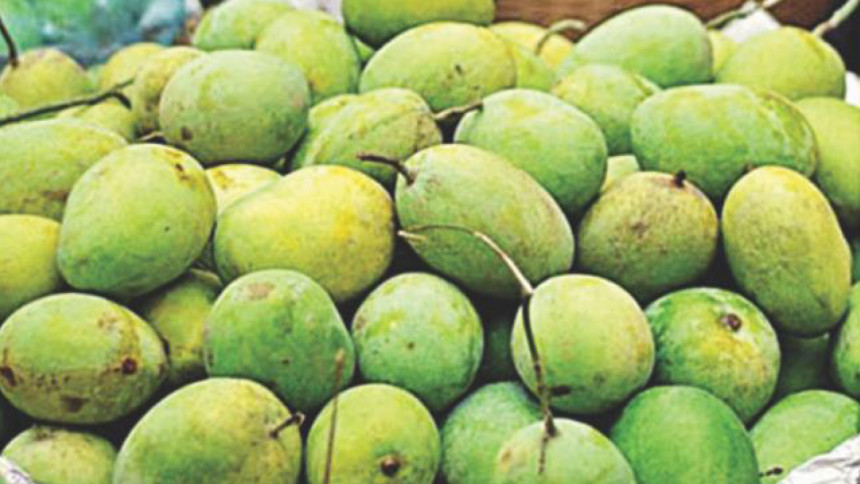 At least 2 lakh tonnes of mangoes, which is around 16 percent of the country's total annual production, have fallen off the trees because of cyclone Amphan, said the Department of Agricultural Extension.
According to the farmers, however, between 20 and 50 percent of the total annual production of mangoes have been damaged.
The mango growers said the fallen mangoes were lying on the grounds of their orchards as none was there to purchase those.
They also sought immediate government intervention and suggested procurement of those mangoes by the fruit processing industries.
Sorof Uddin, senior scientific officer of Bangladesh Agriculture Research Institute, said the district administrations could take urgent initiatives to save those mangoes from being wasted.
"Mangoes fall from the trees in storms almost every year. A government policy ensuring good use of the dropped mangoes could help the farmers to alleviate their losses," he said.
Sorof himself lost some two tons of mangoes out of 12 tons on his orchard in Rajshahi.
According to meteorologist Omor Faruk, the Amphan hit Satkhira at a speed of 151km per hour while it hit Rajshahi region at a speed of 59km per hour.
Farmers of the southern districts in Khulna division, who provide a quarter of the country's total mangoes, suffered the worst.
SM Liakat Ali, a mango grower in Satkhira Sadar upazila, said at least 50 of his trees out of 250 were completely uprooted while rest lost their branches.
"I can't think properly after seeing such a loss," he said.
Liakat had been expecting a production of 300 maunds of mangoes, but after the cyclone, he doubted survival of even 20 maunds.
"I didn't collect the mangoes that have fallen from the trees. Locals collected some while most of the mangoes were lying in the orchard," he said.
Shahadat Hossain, another mango grower at Dighalia in Khulna, said he expected 40 tonnes of mangoes from his orchards on a 13-acre land. Around 24 tonnes of his mangoes fell off the trees due to the cyclone.
Unlike Liakat, Shahadat collected some of the dropped mangoes for sending those to relatives and friends and making pickles.
Those in Rajshahi division that fetch over 50 percent of the country's total mango production claimed a loss between 20 and 50 percent.
Anwar Hossain Polash of Bagha said more than half of his mangoes were lost. He was expecting 24 tonnes of mangoes from his orchard.
Some locals purchased his mangoes that fell off from the trees at a rate of Tk 30 per kg whereas the regular market price was at Tk 70.
Even trucks were not available for carrying the mangoes that fell off the trees, he said.
Ismail Khan of Shibganj in Chapainawabganj said 20 percent of his mangoes fell off.
Most orchards in Naogaon, the country's highest mango producing district, also faced the crisis.
According to Mohammad Yousuf, DG of Department of Agricultural Extension, the production cost of mangoes mostly depends on how much care has been put to produce the fruit.
The production cost for mangoes is at Tk 78,000 per tonne in Chapainawabganj while it is Tk 60,000 in Rajshahi, Tk 22,000 in Naogaon, Tk 4,100 in Satkhira and Tk 1,975 in Chuadanga, he said.